MLB Prospects: Will Zack Cozart or Freddy Galvis Receive Starting Nod?
March 28, 2012

Norm Hall/Getty Images
The news of Jose Iglesias' demotion to Triple-A on Monday signaled the end of yet another prospect-related roster battle. While the Iglesias-Aviles battle in Red Sox camp was highly publicized, there are still other infield prospects in line for everyday roles to open the 2012 season.
Zack Cozart, Cincinnati Reds
Cozart has steadily progressed through the Reds' system since he was drafted in 2007, even appearing in 11 big-league games in 2011. The team's No. 4 prospect, Cozart is an all-around solid player despite not being overly flashy.
At the plate, he has an average bat with mediocre power and has gradually deviated from a pull-happy approach. His bat is definitely strong enough for a shortstop in the majors, as he possesses potential for a 30-double, 15-home run season if given the necessary playing time. He doesn't strike out too much, but at the same time, he also hardly walks—161 walks in 1,940 minor league at-bats.
The 26-year-old has average speed with good instincts on the basepaths, which translates to slightly above-average range at shortstop. His arm isn't particularly strong, but his smooth hands and position make it serviceable.
After tearing ligaments in his non-throwing arm while with the Reds last season, Cozart is fully recovered and has raked all spring. In 46 at-bats, he is hitting a blistering .413/.449/.652 with seven doubles, two triples, six RBI and two stolen bases. Hell, he's even coaxed three walks—he had zero in 37 big-league at-bats last season.
Barring an injury, Cozart should begin the 2012 season as the team's everyday shortstop.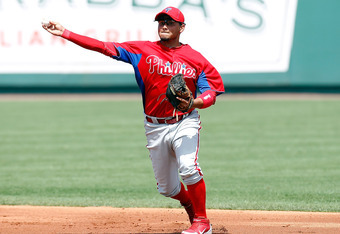 J. Meric/Getty Images
Freddy Galvis, Philadelphia Phillies
A 5'9", 170-pound middle infielder, Galvis was signed by the Phillies out of Venezuela as a 16-year-old.  He's spent most of his minor league career playing shortstop, but with all the uncertainty regarding Chase Utley's return, he's been exclusively playing second base during spring training.
A switch-hitter, Galvis squares up the ball with consistency while using the whole field. He'll sneak one over the wall every now and then, but he has limited power overall. He doesn't walk enough and therefore doesn't utilize his quickness and instincts on the bases.  
Galvis is one of the best defensive middle infielders in the minors thanks to his outstanding defense. His plus range, soft hands and above-average arm are all big-league ready at shortstop, so he should have no issue playing second base in Utley's absence.
He's hit himself into contention for the everyday role by batting .273/292/.470 with seven extra-base hits and 12 RBI in 66 at-bats. He'll likely earn a spot on the Phillies' 25-man roster to begin the season and has a legitimate chance to break camp as the starting second baseman.