Modern Day Professional Athletes Can Learn a Lot from Magic's Business Sense
March 29, 2012

Kevork Djansezian/Getty Images
Magic Johnson isn't one to drive around in a gold Lamborghini. He isn't one to wear outlandish wide lapel suits with matching shirt and tie, although he is a great dresser. He isn't one to have 25 cars parked in his Los Angeles mansion, nor is he one to walk into a bar and pick up the tab for hundreds of barflies. You'll never see him walking around Tinseltown with a 15 person posse, all of whom are on his payroll. He'll never walk into the room draped in bling around his neck and on his fingers.
Why? Because Johnson is a smart businessman who knew what to do with his wealth and fame. He played his cards right and it has paid off handsomely. This isn't an overnight success story. He started out just like most superstar professional basketball players. He was getting the big paychecks as a young point guard for the 1980's Showtime Lakers, but he spent and invested his money wisely. Today he is a major part of the group that bought the Los Angeles Dodgers for a staggering $2 billion.
Are today's modern athletes paying attention? I hope so. But, we know for a fact many are not and are out shopping today for another Benz or Maybach or Bentley. How many luxury cars does a baller need? Ask Magic. Perhaps, he can meet with you in between his business meetings today as he evaluates his ever growing financial portfolio.
I cringe every time I hear about a professional athlete who has fallen on hard times, especially when he signed a $50 million contract a few years ago —— don't forget about the $200 million endorsement deal a year later. Plus, he signed another $70 million dollar extension when the first contract expired. Now he's broke. Seriously? Yes, seriously.
Former Philadelphia 76ers superstar Allen Iverson is a good example. He was recently sued by a jeweler for $800 thousand. Iverson, for those of you who forgot, signed several mega contracts with the 76ers. He had huge endorsement deals with shoe companies, and now he's struggling. Basketball-Reference.com estimates "The Answer" earned more than $154 million during his NBA career. That's the kind of bank most of us will never be able to wrap our brains around in this lifetime.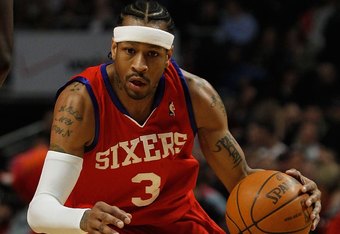 Jonathan Daniel/Getty Images
When you earn that kind of salary over a 16 year career, don't you owe it to yourself to invest and save? With that kind of money, Iverson could've done anything he wanted to in the business world. Instead, he had a lot of people helping him spend his loot. Not to mention, a wife and kids at home who were entitled to a share of his riches.
That's why Magic's successful professional plight is a very important lesson to every single professional athlete in the NBA, Major League Baseball, and the National Football League. Unfortunately, the sports landscape is littered with Iversons, and to be quite honest, it's sad and disturbing.
Take Antoine Walker for example. The former Boston Celtics and Miami Heat star was on top of the world. He was making big bucks and playing for some of the top championship teams in the league. The burly power forward earned more than $100 million during his NBA career. Fast forward to today and he's also broke. Gone are all the houses and cars he owned in his native Chicago. He's now playing in the NBA Development League and hoping to resurrect his floundering career.
Professional athletes are wealthy for a reason. They are the best in the world at what they do. No one jumps higher, runs faster, hits harder, and competes the way they do. They are compensated beyond our wildest dreams, and they deserve every cent. It's a shame, however, to wind up with a broken bank account that once held millions of dollars.
Magic did it the right way. He was focused on his earnings and life after basketball. Many didn't take him seriously when he started buying movie theaters, shopping centers, Starbucks, and all the other acquisitions he's been involved in over the past 15 years. He quietly amassed his fortune. He stayed focused. He sought the advice of Lakers' owner Dr. Jerry Buss and others. He kept his eye on the prize and now look at him.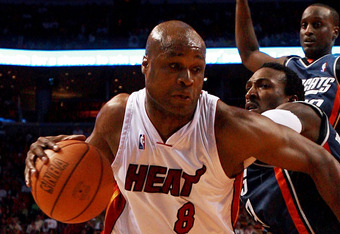 Doug Benc/Getty Images
If you're an NBA player, it's so easy to drive down to the local car dealership and roll out with yet another expensive car. It's easy to spend several million dollars on chains, watches and bracelets. You look cool in the clubs and the ladies notice. It's easy to fly your boys from city to city as you play against some of the top talent in the league. It's no big deal to put your friends on your payroll; forget about the realization that they may not do anything to earn it, other than the fact that they've been your friend since childhood.
Magic could've done the same thing. He grew up in a blue collar neighborhood in Lansing, Michigan. All of his boys were well aware he was headed to greatness and wealth. But at some point, Magic made the right decision. It may not have been easy, but it was necessary. Don't get me wrong. I'm not suggesting turning your back on friends and family. You should always take care of Mom and Dad and those who helped you get where you are. That doesn't mean, however, traveling with a posse of 15 everywhere you go.
Posses can be expensive. Iverson and Walker aren't the first to learn this lesson and, unfortunately, they will not be the last. But, the money only goes so far, especially if you're not investing and spending wisely. It can be quite easy to blow through $150 million dollars if you and your friends are spending money like you're drinking a glass of water.
Magic has made quite a statement. To be able to sign the kind of check that buys a storied major league baseball franchise is beyond impressive. Yes, I know he's part of the Guggenheim Group that purchased the Dodgers, but I doubt this deal would have gotten done without Magic's bank account and business savvy.
It took a lot to buy the Dodgers. It's one of the most celebrated sports franchises in the world —— it's the home of Jackie Robinson, Branch Rickey, baseball diversity, Brooklyn history, and the second largest media market in Los Angeles. It's no small feat —— by any stretch of the imagination.
Magic's purchase of the Dodgers is a shining example of what a professional athlete can do with his money, intelligence and drive. It's not about the cars, jewelry, clothes, and people looking for a handout; it's about maximizing your earning potential and investing in your future while the big paychecks are stilling rolling in.