2012 NBA Playoff Predictions: Which L.A. Team Is Primed for Longer Playoff Run?
March 28, 2012

Harry How/Getty Images
"Please, we've got five championships…Rivals come from the playoffs."
Those words were spoken by Kobe Bryant after a win over the L.A. Clippers back in January. You might remember—that was the game where Pau Gasol playfully patted Chris Paul on the head as the two were walking down the court at the end of the game.
CP3 would have none of it. He swatted Pau's hand away and became visibly angered. "Don't touch the top of my head like I'm one of your kids," Paul would say after the game.
Like it or not, Kobe, if the Clippers and Lakers weren't rivals before that game on Jan. 26, they became rivals that day.
But Kobe's mention of the playoffs should not go unnoticed. Everything intensifies in the postseason, especially rivalries.
So which team is best suited for a longer playoff run as it stands today? The answer is the Lakers.
In the NBA, experience matters in the postseason. Kobe, Andrew Bynum, Gasol and Metta World Peace have been through these battles together before. The four of them won a title together back in 2009. Yes, the Lakers were swept out of the playoffs last year, but if you ask me, that only makes them that much more motivated and that much more dangerous in the postseason this time around. Especially Kobe.
Another big postseason factor is defending your home court. Titles are won by taking care of business at home and being able to steal a few games on the road. The Lakers have lost just four times at Staples Center all season long. That's just once more than the Portland Trail Blazers (twice to the Lakers, once to the Clippers).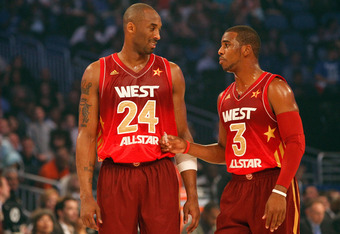 Ronald Martinez/Getty Images
The Lakers are getting better as the season wears on (15-6 since Feb. 12). The Clippers, meanwhile, are a game under .500 since losing Chauncey Billups on Feb. 8 (13-14).
The Lakers have been there, done that; the Clippers' roster has a new look on an almost weekly basis. The Lakers show stability; the Clippers show inconsistency.
The Lakers are progressing; the Clippers are regressing.
Vegas agrees. Online bookmaker BetUS says the Lakers are twice as likely to win the title this year as the Clippers are (10-1 odds vs. 20-1 odds).
Here's to hoping Vegas is wrong about this one.