Oakland Athletics: Grading the A's at Every Position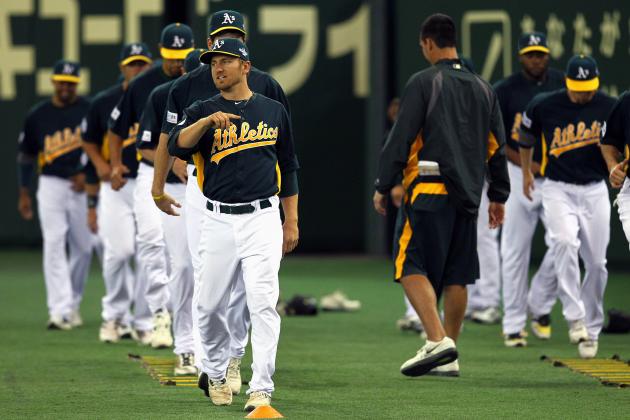 Koji Watanabe/Getty Images

The Oakland Athletics have officially opened the 2012 season, but just how talented is this club?
Spring training is already a memory, and decisions regarding the roster have been made.
Some players earn high marks.
Others already fail.
Here's a look at the A's depth chart, complete with grades.
It's a long season, so luckily there's plenty of time to improve.
Begin Slideshow

»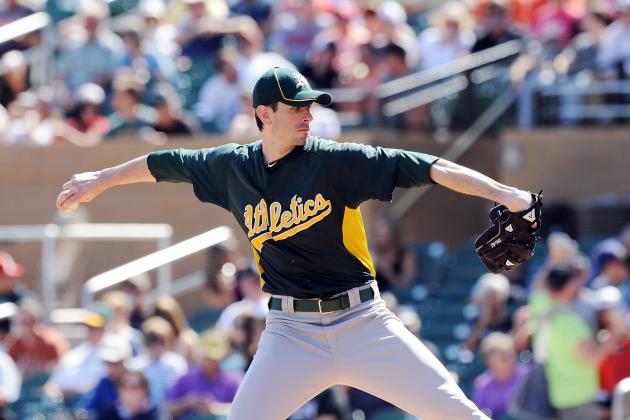 Norm Hall/Getty Images
Pitcher Brandon McCarthy
Currently Dallas Braden and Brett Anderson are on the disabled list.
That leaves Brandon McCarthy as the clear ace of the staff and a whole lot of question marks behind him.
It's likely to be some combination of Bartolo Colon, Tom Milone, Graham Godfrey and Tyson Ross for now.
With a career ERA over 4.00, Colon is one year removed from 40 years old.
Though Godfrey dominated the minors last season, he has 25 innings of big league experience. Milone has 26.
Ross has just under 80 innings of experience. He pitched well in spring training, but was recently shelled in an exhibition.
McCarthy has found recent success and has turned more than a few heads with his reinvented style. Unfortunately, he's the lone bright spot in the rotation.
Grade: D
With a healthy Braden and Anderson: B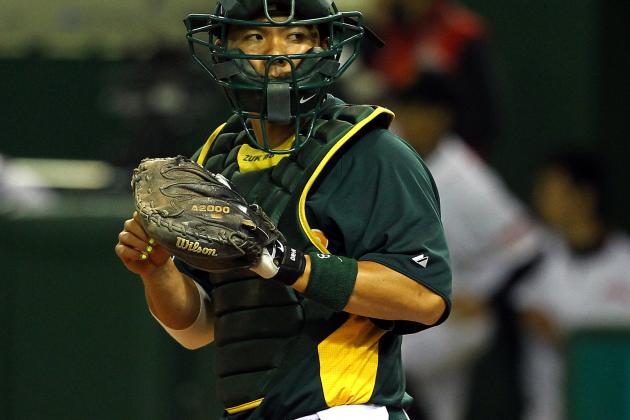 Koji Watanabe/Getty Images

A .237 batting average, 14 home runs and 44 RBI.
That's Kurt Suzuki's stat line for 2011.
He caught just 28 percent stealing and had five passed balls in 2011.
Suzuki's 1.7 WAR was below the average of an everyday player.
Awful.
I'm going to assume the batting average will rise to at least .250 and the runs batted in to 60. His home runs should remain around the same.
He'll throw out slightly more too.
Grade: D+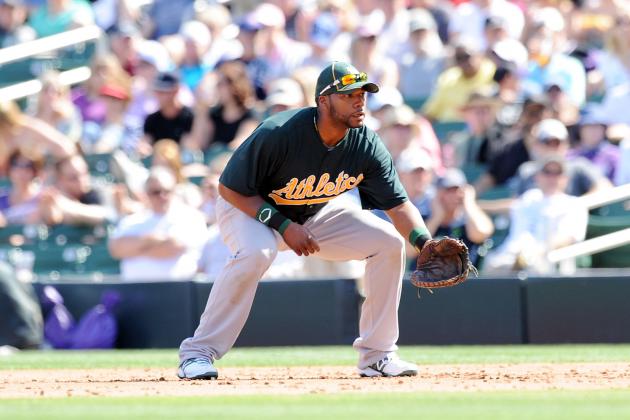 Norm Hall/Getty Images

Brandon Allen has been named the starting first baseman of the Oakland Athletics, for now.
The 25-year-old Allen only had 41 games last season to show what he's got, and it wasn't overwhelming by any means.
In spring training though, he hit .303, with two home runs and 13 RBI.
Assuming he is with the team the entire season, he can put together an average year.
Something along the lines of .260, 15 home runs and 45 RBI.
Grade: C-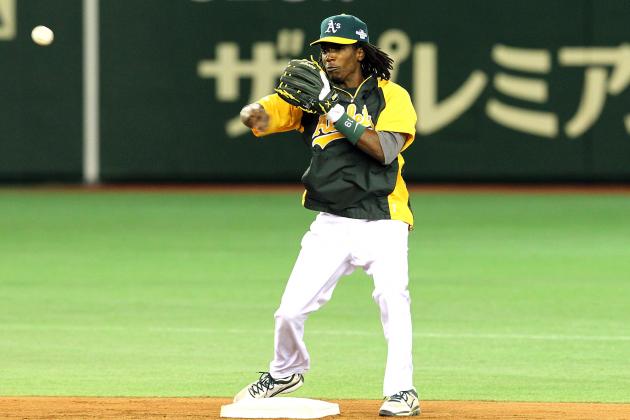 Koji Watanabe/Getty Images

For those who thought Jemile Weeks' 2011 campaign was a fluke, think again.
Last season he hit .303, driving in 36 RBI in 97 games. He also stole 22 bases.
In 13 spring training games, Weeks hit .364 with three home runs and nine RBI.
Weeks is a super talented and young second baseman who should continue the solid production.
His defense and lack of power knock him down just a bit.
Grade: A-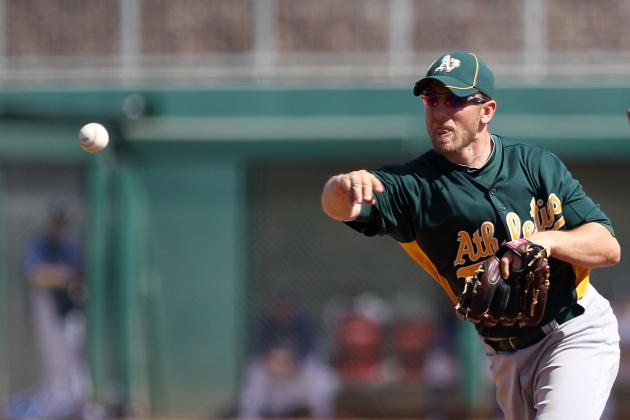 Christian Petersen/Getty Images

Shortstop Cliff Pennington is a very average, yet still reliable, player.
He's automatic for a .250 average, five home runs and 45-50 RBI.
An average hitter, Pennington isn't the greatest fielder in the game either.
His career fielding percentage hovers around .966.
Grade: C-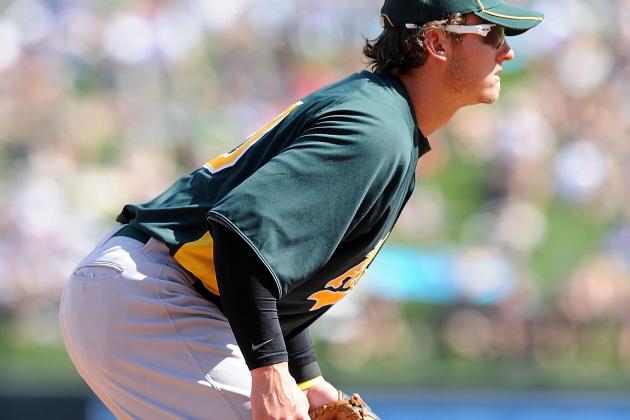 Norm Hall/Getty Images

Third baseman Josh Donaldson has a lot going against him at this point.
First, he's actually a catcher.
Second, he's only at third because incumbent Scott Sizemore was lost for the season.
Third, he hit .231 in spring training.
Last, Donaldson is listed as the third baseman for now, but who knows how long it will last.
Eric Sogard lies in wait to nab the position full-time. He already started at third in the opener.
Sogard, however, has appeared in only 83 games in two seasons in the majors and hasn't performed well.
Grade: F (Donaldson) or D (Sogard)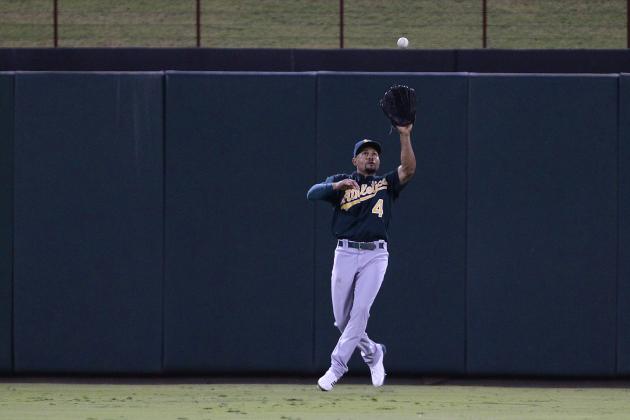 Rick Yeatts/Getty Images

Coco Crisp is an efficient contact hitter.
He hits for average, scores a fair amount of runs and stole one shy of 50 bases in 2011.
Crisp moves to left field this season, but the move should suit him well.
He has plenty of speed to cover his new domain, and the move should help hide his average arm strength.
Grade: B+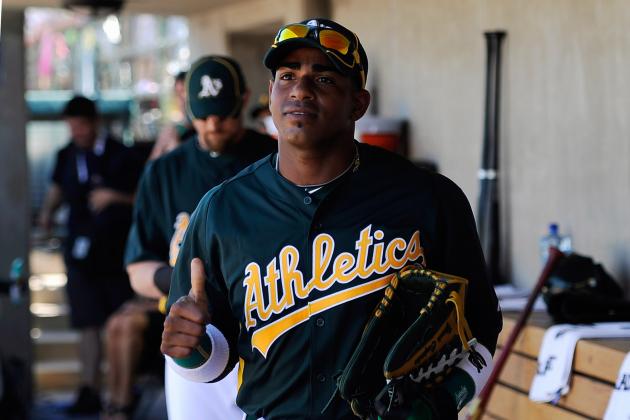 Kevork Djansezian/Getty Images

Let's just say there's a reason the Oakland Athletics spent $36 million for a guy who has never played in the league.
It's the same reason Yoenis Cespedes replaced Coco Crisp as the starting center fielder.
He's a dangerous combination of speed and power with potential to win a Gold Glove.
It's illogical to grade him as an A+ right out of the gate, even if he has the potential.
Grade: A-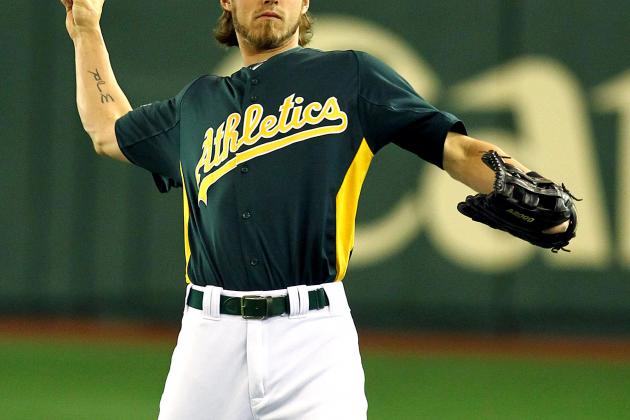 Koji Watanabe/Getty Images
Josh Reddick
During spring training, Josh Reddick accumulated a .333 batting average with two home runs and 11 RBI.
In 87 big league games last year, he hit eight home runs at Fenway Park.
He's a solid enough player that the Oakland Athletics felt convinced to deal Andrew Bailey and Ryan Sweeney to get him.
At 25 years old, he beat out Seth Smith, Jonny Gomes and a slew of others for the final outfield spot.
Grade: B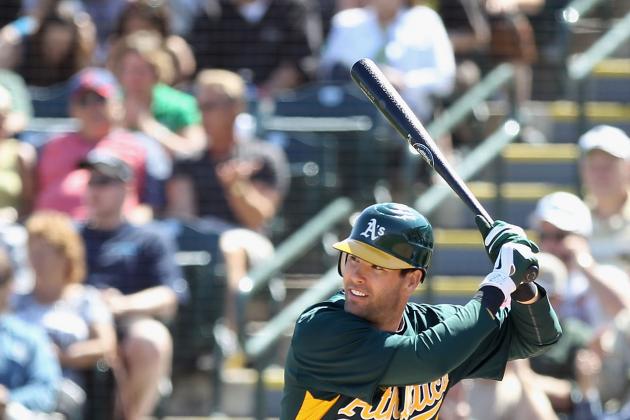 Christian Petersen/Getty Images
DH Seth Smith
Though the depth chart lists Jonny Gomes as the Oakland Athletics' designated hitter, manager Bob Melvin penciled in Seth Smith to fill the role.
If it does remain as Smith, it might be one of the more underrated moves this season.
Smith averages .275 at the plate with 17 home runs and 60 RBI.
They aren't threatening DH numbers, but they'll suffice.
Grade: C+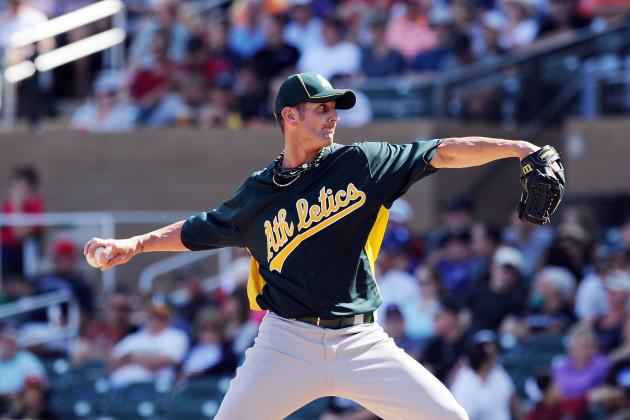 Norm Hall/Getty Images
Closer Grant Balfour
The Oakland Athletics might be underrated in the category of relief pitchers as well.
Veterans Grant Balfour and Brian Fuentes have had plenty of success in their careers. Up-and-comer Fautino De Los Santos is poised to have a terrific season.
Once starters return from injury and bump the fill-ins back to the pen, the relievers will be even more dangerous.
Grade: B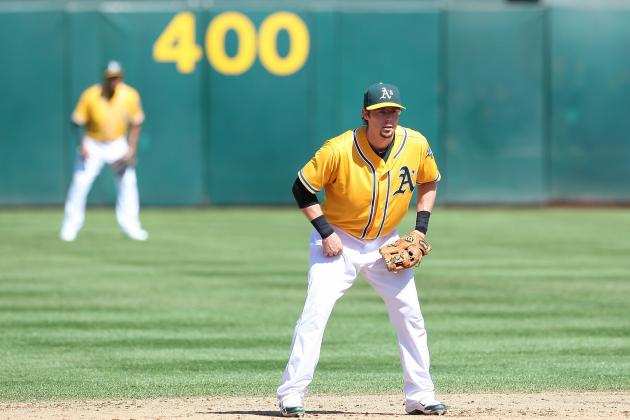 Tony Medina/Getty Images
Backup shortstop Eric Sogard
The Oakland Athletics bench consists of Eric Sogard, Adam Rosales, Anthony Recker, Kila Ka'aihue, Jonny Gomes and Collin Cowgill.
The lone veteran is Gomes.
The rest are all very young and lack experience in the big leagues.
Sogard is the best option off the bench. The rest are decent options to provide a day off.
But if there are long-term injuries, the A's will be hurting for offense more than they already are.
Grade: C-