Austin Rivers and Myck Kabongo: The One-and-Done Dilemma
March 28, 2012

Streeter Lecka/Getty Images
Every year in late March and early April, NCAA basketball players are faced with a difficult decision that will shape their future, both personally and professionally. A question that has become even more of an issue in this age of "One and Done's".
That question is whether or not they should forgo their college eligibility and declare for the NBA draft. They need to ponder whether they are ready to make the jump from the collegiate level to the professional level.
A variety of factors need to be considered when making that decision, the least of which is whether they are ready from a basketball standpoint. They need to consider whether they are emotionally, mentally and physically ready to make the jump. They will need to decide if they are mature enough to be thrust into the cutthroat world of professional basketball.
Sure, they may have the basketball skills required to make the jump, but if they are not capable of handling all that life will throw at them, both on the court and off, there is a good possibility that these players will not reach their utmost potential.
Last year we saw both ends of the spectrum.
Despite only playing in 11 games after suffering a toe injury early in the season, Kyrie Irving decided to leave Duke and enter the NBA draft. Kentucky's Brandon Knight, fresh off a Final Four appearance, decided to follow Irving's lead. Both players were top-10 picks and have enjoyed strong rookie seasons, especially Irving who is the favourite to win Rookie of the Year.
On the other hand, North Carolina forward Harrison Barnes and Ohio State forward Jared Sullinger both decided to stay for their sophomore seasons, citing a desire to win a National Championship as the major reason for staying. Baylor forward Perry Jones III and Kentucky forward Terrence Jones both decided to stay in school as well, believing that they needed to become more mature before making the jump.
This year, the same dilemma has crossed the minds of college underclassmen, and, once again, both sides of the coin are represented. Duke's Austin Rivers decided to leave college and enter the draft while Texas' Myck Kabongo felt it was in his best interest to stay for his sophomore season.
Rivers, son of Boston Celtics coach and former NBA player Doc Rivers, has been around the professional game since he was born. He knows what to expect from the pro lifestyle from his father. He has a supreme confidence and swagger about himself and that disposition will serve him well at the next level. He is the type of person who doesn't second guess himself and is sure of the decisions that he makes which, again, will aid him next year when he becomes a professional.
However, despite him seemingly being well equipped to make the jump from a personality standpoint, there are serious questions about whether or not his game is reason to leave the collegiate level. He has a bright future ahead of him, no doubt about it, but there are some wrinkles in his game that still need to be ironed out. These include:
A weak left hand
Poor decision making
Limited playmaking ability
Defensive inconsistencies
All of these issues could be fixed by returning for his sophomore season and playing another year under Coach K. They are all cases of a player simply needing to gain more experience.
At the collegiate level, where player development is the most important factor, he would have more time to hone his game. At the NBA level, where winning games is the most important factor, he may find himself with fewer opportunities to develop in game situations.
Rivers will be drafted this season, possibly even in the top 10 if he impresses enough during workouts, but if he finds himself in the wrong situation, it could stunt his development as a player, which would not happen if he returned for his sophomore season.
Meanwhile, Kabongo, another highly recruited high school guard, decided to return to college. Originally thought to be the best point guard available, he saw his draft stock fall as the season went on and he struggled to make the adjustment to the college game.
Kabongo has clear NBA tools. He is very quick, both with and without the ball; he is a good passer, a pesky defender and a capable shooter. An argument can be made that his game is better suited to the NBA, a faster paced, more wide open style, than the crowded, slowed down college game.
Despite the fact that his game is better suited to the NBA, he decided it was in his best interest to stay at Texas to "improve as a player and a leader".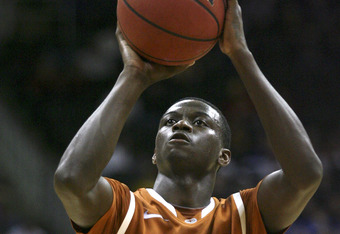 Ed Zurga/Getty Images
From a basketball standpoint, this is a good decision on his part. He would definitely be drafted if he declared this year, potentially in the first round, but he would also find himself as a likely 3rd string point guard who sees limited minutes.
By staying at Texas, a young team with potential, Kabongo will be looked upon as a leader both on and off the court, especially if junior guard J'Covan Brown leaves for the NBA. He will have another year to develop as a player and as a person and, if he has a successful season, he could find himself taken in the lottery of the 2013 NBA Draft.
However, from a business standpoint, it could be catastrophic for Kabongo. Should he struggle again next year, he could find his NBA future in doubt, and the millions of guaranteed dollars along with it, and join a long list of high school stars who simply couldn't make the transition to the professional rank.
It is a slippery slope these young men are forced to walk. Do they make the jump before they are ready, to ensure the millions of dollars that the NBA offers? Or do they go back to school to grow as a person and a player, but run the risk of losing that lucrative first round draft pick salary?
Regardless of the decision that is made, it is an interesting dilemma that becomes a major story this time of year, and it is enjoyable to see the different ideologies that factor into each individual's ultimate decision in whether to stay or go.
For more basketball discussion, visit www.otrbasketball.com/forums