San Francisco Giants: Wise to Keep Barry Zito as Fifth Starter
March 28, 2012

Doug Pensinger/Getty Images
Breaking news: San Francisco Giants Barry Zito struggled in his most recent spring outing, causing concern from the fan base about whether the veteran lefty deserves a spot in the team's starting rotation as Opening Day approaches.
What is this, 2008? Wait, 2010? No, it's 2012! Talk about déjà vu all over again.
Talk about déjà vu all over again.
Since signing one of the most infamous contracts in the history of pro sports in 2006, Zito has been under tremendous scrutiny and immense pressure to live up to the bazillion dollar billing. Each year, it's the same old story—for both Zito and for the organization. Well, actually, somehow every season it seemingly gets worse for the 33-year-old veteran.
In 2007, his first season in San Francisco, Zito toughed out an 11-13 record with a 4.53 ERA. The next year, he posted career-worst marks in losses (17), losing percentage (.370), bases on balls (102) and WHIP (1.60), earning himself a demotion to the bullpen as the most expensive reliever in baseball history. Since then, it has amazingly not gotten better.
In 2010, during San Francisco's magical World Series run, Zito found himself off the playoff roster, earning himself a job as the most expensive dugout cheerleader in baseball history. Last year, he started only nine games, finding himself on the disabled list for the first time in his 12-year career. Certainly, his five-year stint with the Giants has created a tenuous strife among fans.
When will he get better? Can he get better? What can San Francisco exactly do with him?
The answers to these questions are pretty obvious: no, no and nothing. Which is terrible for the Giants. And worse news for Giants fans.
It's amazing how a short six seasons ago, Zito was brought to San Francisco to be the headliner of the pitching staff. Now, in 2012, Zito is slated as the fifth man in the rotation—behind Tim Lincecum, Matt Cain, Madison Bumgarner and Ryan Vogelsong—fighting to remain a starter...again.
Unfortunately, his spring performances have not demonstrated that he deserves a second (or 10th) chance to be a starter. Last weekend, Zito was roughed up by the Chicago White Sox—a lot. His spring ERA rose to an obese 6.61 in five appearances (four starts), with 25 hits allowed in 16.1 innings.
How he won two games this March is a mystery.
And yet through it all, San Francisco has affirmed that Zito will indeed hold onto a spot in the starting rotation, this according to CSNBayArea.com. What the Giants are exactly thinking is anyone's guess. Other than the simple fact that they have to—keeping him in the rotation is the right move.
Obviously, the lissome spirit of a man who has slowly morphed into an underhand softball park league pitcher is extremely high. And with Zito's egregious contract, there's little else the team can do but send him out there every fifth day and have the offense—the worst offense in the National League—somehow score a touchdown every game that he starts.
Heck, Alex Smith can barely engineer touchdown-scoring drives—what makes fans believe the Giants can do the same?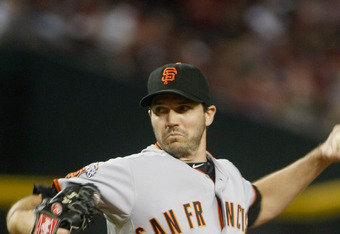 Ralph Freso/Getty Images
Amazingly, San Francisco nearly did score seven runs in each of Zito's starts last season, providing him run support of 6.54 per game. Can they be asked to do that with seriousness this season? How can a lineup be pressured to score that many runs, especially in barren AT&T Park?
Hopefully, a rebooted lineup with the return of Buster Posey will do wonders for the offense—especially whenever Zito is pitching. Can't San Francisco simply start Zito during home games, where he posted a 3.14 ERA in 2011 and a 3.35 ERA in 2010?
Though not the team's desire, having Zito as the caboose in the pitching rotation is a necessity. The Giants are trudging into the 2012 season opener with penciled question marks about the team's overall health.
Last season's hidden gem, Vogelsong, is expected to miss the first half of April while recovering from a back injury. Meanwhile, earlier this week, prospect Eric Surkamp, was also shut down indefinitely with elbow soreness in his pitching arm. The young lefty had produced a generally impressive spring, despite a 4.41 ERA in three starts.
Though Surkamp had an outside shot at making the big league roster, he had been demonstrating tremendous progress and poise in spring training, enough to warrant consideration as a long reliever or spot starter, especially with Vogelsong temporarily sidelined.
With all of the minor dings to the starting staff, Zito is left, alone, as the de facto safety net to fill any vacancy in the rotation. Cringe. This is a clear example of how shallow the talent pool of starting pitchers is in the Giants' farm system.
Despite the downward trend, Zito is the optimal choice as the No. 5 starter. He comes into 2012 healthy and focused, but the truth is, it's hard to anticipate exactly how he'll perform this season. Could he be tolerantly bad, part-time bad, worrisome bad or strangle-Dave-Righetti-with-the-bullpen-phone-cord bad?
Whatever the prognostication may be, if San Francisco wants to return to the playoffs this year, they have to figure out long-term plans B and C through Z for Zito. After all, Lincecum and Cain cannot carry the load by themselves—not as two-fifths of the starting rotation.
But for right now, banishing Zito to the bullpen is a pricey move; and it doesn't make any sense given his recent history. Lefties batted .294 against him last season, and he was extremely terrible early in the count. In his first 15 pitches of any appearance, batters posted a robust .965 OPS. Yikes.
Crazily, Zito's statistics actually prove that he's more capable as a starting pitcher. How did that happen?
Given the dearth of pitching depth and numbers that support his inadequacy as a reliever, Zito has to be a starter. Plain and simple.
At present, it's wise to keep Zito in the fifth spot on the starting staff. The Giants just need to make sure the bullpen is deep, loose and ready to go somewhere by the third inning.
Follow me on Twitter: @nathanieljue