Wisconsin Football: Badgers Live and Die by Transfer Rule and QB Recruiting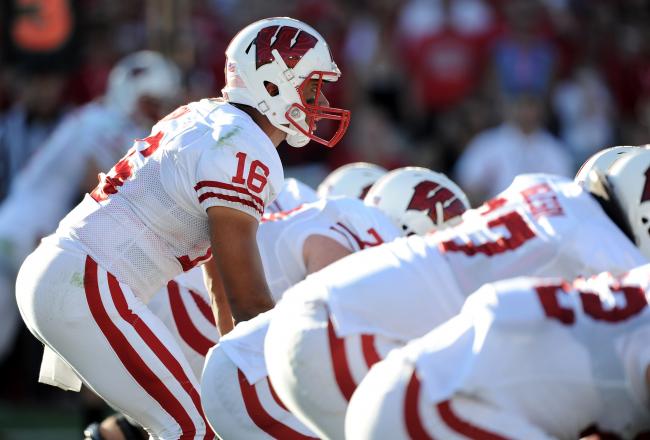 Harry How/Getty Images
Wisconsin comes into 2012 with two disparate but connected aspects to its offense: the worst quarterback situation in the Big Ten, and a strong chance to land Maryland transfer quarterback Danny O'Brien. O'Brien is a fourth-year junior who is on track to graduate from Maryland, so he'll be free to transfer to any school where he can attend graduate classes and play immediately for his last two years of eligibility.
Wisconsin's problem, however, is that it is not the only school that needs a quarterback, and Penn State is making a major push for O'Brien—to the point that O'Brien was on the sidelines for Penn State's first spring practice wearing a PSU windbreaker yesterday, and that wasn't the first time he'd been on campus.
So unless Wisconsin can make a big push, Jon Budmayr either has to recover from the shoulder nerve issue that kept him out of play all last season, or Wisconsin will have to turn to untested sophomore Joe Brennan and redshirt freshman Joel Stave, the only two healthy quarterbacks on the team.
In other words, depending on a senior transfer player with an exemption—one who won't make his decision about his next team until months after National Signing Day—is a remarkably risky proposition, and perhaps the worst thing about Russell Wilson's grand success at Wisconsin is that it taught Bret Bielema that that strategy was something Wisconsin could do more often—maybe even depend on.
Bielema, for his part, stood firm in his support of the transfer rule and his recruiting strategy of only one quarterback a year.
"I made a decision, conscientious decision my first year, is we were going to sign one quarterback and one tailback every year," Bielema told reporters at a Monday press conference. "Obviously, the predicament that you get in is if you have two quarterbacks, or in our situation, three quarterbacks, and it didn't work out because of injuries and with one because he flunked out. What we saw last year with Russell made it a very unique situation. But there are some unique rules in college football that allow that to kind of move forward."
To Bielema's credit, he acknowledges that there won't be a Russell Wilson every year, and that's clearly true, but even though the Badgers won't need a senior transfer every year, they are going to need a short-term fix more often than a Russell Wilson-caliber QB is out there. That's a simple by-product of health and player turnover year-by-year, and picking up one QB a year isn't going to fix that situation.
So, let's suppose Danny O'Brien follows the Windbreaker Rule, which states that if you're transferring and seen wearing another team's windbreaker, you will soon join that team (I just made that rule up, which I bet really surprises you). There aren't any other "prize" transfers at QB this year, and Wisconsin's going to have to hope one of their young guns can execute the "hand off 30 times and pray Montee Ball holds up" offense well enough to get back to 10 wins on the year. It's possible. It's hardly a sound strategy, though.
This article is
What is the duplicate article?
Why is this article offensive?
Where is this article plagiarized from?
Why is this article poorly edited?

Wisconsin Badgers Football: Like this team?