National Lacrosse League 2012: Week 13 Previews and Predictions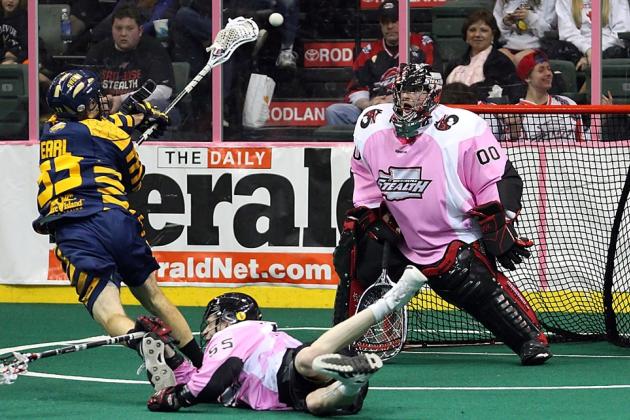 (Photo: stealthlax.com)
The National Lacrosse League saw some interesting developments last weekend, including having two teams lock up playoff spots and the all-time winningest coach blast his team after yet another poor performance.
I thought I'd shake up the format a bit this week, just to see how it works. Feel free to let me know whether this is pure genius or pure drivel.
Also, feel free to follow me on Twitter @calgaryjimbo.
Begin Slideshow

»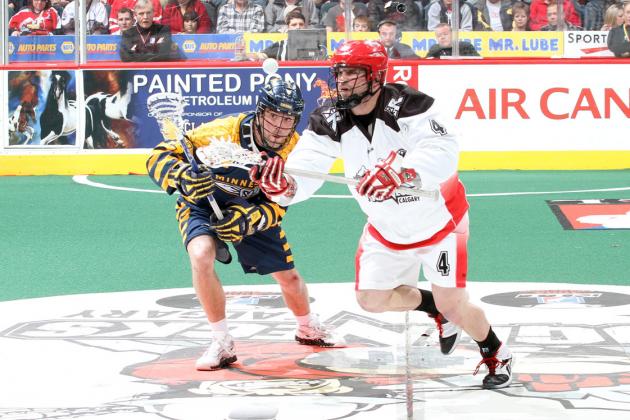 (Photo: calgaryroughnecks.com)
In handing out a 17-6 beatdown to the Buffalo Bandits last weekend, the Roughnecks locked up a playoff spot for the 10th consecutive year.
The Swarm, on the other hand, got blown out 20-13 by a Washington Stealth team that is fighting for their playoff lives.
Calgary continues to spread the offense around, with six players picking up four or more points against the Bandits. Shawn Evans stood out with two goals and seven assists. Fellow lefty Curtis Dickson had a natural hat trick to open the game and both Dane Dobbie and Scott Ranger also contributed hat tricks.
Mike Poulin had another excellent night in goal, turning aside 27 shots and improving his league-leading goals-against average to 9.84.
Minnesota has been running hot and cold so far this year.
Their offense is powered by defending NLL scoring champion Ryan Benesch. He is helping the Swarm average 12.6 goals per game.
Youngsters Evan Kirk and Tyler Carlson have been sharing duties in net recently and neither could solve the Stealth's attack last week. Overall, however, they have proved to be a solid tandem this year and should have a rebound back to form this weekend.
In their last meeting, Minnesota came to Calgary and beat the Roughnecks 15-11. Calgary will probably be looking for some revenge. Coach Dave Pym, by his own admission on Twitter, didn't have his team ready:
My preparation this week was awful. Step back to move forward. We know what we are capable of. 5-3 at halfway point. Lots of game left.angry
Pym will be seeking some redemption. On the other hand, there's always the danger of a team letting up after securing a playoff spot, so it will be interesting to see how Calgary performs.
I'd say the Roughnecks just look a little too good right now to lose this one, although I would expect the Swarm to keep it close. Look for a 13-12 win for Calgary on Friday night.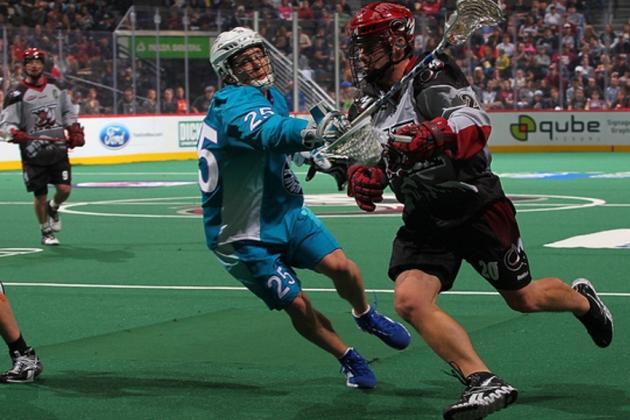 (Photo: Michael Martin)
Colorado has begun to look more human in recent weeks, going a mere 3-3 in their last six games. Nevertheless, they secured a playoff spot with their Sunday win over Philadelphia and are in good position to win the West Division.
Rochester lost decisively to the Toronto Rock last week and are currently sitting a game below .500 on the season.
Mammoth superstar John Grant Jr. looked none the worse for wear last weekend after missing two games due to injury. His nine goals and 10 assists in two games last weekend have put him back on top of the scoring race for 2012.
In fact, Grant's still on pace to break the NLL single-season scoring record of 115 points set by John Tavares in 2001.
After a slow start, Knighthawks goalie Matt Vinc has recently begun to return to the form that has won him the last two NLL Goaltender of the Year awards; his goals-against average is a full goal lower in his last six games than it was in his first five.
Rochester will need Vinc to come up big against a very dangerous Colorado offense.
Back in late January, the Mammoth put Rochester away 14-11. As good as Colorado has been this year, I wouldn't expect it to go much different the second time around. Call it a 13-12 win for the visiting Mammoth.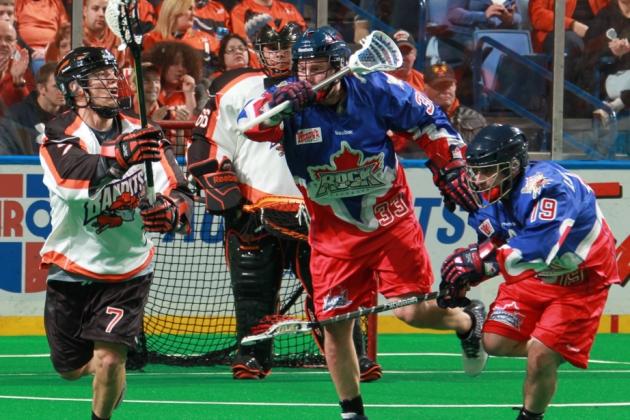 (Photo: Bill Whippert)
Bandits head coach Darris Kilgour wasn't very impressed with his team's performance last week. In the postgame interview, he said,
It's pathetic. My team's pathetic. My team's stupid. I don't even know what to say about these guys right now. I totally question the hearts of basically everybody but about four guys on our team. Other than that, they're a bunch of bush leaguers and they don't give a (expletive).
Harsh words from the NLL's all-time winningest coach.
Although the Rock have struggled at times during an injury-plagued season, they are coming off an important 13-7 victory against Rochester last weekend and will seek to push back to the .500 mark against Buffalo.
Nick Rose, acquired at the trade deadline from Calgary, started in net for the Rock and dominated, stopping 28 shots and earning Defensive Player of the Week honors.
The good news for Buffalo is that two of their four wins this year have come against Toronto, beating them 14-10 in Week 2 and crushing Toronto 21-14 two weeks ago. Whether or not the Rock can come up with a game plan to beat an otherwise beatable opponent will be a big factor in this game.
The other big question becomes how Buffalo will respond to Kilgour's dressing down. If the team takes it to heart, they may come ready to play and ready to hand Toronto another loss. If not, they may just collapse like a house of cards.
My gut says Buffalo comes out strong on their home turf and takes this one 13-12.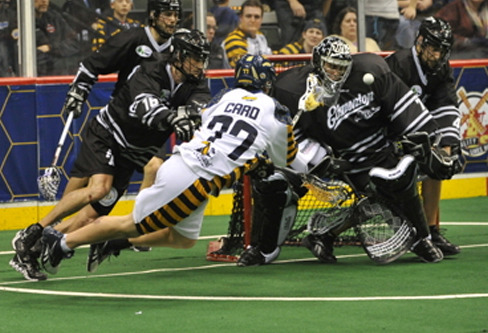 (Photo: edmontonrush.com)
Following their Friday night home game against Calgary, the Swarm head to Edmonton to take on the Rush in a Saturday contest.
In their previous meeting, the Swarm pulled out a 10-9 overtime victory, so Edmonton will likely be looking for a little vengeance on their home turf.
The problem for the Rush is that they aren't scoring. Edmonton has the worst offense in the league, managing only 10.8 goals per game.
Although they also have the second-stingiest defense, at 11.5 goals per game, they need to figure out a way to jump start the offense if they hope to stay close to the Swarm.
Minnesota, on the other hand, has their one-two punch of Ryan Benesch and Callum Crawford clicking pretty effectively right now. If the cross-country trip and back-to-back games don't leave them out of gas, the Swarm's solid offense should power them to victory against the struggling Rush.
I'm expecting another tight-checking affair between these two teams, but Minny should come out on top 12-11.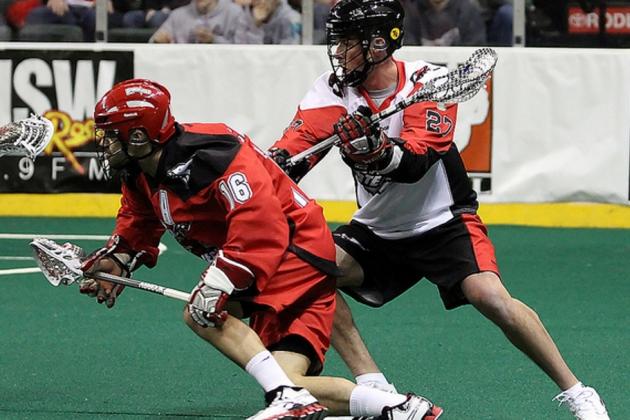 (Photo: Richard Olson)
The final game on this week's slate sees Washington coming to Calgary for a visit.
Fatigue may be a factor for Calgary in this contest, after playing in Minnesota the night before.
After a big win against the Swarm last weekend, Washington will be looking to carry their momentum forward and get themselves back into the thick of the playoff picture.
The Roughnecks are 2-0 against the Stealth this year and are playing with confidence right now. With their many offensive weapons firing on all cylinders, they'll try to put this game out of reach early.
Washington's offense is much improved since these two teams met last, however. The midseason addition of Athan Iannucci has given the Stealth a third threat to mix in with Rhys Duch and Lewis Ratcliff.
As always with these two teams, the biggest battle may be in the faceoff circle, where the top two draw men in the NLL will be squaring off against each other—brothers Geoff and Bob Snider.
Geoff has historically gotten the best of his little brother, giving the Roughnecks an important edge, but if Bob can keep the faceoffs close or even outdo Geoff, that might give the Stealth the possession advantage they need to earn this win.
Even allowing for the possibility that Calgary may opt to start their rookie goalie, Frankie Scigliano, in this game, the odds look to be in favor of the Roughnecks taking this one. I'm calling it a 13-12 Calgary win.