25 Predictions for Phillies' Offense If Howard, Utley Miss Significant Time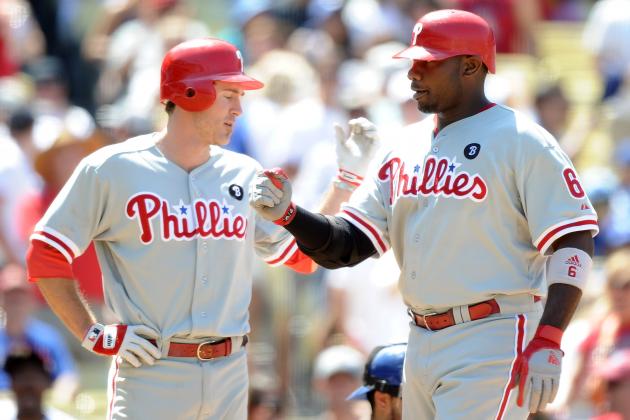 Harry How/Getty Images

There is no denying the fact that starting the season without the men who would normally hit third and fourth in your everyday lineup is a huge loss. Anyone who believes otherwise can probably trace their roots back to their gullible ancestors that believed the Earth was flat and the center of the universe.
The Philadelphia Phillies are going to miss Chase Utley and Ryan Howard. There are no two ways about it.
Howard is recovering from a torn Achilles tendon suffered on the final play of the 2011 National League Division Series. His return date is unknown. Ditto for Utley, who is dealing with a chronic condition called chondromalacia in his knee.
It is a major concern for a team that was already fielding a questionable offense coming into camp. Now that both are shelved, the future of this club's firepower looks bleak.
However, the true mark of a good offensive team is how they perform in the face of adversity, and boy, are the obstacles stacked high against the Phillies. But this team has dealt with adversity in the past and handled it well. What does the 2012 season have in store if Utley and Howard can't be key contributors?
Here are a few predictions for the state of the Phillies' offense, sans the right side of their infield.
For news, rumors, analysis and game recaps during spring training, check out Greg's blog: The Phillies Phactor!
Begin Slideshow

»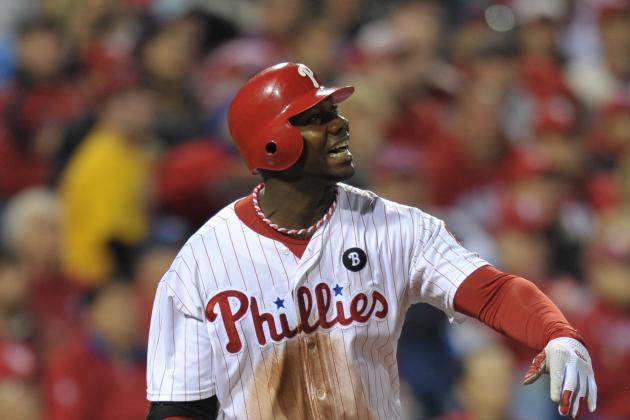 Drew Hallowell/Getty Images

Prediction: The lineup's power struggles mightily without Ryan Howard and Chase Utley.
This is probably the most obvious prediction on the list, but it needs to be said anyway: When the middle of your order is sitting on the disabled list, your power output is going to struggle.
Even in spite of missing time in 2011, Howard and Utley hit 44 of the Phillies' 153 home runs last season, or roughly 29 percent.
The club had expected Utley to be in the Opening Day lineup and Howard returning about a month thereafter, but both of those hopes seem extinct now.
Instead, the club will need guys like Hunter Pence and Jim Thome, who hasn't played a game at first base since 2007, to pick up the slack.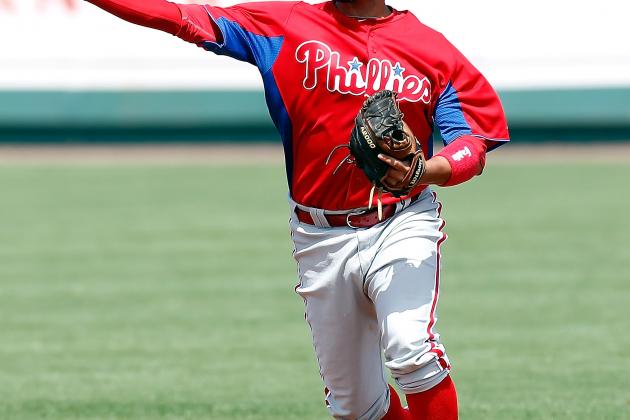 J. Meric/Getty Images

Prediction: The Phillies will run Freddy Galvis out to second base as frequently as possible in Chase Utley's absence.
A couple of months ago, the prospect of Galvis playing second base was non-existent, even after the Phillies re-signed Jimmy Rollins to a three-year deal. Now, he is penciled in as the club's Opening Day second baseman.
Why?
Galvis has been impressive this spring. Recognized for his stellar defensive work at shortstop, the young middle infielder moved over to the other side of second base ready to play. What really has stood out this spring, however, has been his work at the plate.
Though the average isn't there, Galvis has shown an improved patience and discipline, resulting in more power. He isn't going to thrive at the plate, especially not at the MLB level, but the Phillies think he'll be able to at least hold the fort until Utley is ready to return, whenever that may be.
That's why he'll get every chance to prove himself with the big-league club.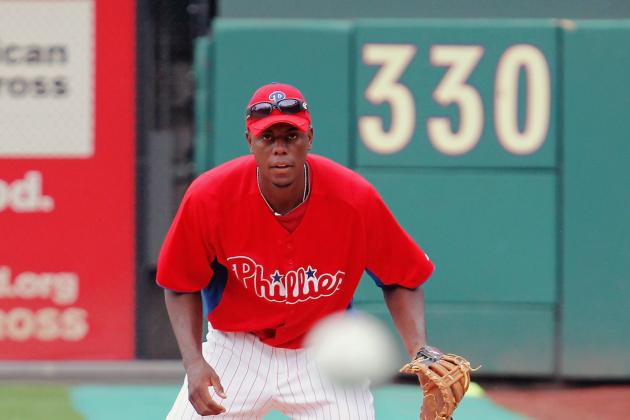 Len Redkoles/Getty Images

Prediction: The Phillies rotate through first basemen with great frequency.
The saying goes, "You don't know what you've got 'til it's gone." The Phillies are finding that out the hard way with Ryan Howard recovering on the disabled list.
Howard has played in at least 140 games for the Phillies in each season since 2006. Now, they'll be without him for what could be the first couple of months of the season.
They have options. They have plenty of options. But are any of them actually good options?
The best option, at least defensively, is John Mayberry Jr., and he'll see a fair share of playing time in left field this season. Not that it should be a cause for concern, but he hasn't been hitting the cover off the ball this spring either.
Offensively, the best option is probably Jim Thome, but he can't play first base more than twice a week. The other options are Laynce Nix, who has played a total of nine games (six starts) at first base in his career and Ty Wigginton, who will be playing all over the place for the Phillies.
The Phillies certainly have options, and they'll all see some time at first.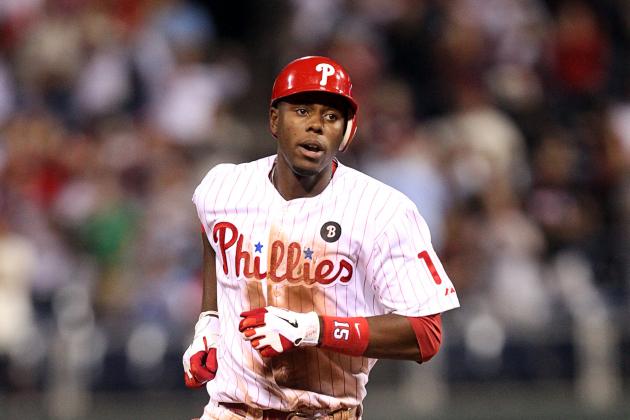 Hunter Martin/Getty Images

Prediction: John Mayberry Jr. gets every chance possible to prove himself in 2012.
With Ryan Howard and Chase Utley on the shelf, the Phillies are going to need every bit of help they can get at the plate. One of the best power sources from last season came from Mayberry, who played more of a minor role early in the season.
Not this year. He'll get every chance possible to be an everyday player in 2012.
Once thought of as a platoon partner for Laynce Nix in left field, the absence of Howard has created even more playing time for Mayberry. He'll get a chance to prove that his 2011 season wasn't a fluke, but the Phillies could be in for some trouble if it was...
So what's in store for the versatile slugger?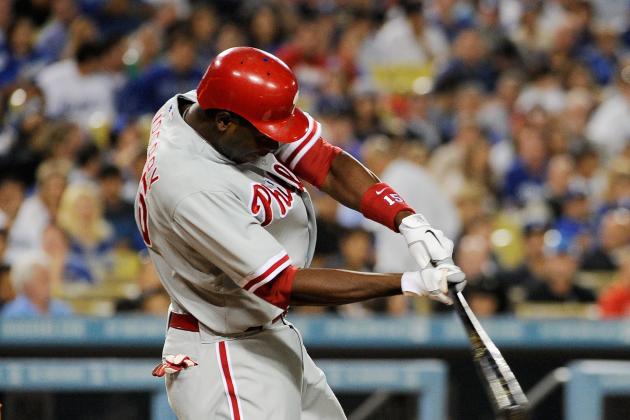 Kevork Djansezian/Getty Images

Prediction: Out of Ryan Howard's shadow, John Mayberry Jr. excels in a more regular role in 2012.
There wasn't a lot to dislike about Mayberry's 2011 season. Sure, he had his struggles against tough right-handed pitchers, but the man hit 16 home runs in just 296 plate appearances and gave the Phillies a real left in left field when Raul Ibanez struggled.
Mayberry is easy to slot into a lineup because he plays above-average defense wherever he goes, be it left field, first base, or even center field.
When you are easy to get into a lineup, your manager will find you at-bats, but what will Mayberry do with those at-bats in 2012? It's just a hunch, but I think the Phillies have found a very solid player for the next couple of seasons.
At the very least, he is a guy who is going to excel against left-handed pitchers that you will have to rest against tough right-handed starters, but Mayberry showed last season that he can handle the stress of an everyday job.
The Phillies will be counting on him this season.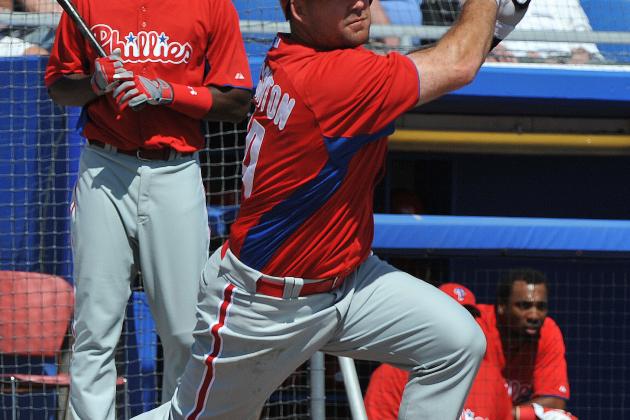 Al Messerschmidt/Getty Images

Prediction: The Phillies wind up playing Ty Wigginton a lot more than they had originally intended.
When the Phillies acquired Wigginton over the winter, he was supposed to be a complementary piece. He'd be able to give Chase Utley and Placido Polanco a breather while guys we've already covered played first base.
Now, he is in a position to play almost every day.
Wigginton's ability to play second base had made him an interesting player to keep an eye on this spring, and the Phillies have played him at first and third base as well.
With Utley and Ryan Howard on the disabled list, Wigginton will get plenty of playing time at first and second base, especially against left-handed pitching.
However, the Phillies will desperately need to keep Polanco healthy, especially now that Utley and Howard are out, so expect to see him man the hot corner frequently as well.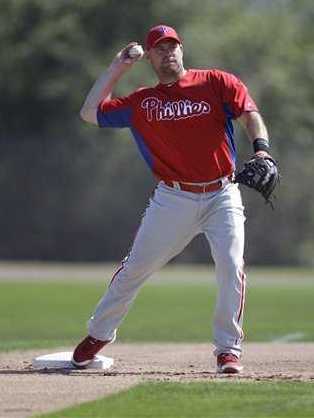 Prediction: Inconsistency from other players pigeonhole Ty Wigginton into playing a lot of first base.
As we covered on the last slide, ideally, the Phillies would like Wigginton to play a number of positions this season, which is why they've played him at first, second, and third base this spring. It was an excellent plan when he was only making a spot start as a bench player.
Now, the Phillies may be backed into overexposing their "super utility player."
When the Phillies are healthy, Wigginton is a valuable asset, capable of giving at least three different regulars a breather while not upsetting the offense.
With Chase Utley and Ryan Howard on the disabled list, the Phillies will have to use their bench players in starting roles, and if the eye test in Spring Training is any indication, Laynce Nix is not ready to have a stellar season and Jim Thome won't be playing much first base.
That leaves John Mayberry Jr. and Wigginton to play most of the at-bats in left field and first base, respectively, something the Phillies did not intend with the latter's acquisition.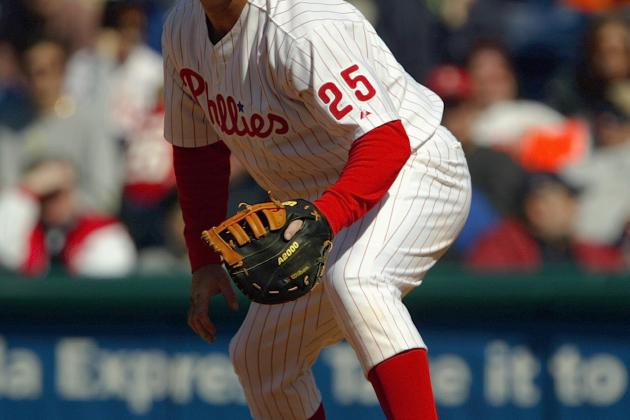 Doug Pensinger/Getty Images

Prediction: Jim Thome is limited to two starts a week early in the season.
Just a few slides in and I feel as though I've said this about 20 times already: Things haven't gone the way the Phillies wanted them to.
When the club signed Jim Thome in the off-season, the intention was to use him as a left-handed power threat off of the bench, maybe giving him a start or two as Ryan Howard recovered. They had other options then.
Now, the story is a little different.
The Phillies' lineup could use a little punch and few players on the roster provide pop like Thome does.
The real problem is the fact that there is no designated hitter in the National League, and a team built around pitching can't take too many chances on defense.
Thome will make a few starts as Howard recovers, but don't expect more than two a week, if that.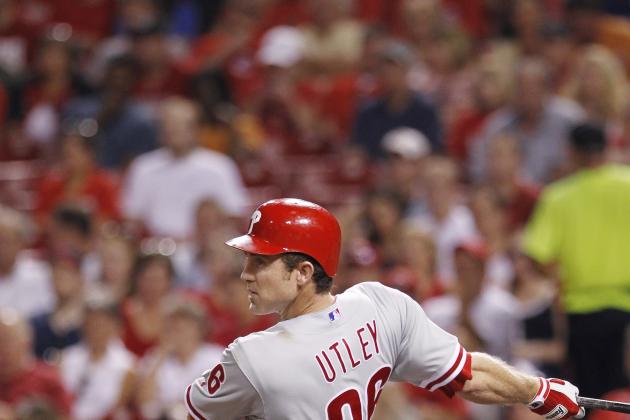 Joe Robbins/Getty Images

Prediction: Second base becomes a major cause for concern for the Phillies.
As if it wasn't already...
Believe me, if anyone knows that there aren't many second basemen like Chase Utley, it's the Phillies. His absence leaves a gaping hole in the lineup that front-office officials are scrambling to fill. The problem is that they don't have many options.
Freddy Galvis is about as good a defensive option as you're going to get, but he's also about as bad an offensive option as you can imagine. Ditto for Pete Orr, minus the defensive prowess.
With Ty Wigginton moving around the infield and certainly not much more than a warm body at second, don't expect much from him there either.
So what's the fallout?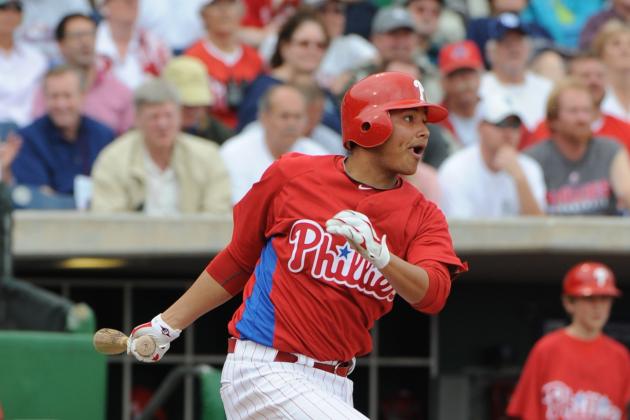 Al Messerschmidt/Getty Images

Prediction: A disastrous offensive campaign out of Freddy Galvis leaves the Phillies looking for other options.
If Galvis could hit as well as he could field, Jimmy Rollins would be wearing a different uniform this season.
For a long time, that has been the story for Galvis. He can field with the best of them and hit with the worst of them. Though there have been glimpses of promise this spring, many people expect Galvis to struggle against MLB pitching this season.
Will Galvis struggle to the point where the Phillies feel he must be demoted? Who knows? He is a relative unknown at the plate.
Though I suppose a, "We'll just have to wait and see," is in order here, I'm not sure that Galvis is ready to hit in the MLB, and the Phillies may find that out soon enough.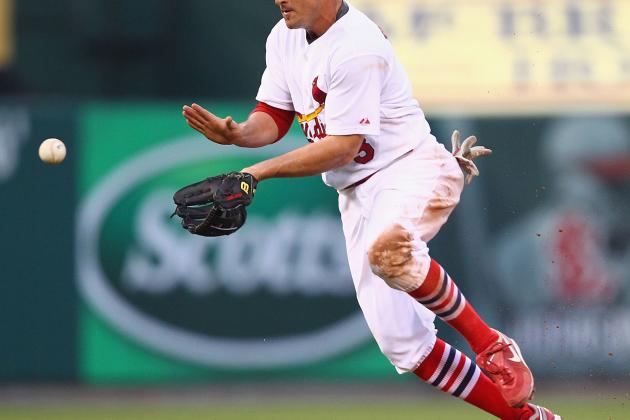 Dilip Vishwanat/Getty Images

Prediction: The Phillies acquire a utility man before or shortly after Opening Day.
At the time of the deal, trading Wilson Valdez made a good bit of sense. Now that Michael Martinez is on the shelf for six to eight weeks with a broken foot, I'm sure the Phillies are kicking themselves for dealing their utility infielder.
With Martinez, Chase Utley, and Ryan Howard all on the disabled list to begin the season, the front office will scour the trade market for a utility man that will serve as an upgrade to the incumbent by default, Pete Orr.
Over the course of the spring, speculation about whom the Phillies are interested in has run rampant. Their preference is a good defender and right-handed hitter.
Some of the popular names have been Ryan Theriot, Mike Fontenot, Ramiro Pena and a slew of slick-fielding veterans.
I expect them to swing a deal for a utility infielder as teams cut their rosters down to size.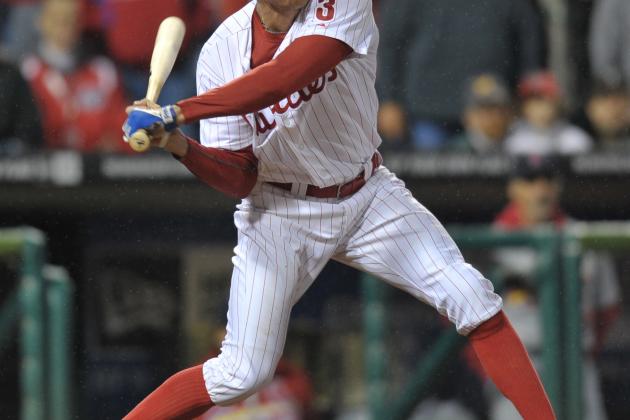 Drew Hallowell/Getty Images

Prediction: Hunter Pence is under the most pressure to carry the Phillies' offense.
Without a doubt, with Chase Utley and Ryan Howard on the disabled list, the Phillies absolutely need Pence to carry the offense through the first couple months of the season.
Is he up to the task? Well, he should be. After all, he played that same role as a member of the Houston Astros, when he was one of the few legitimate offensive threats in the lineup. The difference with the Phillies is simple: He'll still have some support.
After exploding onto the Philly scene after last season's trade deadline, there are high expectations for Pence's first full season with the Phillies, but no one will have higher expectations than the club itself.
They'll need him to hit for the same type of power that he showed after coming to Philadelphia if the team wants to have any kind of real success at the plate.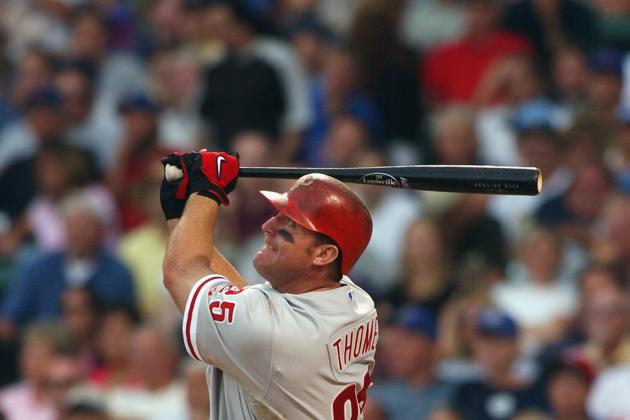 Jonathan Daniel/Getty Images

Prediction: A vastly improved bench winds up being overexposed and overlooked as the Phillies attempt to hold down the fort.
Believe it or not, the Phillies did an excellent job of upgrading their bench over the offseason, one of their weakest areas from a season ago.
They needed left-handed power, so they went out and signed Jim Thome. They needed right-handed power, so they acquired Ty Wigginton from the Colorado Rockies. The club needed a strong platoon partner for the left-field position, so they pursued Laynce Nix aggressively.
Brian Schneider's strong defensive work brought him back to Philly, while the defensive aptitude of Michael Martinez made Wilson Valdez expendable.
The bench was set.
Oh, how much can change in just a month's time.
With Chase Utley, Ryan Howard, and Martinez on the disabled list, the Phillies' bench is in flux. Wigginton will have more of an everyday role. Thome and Nix will find more regular at-bats at first base.
What looked liked a strength heading into the season now has a great chance of quickly becoming exposed as the Phillies' growing number of injured heal.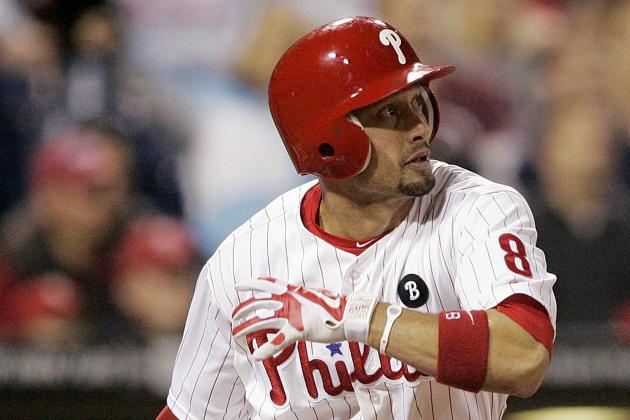 Rich Schultz/Getty Images

Prediction: For the Phillies' offense to thrive without Chase Utley and Ryan Howard, Shane Victorino must become an offensive juggernaut.
Utley and Howard don't just "make up" the bulk of the Phillies' order. They are the bulk of the Phillies' order. When you go back over the last couple of seasons, the Phillies' best offensive years coincide with great years from the right side of their infield at the plate.
With those two on the disabled list, they'll need a new source of offense. We've already covered what that means for Hunter Pence, but what about Victorino?
The "Flyin' Hawaiian" has developed more power in recent seasons, and that will be vastly important if the Phillies plan to throw him in the middle of the order in the absence of Utley and Howard.
Realistically, he is the ideal hitter to have hitting third in your lineup. He has the ability to hit for average. He has developed the ability to hit for power. Frankly, if you're looking for someone to drive in the first two hitters of order while setting the table for the meat of it, look no further than Victorino.
The offense can survive in the wake of missing Utley and Howard. I have no doubt about that. With their pitching staff, that will still win them ball games.
However, if the club wants to thrive in their absence, Victorino will need to become an offensive juggernaut.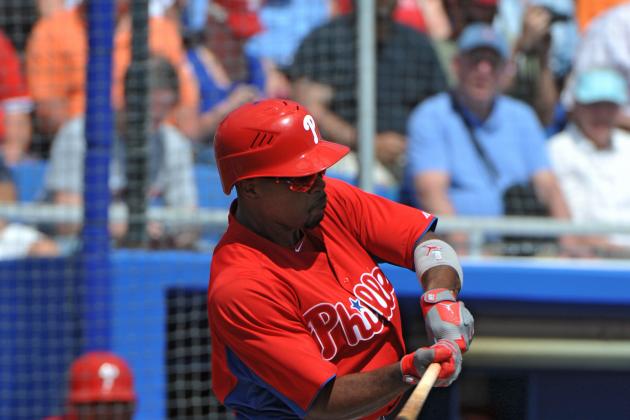 Al Messerschmidt/Getty Images

Prediction: With the lineup's major source of power on the disabled list, Jimmy Rollins and his much-different approach thrive at the top of the order.
Over the last few seasons, the Phillies' fan base has practically begged Rollins to approach the game more like a "lead-off" hitter. What does that mean?
Well, obviously, that role entails taking more pitches, working the count, and finding ways to get on base in front of the rest of the lineup. That hasn't always been Rollins' strong suit.
However, he has come into camp under the guidance of legends like Mike Schmidt, who spoke to the entire club about being more patient hitters at the plate, and Rollins has passed the "eye test" this spring in that regard.
With Chase Utley and Ryan Howard out, Rollins will thrive offensively. We will see a much more patient hitter who understands the importance of utilizing small ball to score runs in the absence of the lineup's big boppers.
Expect more bunt attempts, more steals, and more hit-and-runs, at least early in the season.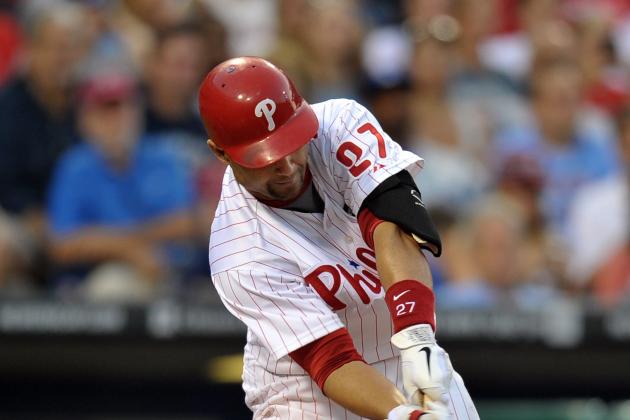 Drew Hallowell/Getty Images

Prediction: A healthy Placido Polanco gives the Phillies' lineup a boost in a number of different ways.
A healthy Polanco makes the Phillies a better team in general. That's the short version.
The long version is that a healthy Polanco gives the Phillies a much more balanced offense. First and foremost, they won't be batting a veteran hitter second in the lineup just because he's a veteran hitter. When healthy, Polanco is still a valuable hitter.
When he's going right, Polanco is a contact machine. His ability to spread the ball to all fields is well documented, and while I'm sure the Phillies are dreaming of a power-hitting third baseman right about now, I'm sure they would settle for a healthy, productive Polanco.
With Chase Utley and Ryan Howard out, you can expect to see some combination of Jimmy Rollins, Polanco, Shane Victorino, and Hunter Pence hitting at the top of the order, with Jim Thome a candidate on the few days he makes a start.
If Polanco is healthy, he should be getting on base and moving base runners around, something the Phillies will desperately need to do with two of their best power hitters on the bench.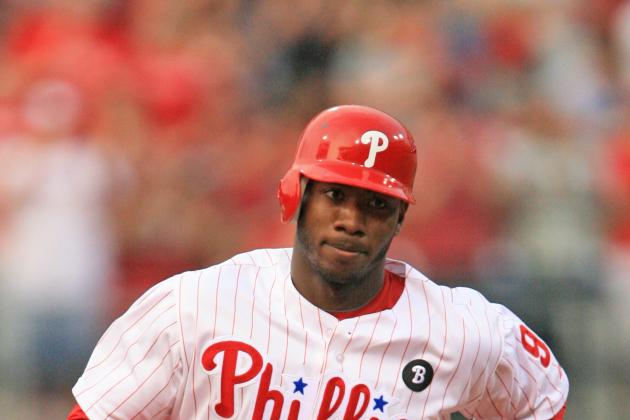 Hunter Martin/Getty Images

Prediction: Should the Phillies' offense struggle, or should the team learn that either Chase Utley or Ryan Howard will miss significantly more time than anticipated, Domonic Brown will return to the MLB, and this time, he is here to stay.
The Phillies know the value of offense. Just ask Roy Halladay. The lack of offense in Game 5 of last season's NLDS ended the Phillies' season. That lineup actually included Utley and Howard. Now the lineup's situation is even more desperate.
What happens if John Mayberry Jr. struggles? What if Laynce Nix struggles? What if Mayberry is forced to move to first base on a more permanent basis?
Throughout the off-season, we've addressed the Phillies' left-field situation like it was a guaranteed thing. However, it shouldn't be surprising in the least bit if both Mayberry and Nix struggle. Their troubles at the plate are well-documented. Then what's the question?
What can Brown do for you?
It sounds cliche, but the question is the answer. If you need some offense in a pinch, give Brown a shot. He can hit for average and power. He runs well. I mean, let's face it people: If the Phillies are truly so concerned with his defense in left field, explain to me how the Phillies won the World Series with Greg Luzinski and Pat Burrell, and then made a major commitment to Raul Ibanez.
Brown has the greatest offensive potential, and when he returns to the MLB, he'll be here to stay.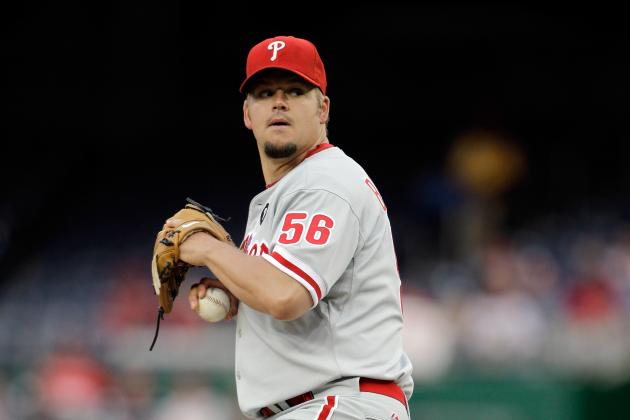 Rob Carr/Getty Images

Prediction: The Phillies swap Joe Blanton for a similarly priced hitter.
Over the offseason, it seemed like Blanton was a goner. It was a matter of time before they traded him. All he needed to do was spend Spring Training proving that he was healthy.
So far, he has done just that, looking pretty solid in the process. So why haven't the Phillies traded him?
Well, the market for him hasn't developed the way they thought it would, for starters. Teams are reluctant to give up a lot for a guy in Blanton's shoes, and the Phillies want wiggle room under the luxury tax. It's going to be tough to find a match.
Things are changing quickly, though.
Chase Utley and Ryan Howard are sidelined. Placido Polanco has missed time this spring. Freddy Galvis is going to miss some time now.
The Phillies may have to abandon their search for a team willing to eat most of Blanton's contract and find a team in desperate need of a starting pitcher with a hitter that they're willing to part with. Those clubs should emerge quickly, as rosters are trimmed down.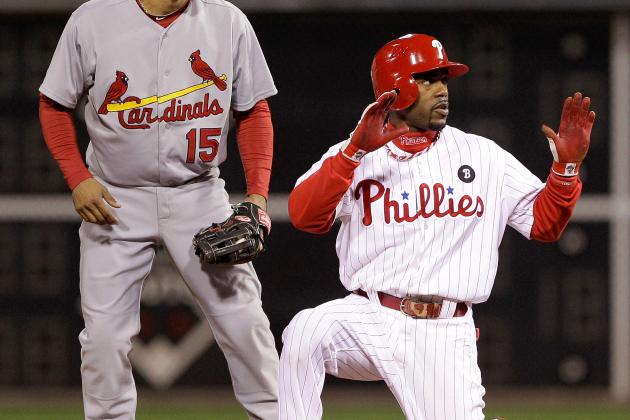 Rob Carr/Getty Images

Prediction: Without the middle of their order, the Phillies will play much more "small ball" than in years past.
The Phillies have trying to play more small ball this spring, They were going to do it with or without Chase Utley and Ryan Howard, but now that those two sluggers are on the shelf, playing small ball has become all the more important.
Few teams are better equipped to do it than the Phillies. It's just a matter of trying. With Jimmy Rollins, Shane Victorino, and the possible addition of Juan Pierre, the club has speed to burn. They have several players with excellent bat-handling skills.
Now they just need to do it.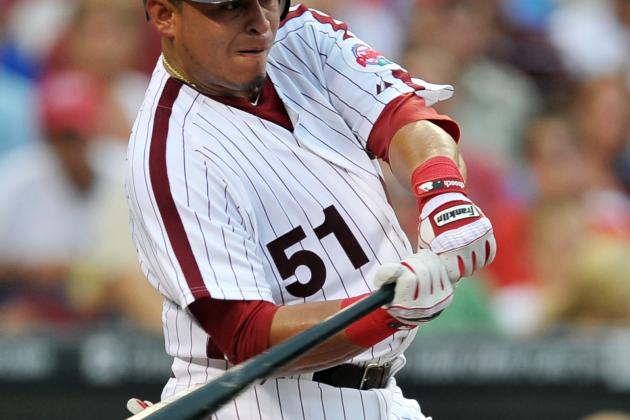 Drew Hallowell/Getty Images

Prediction: In light of major injuries to the offense, Carlos Ruiz has the best offensive season of his career.
Ruiz is something like a wildcard for the Phillies' offense. On one hand, he projects to be a very good hitter out of the eight-hole, working the count and turning the lineup over.
However, is it reasonable to believe that the same skills that make him a good hitter for that role can completely transform his game?
Over the last couple of seasons, Ruiz has displayed an unbelievable patience at the plate. In 2010, he struck out 54 times, but walked 55. In 2011, those numbers were exactly the same: 48 walks, 48 strikeouts.
That incredible eye at the plate has led "Chooch" to OBPs of .400 and .371, respectively.
Of course, a lot of that has to do with a pitcher's approach. They know he has the pitcher hitting behind him and are more willing to work around him. Regardless, should the Phillies explore moving Ruiz up in the order to see what he is capable of?
It could reap huge rewards, should he pan out in a more prominent offensive role.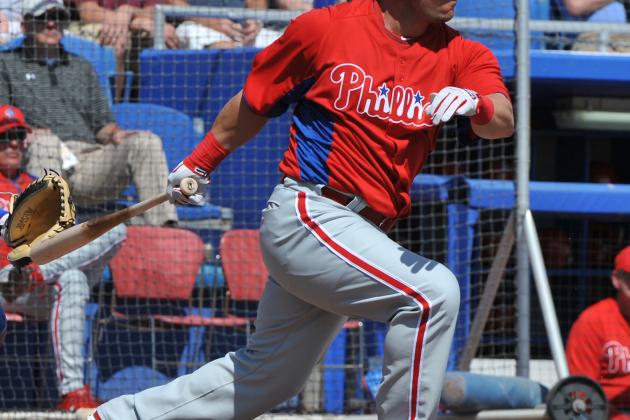 Al Messerschmidt/Getty Images

Prediction: Laynce Nix struggles in a more prominent role with the Phillies.
When the Phillies signed Nix over the winter, it was a solid move. The man can't hit a lick against left-handed pitching, but he has more than handled right-handed pitching over the course of his career and would make for a solid platoon / pinch-hit option.
In the long run, he offers a little more than similar players the Phillies have employed in the past, like Greg Dobbs, Ross Gload, and Matt Stairs.
In a more regular role, Nix will become exposed. He was signed to be a reserve player, and even in light of big injuries, should be used as such.
After an uninspiring spring, the Phillies may have pigeonholed themselves into playing Nix more than they would like, and that could be troublesome.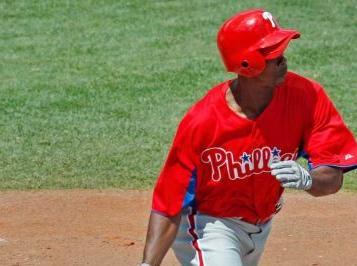 Prediction: Juan Pierre makes the Phillies' roster out of Spring Training, but is the first victim of roster constraints should the Phillies need to make a move.
There is a battle going on in Clearwater, Fla., right now pitting outfielders Pierre and Scott Podsednik against each other for a final roster spot.
Podsednik has had the better spring. Pierre is just the right type of "gritty veteran" that manager Charlie Manuel loves. So who makes the cut?
In all reality, this is roster decision (vacated by the absences of Ryan Howard and Chase Utley) that could come down to the final days of camp, but my gut feeling is that Pierre, who has a March 31 opt-out clause, makes the final cut, while Podsednik is optioned to AAA.
Pierre gives the Phillies the chance to play more small ball—hit and run, steal, bunt. It's something that Phillies are desperately trying to incorporate into their club.
However, when the perfect storm brews and the Phillies learn that not only is Pierre a shell of his former self, but they need to make a spot on the roster, Pierre will be the first to go.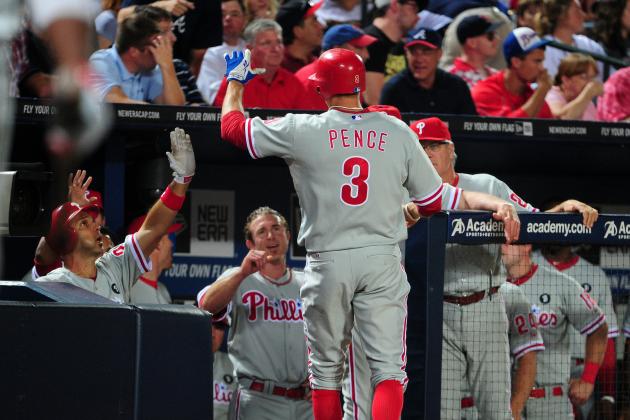 Scott Cunningham/Getty Images

Prediction: The Phillies score more runs in 2012 than they did in 2011.
The Phillies were the walking wounded last season. Every single one of their everyday players was dealing with some kind of ailment during the season, and yet, the addition of Hunter Pence gave them a spark in the second half of the season, allowing them to score a total of 713 runs.
In 2012, they'll surpass that total.
First and foremost, they'll have Pence for a full season. Shane Victorino is entering a contract year and is poised to have a big season. John Mayberry Jr. has something to prove. Placido Polanco is healthy. Domonic Brown is waiting in the wings.
However, what makes the Phillies a more dynamic team this season is their ability to play match-ups. Jim Thome and Laynce Nix gives them a pair of serious threats against right-handed pitching, while Ty Wigginton provides the same pop against lefties.
Their ability to mix and match lineups with Chase Utley and Ryan Howard on the disabled should help them avoid the prolonged, embarrassing slumps that the entire offense went into last season.
When those two return, they suddenly have a very deep lineup.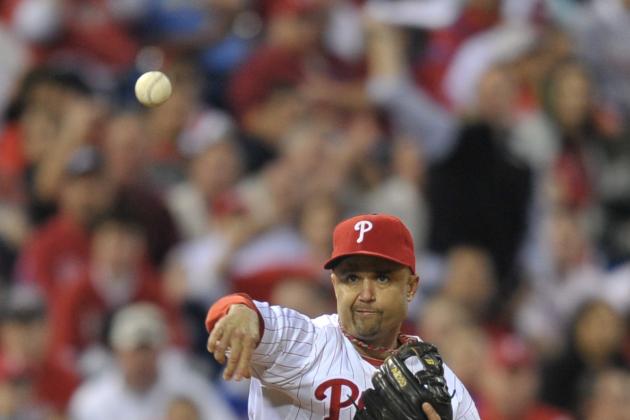 Drew Hallowell/Getty Images

Prediction: Even with Chase Utley (and Ryan Howard) on the disabled list, the Phillies will run out one of the best defenses in the baseball.
So this isn't really about the Phillies' offense, but it is certainly related. The entire right side of the Phillies' infield will begin the season on the disabled list, and while it will hurt offensively, it could hurt defensively as well.
Then again, the defense might be better to start the season.
Few players in the game are going to play a better defensive second base than Utley, but Freddy Galvis will certainly be up to the task. He has very good range, soft hands, and a strong arm. The transition to second should be seamless.
First base is a different story. While Howard has made significant strides with his defense in recent seasons, there is no doubt that John Mayberry Jr. has the potential to be an above average defender there.
Will guys like Ty Wigginton and Jim Thome weigh that down? Sure, a bit.
The point is simple though: At the end of the day, the Phillies will once again be one of the best defensive teams in the game.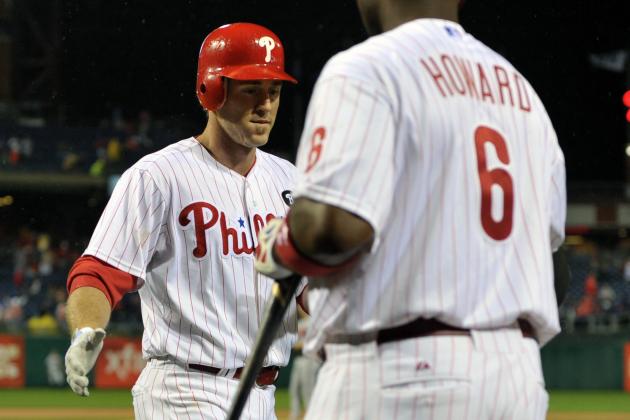 Drew Hallowell/Getty Images

Here it is, the ultimate prediction.
When will both of the Phillies' injured stars return?
Ryan Howard: So far, every indication has been that the Phillies' slugger will return sometime in May. I'll go the safe route and predict that Howard will be activated from the disabled list during the month of May.
Chase Utley: Utley is a bit more difficult to get a read on. The second baseman laughed off retirement rumors during his session with the media earlier this week, but didn't reveal a timeline for his return.
Last season, Utley missed nearly two months with pain in the opposite knee. Logically speaking, because he has stated that he is not in as much pain, one could assume that he would not need as much time to recover.
Then again, Utley has not been very forthcoming about his condition and the whole "Utley intends to play this season" rhetoric that we've been hearing does not sound very promising.
For now, I'll take a shot in the dark: Utley returns during the same week as Howard.