NBA Draft 2012: 10 Players Who Hurt Their Stock in NCAA Tourney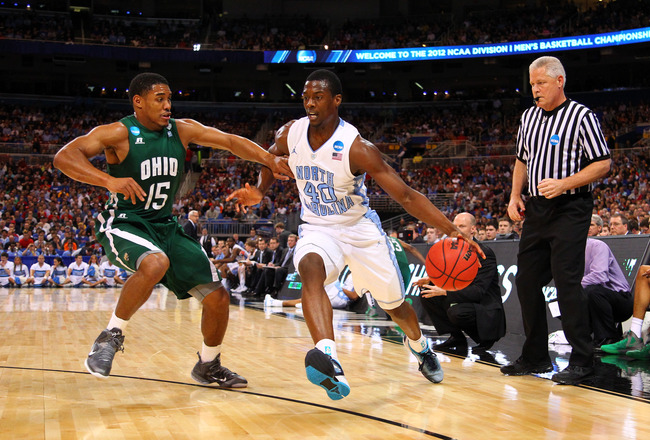 Dilip Vishwanat/Getty Images
The NCAA tournament is not only an opportunity for college basketball players to raise their draft stock—they can also hurt their stock as well.
NBA scouts like to see how college players respond when they are put in big situations. The NCAA tournament is the biggest situation most basketball players will ever play in. How they respond is important. Being a good NBA player isn't all about talent—it's also about confidence and resiliency.
Here is a list of 10 NBA draft prospects that hurt their draft stock in the 2012 NCAA tournament:
Terrence Ross, Washington Huskies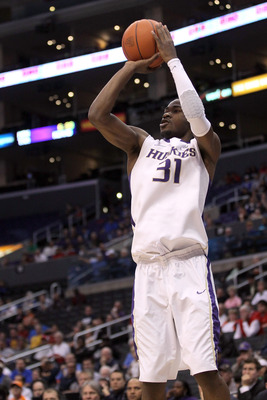 Stephen Dunn/Getty Images
Terrence Ross didn't get a chance to hurt his draft stock in the NCAA tournament.
His Washington Huskies didn't even make it to the Big Dance.
The Huskies won the Pac-12 title after finishing the season 14-4 in-conference. The Pac-12 title alone wasn't good enough to earn the Huskies a NCAA tournament bid. This year, the Pac-12 lacked any standout teams. A disappointing loss to Oregon State in the Pac-12 tournament sealed the Huskies fate—a NIT bid, instead of the glorious NCAA tournament.
It's a disappointing sign that Ross failed to make the Huskies shine in an incredibly weak basketball conference. If Ross were a lottery talent, he should have been able to dominate the Pac-12 more so than he did.
Ross could develop into a nice role player in the NBA. If a NBA team is looking for anything more than that out of him, they may end up disappointed.
Fab Melo, Syracuse Orange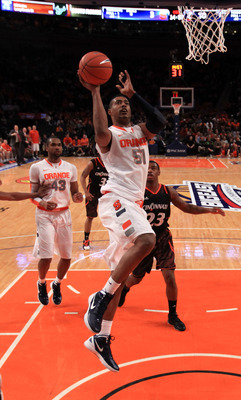 Chris Trotman/Getty Images
Fab Melo could have guaranteed himself a spot in the first round of the NBA draft with a strong NCAA tournament.
Instead, Melo got himself suspended because of academic issues and didn't play a minute in the tournament.
Melo needed the tournament to prove to NBA scouts that he truly is a first-round talent. Skilled seven footers are rare. By missing the tournament, Melo will become an afterthought to NBA scouts.
Syracuse made it to the Elite Eight without Melo. Melo's absence finally came back to hurt Syracuse against Ohio State, where they were pounded in the low post by Jared Sullinger.
By getting suspended due to academic issues, Melo may have also scared off some NBA teams due to his lack of commitment. If a player can't make his grades when his team is counting on him, how can he be ready to take on the responsibility of being a NBA player?
Draymond Green, Michigan State Spartans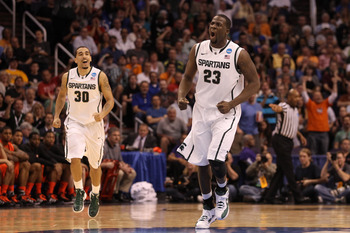 Christian Petersen/Getty Images
The way Michigan State lost to Louisville was very disappointing.
Equally as disappointing was how senior Draymond Green failed to get anything going offensively in one of the biggest games of his college career.
Green will be a good NBA player because of his rebounding ability. Small forwards that can rebound are always great off the bench. But as a scoring threat, Green will leave a lot to be desired.
NBA scouts know everything there is to know about Green. He's a senior heading into a draft that usually only rewards underclassman. Green failed to display anything special about his game in the NCAA tournament. Now he's going to have to hope a NBA team gives him a fair shot at making their roster.
Jeremy Lamb, Connecticut Huskies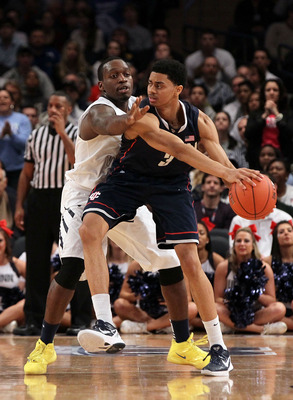 Jim McIsaac/Getty Images
Jeremy Lamb made huge strides as a player in his sophomore season.
Unfortunately, Connecticut made a huge jump back as a team.
The Huskies didn't just lose to Iowa State in the first round of the tournament, they got beat down. The loss was more than just embarrassing—it could quite possibly be fatal. This could be Connecticut's last tournament until at least 2014. The Huskies are facing a ban on tournament play next year because of past academic problems.
Lamb, who is considered a top-10 talent in the upcoming NBA draft, should have led UConn to a stronger season if he's that good of a player. Along with his seven-foot teammate, Andre Drummond, UConn was better than their loss to Iowa State showed.
To make matters worse for Lamb, his missed windmill dunk at the end of regulation against Iowa State didn't exactly show NBA scouts that he's ready or mature enough to play in the NBA.
Mason Plumlee, Duke Blue Devils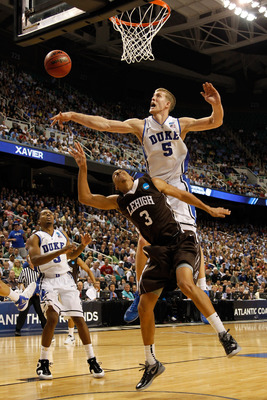 Mike Ehrmann/Getty Images
Mason Plumlee had a strong game against Lehigh. Unfortunately, because of Duke's first round exit from the NCAA tournament, Plumlee didn't get a chance to impress many scouts in the tournament.
Plumlee isn't sure if he's going to head to the draft yet. He wants to see what scouts think of him before he decides if he wants to leave Duke one year early.
Plumlee has a lot going for him — he's big, athletic and has played a lot of minutes in important college games. What Plumlee lacks is consistent production, toughness and strength. Those three negatives are huge for a prospective NBA player. Low post players in the NBA need to set the attitude for the team. If Plumlee gets pushed around and plays inconsistent; he will never earn the respect of a NBA locker room.
Too bad Plumlee didn't get another NCAA tournament game to quiet the critics. Now scouts are left to wonder if he's ready to play in the NBA.
Tyler Zeller, North Carolina Tar Heels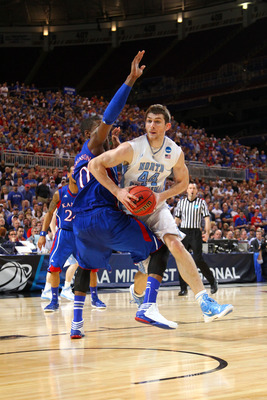 Dilip Vishwanat/Getty Images
Tyler Zeller had two strong NCAA tournament games and two disappointing ones.
In the Tar Heels' loss to Kansas in the Elite Eight, Zeller was disappointing. He scored 11 points, while only grabbing six rebounds. Six rebounds is unacceptable for a seven-footer in the college game.
Zeller hurt his draft stock in the NCAA tournament because he did nothing to improve it. He showed that he's got solid athleticism for a seven-footer and has a high basketball IQ. But Zeller also didn't do anything to show that he's a physical inside presence ready to play in the NBA.
Zeller could be a good backup center in the NBA, but don't expect much more than that.
Austin Rivers, Duke Blue Devils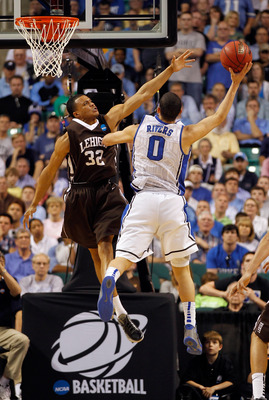 Mike Ehrmann/Getty Images
It's a good thing that Austin Rivers is heading to the NBA draft. He can get out of the college game before scouts find reasons to rip his game apart.
Rivers had an up-and-down freshman year at Duke. He had moments of brilliance, like his game-winner against North Carolina, and moments where he looked very immature.
Rivers is heading to the NBA draft without winning a single NCAA tournament game. The tournament is the best opportunity that a college basketball player has to show his clutch gene and leadership abilities.
Since Duke lost in the first round to Lehigh, Rivers never got that chance. He most likely won't be a top-10 pick in the 2012 NBA draft. If Rivers had had a strong tournament, he could have positioned himself to be a top pick.
Andre Drummond, Connecticut Huskies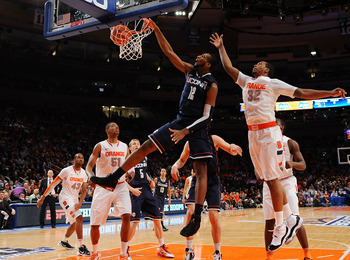 Michael Heiman/Getty Images
All year, scouts and draft experts have been saying that Andre Drummond will be a top-five pick in the 2012 NBA draft.
When you look at Drummond's stats, considering that he's 6'10" and weighs 270 pounds, they look disappointing. He averaged only 10.2 points and 7.7 rebounds per game.
Drummond's first-round game against Iowa State was even more disappointing. He finished with two points and three rebounds.
This is a top-five pick?
If I'm a NBA team, looking to draft a big man early, why would I draft Drummond when he can't even dominate Iowa State?
Drummond may be the next Hasheem Thabeet. His weak tournament performance should scare away a lot of NBA teams.
Perry Jones III, Baylor Bears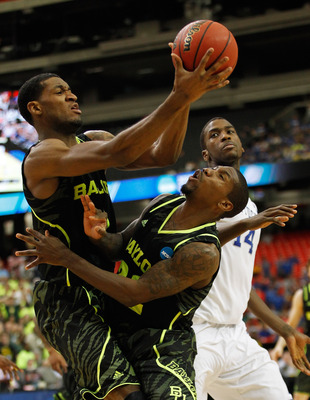 Streeter Lecka/Getty Images
Serious question: What was more ugly—Baylor's zebra-striped shorts or Perry Jones III's NCAA tournament performance?
As ridiculous as the shorts were, Jones' performance in Baylor's four NCAA tournament games was gruesome.
Jones would have been one of the top picks in the 2011 NBA draft had he left school after his freshman season. Now, Jones will likely go somewhere between picks 10 to 20.
There's no doubt that Jones is talented. He's a super athletic forward with an enormous upside. But Jones has a tendency to get raddled, and there are rumors that he is satisfied by taking the easy route.
A weak NCAA tournament performance will be costly for Jones.
Harrison Barnes, North Carolina Tar Heels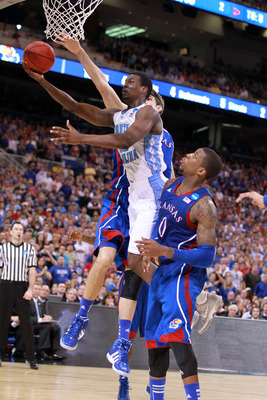 Andy Lyons/Getty Images
Harrison Barnes has some LeBron James in him.
Not talent wise, because there is no player in the world that compares to James in God-given talent.
But in terms of not having the "it" factor, James and Barnes are one in the same.
Barnes is a top-five pick. No doubt about it. There's just something about his game that leaves a bitter taste in your mouth.
Against Kansas in the Elite Eight, Barnes failed to raise his game. He shot five-of-14, with three turnovers and no three-pointers. For Barnes to validate himself as a top-five pick, he has to become more consistent in close games.
Players drafted in the top five are meant to be franchise changers, not role players. Barnes hasn't done anything in two years of college basketball to convince anyone that he will be a guaranteed productive NBA player.
Keep Reading