Malaysian F1 GP: Fernando Alonso Wins, Sergio Perez Delivers CV to Ferrari
March 26, 2012

Mark Thompson/Getty Images
If rumours of Sauber's Sergio Perez being in the frame to replace the hapless Felipe Massa at Ferrari are even close to being true, then the Mexican speedster may well just added a couple of extra dollars onto his potential contract, with a well-constructed and emphatic second place at the Malaysian Grand Prix.
Perez was in a position to win the race before a small mistake saw him run wide with a handful of laps remaining. While he caught the car before disaster struck, he gave Alonso enough breathing room to secure his against-the-odds victory.
The fact that Sauber rely on Ferrari engines is almost certainly a coincidence.
Fernando Alonso put Massa's discomfort into stark contrast, when he took a confused and eventful race by the scruff of the neck and won against all odds.
It was a performance that again underscored Alonso's brilliance and worthiness of his two world championships. By contrast, his teammate merely reminded us of his comparative mediocrity.
While rain has always been a great equaliser in Formula One racing, it would have taken a brave, or perhaps drunk, prognosticator to have picked Alonso—in the current Ferrari—to have emerged from the pack to secure an emphatic victory.
Massa, by way of contrast, finished in a rather distant fifteenth place behind Jenson Button—who lost his front wing and had front tyre punctures after a collision with Narain Karthikeyan.
To add insult to injury, Sebastian Vettel also had a run-in with Karthikeyan picking up a puncture when the Hispania driver really didn't bother getting out of the way while being lapped, slicing into Vettel's rear tyre causing a spectacular failure.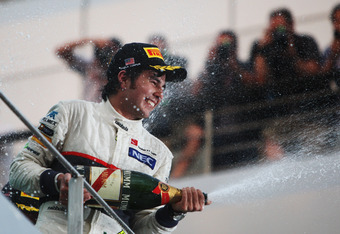 Ker Robertson/Getty Images
The topsy-turvy nature of the race was reflected elsewhere, with last week's top-two place-getters stranded outside of the points, Force India being the only team to finish with two cars in the points and Bruno Senna finishing sixth in a Williams.
While Button and Vettel had a bad day, the big story is that Alonso took a car widely regarded as fifth- or sixth-best on the grid to a victory and now leads the championship, whereas as his teammate finished well out of the points—again.
Of course, no one is silly enough to believe that this win changes anything for Ferrari. Alonso himself, sporting his ridiculous soul patch and in a rare moment of post-race interview honesty, admitted that the race is no indicator of where the Ferrari really is and there is a lot of work to do between now and the race and China.
McLaren are still the pacesetters and reigning champions Red Bull are going to have to work very hard to close the gap.
The race also changes nothing for Massa. His season was in deep trouble—for want of a better word—before this race and the trouble only got deeper today.
The desperate measure of flying out a new chassis did nothing for his performance during practice, qualifying or the race. Given that his teammate won in an apparently identical car, Massa's failure can be put down to only one thing—his driving ability.
This F1 season is shaping up as an absolute cracker.