LA Lakers and Oklahoma City Thunder Destined for Western Conference Finals Bout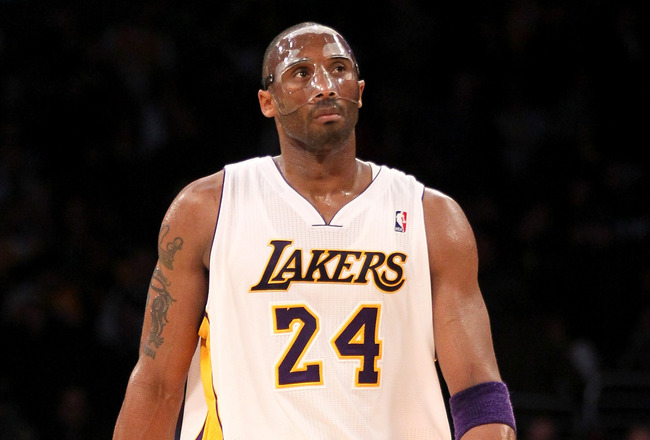 Stephen Dunn/Getty Images
Unless you are a ghost to the NBA, you would know that the Los Angeles Lakers and Oklahoma City Thunder are pretty good teams.
Are they good enough to make it to the Western Conference finals, though?
You would be crazy to think otherwise.
So read on to see reasons the Lakers and Thunder are destined for the Western Conference finals.
Best Teams in the West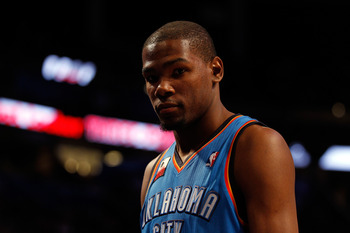 Mike Ehrmann/Getty Images
Just take a look at the standings and it's easy to see that the Thunder are first in the Western Conference and the Lakers are in third place.
Los Angeles may be in third place, but could San Antonio (second place in the West) really take the Lakers in a seven-game series? No.
As it stands, the Thunder have the second-highest scoring offense in the league, with 103.6 points per game. The Lakers are seventh in the league when it comes to points against, with 93.2 points per game.
Biggest Star Power
Christian Petersen/Getty Images
The Los Angeles Clippers could certainly make a case for having the biggest star power in the West, but they aren't quite there yet.
The Lakers obviously have Kobe Bryant—one of the biggest stars of them all. However, Bryant also has Pau Gasol and Andrew Bynum to go along with him.
Throw in Metta World Peace and you have one of the most star-powered teams in the West.
Oklahoma City, of course, has Kevin Durant and Russell Westbrook. These two players are arguably the best two-player combo in the league. They may be dysfunctional at times, but their combined 52.2 points per game is very hard to argue against.
James Harden is an absolute beast, and he is starting to come along as well. Add Kendrick Perkins to the mix and the Thunder is filled with stars.
Kobe Bryant and Kevin Durant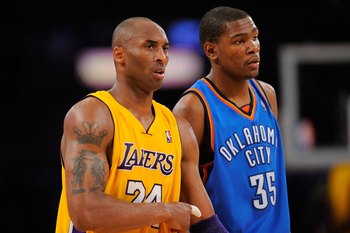 Kevork Djansezian/Getty Images
Kobe Bryant may be 33 years old, but he is still a machine on offense. Bryant is having an amazing season with 28.5 points, 4.7 assists and 5.6 rebounds per game.
Bryant is, of course, leading the league in scoring, and guess who is in second place right behind him?
Kevin Durant.
Durant averages 27.9 points, 3.5 assists and 8.1 rebounds per game.
Other than LeBron James, there are no other players who can take over a game quite like Bryant and Durant.
When it comes to scoring, these two are some of the best in the league.
If you're a tweeter, feel free to follow me @Trevbot77.
Keep Reading