Atlanta Hawks Free Agency 2012: Top 5 Players Hawks Must Target in Offseason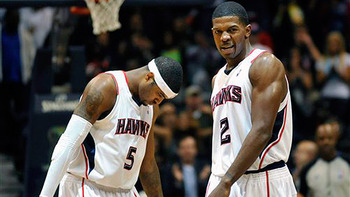 As I am writing this article, the Atlanta Hawks are putting the finishing touches on a win over the Wizards, bringing their record to a respectable 29 wins and 20 losses. Josh Smith nearly achieved a double-double, as usual, and Joe Johnson hit a clutch 3-point shot to give the Hawks the lead in the closing seconds.
"Josh Smith goes off" and "Joe Johnson comes through in the clutch" too often headline a Hawks post game recap. It is for this same reason that the Hawks will make the playoffs this year, eek their way through a six or seven game opening round, and end up swept through in the second.
Al Horford may return for the playoffs this season, but that will only bring the team back to being a first round playoff contender. If the Hawks ever plan on ascending to the NBA Finals, Hawks management will need to secure at least one of the talented free agents hitting the market this off season. Here are the top 5 players that should be on the Atlanta Spirit Group's radar.
5: Spencer Hawes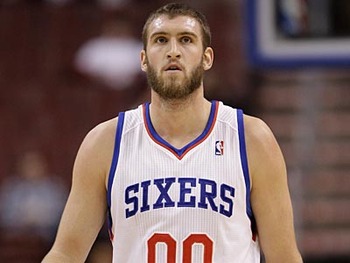 In a perfect world, Al Horford plays power forward and Josh Smith can slide down to the small forward position and dominate over smaller defenders. Unfortunately for the Hawks, their best pure center is Zaza Pachulia. Case in point—Al Horford plays a lot of center.
The addition of a player like Spencer Hawes would change everything. At 7'1'', Hawes is a pure center who is averaging close to a double-double this season.
At the age of 23, and with four years of experience under his belt, Hawes is coming into his own as a legitimate defensive and offensive threat in the post. Making $4.1 million this season, the Hawks would have a good chance of acquiring Hawes at an affordable price.
4: Michael Beasley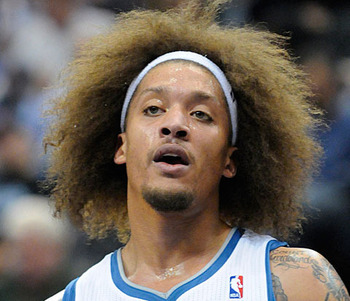 While it would be great for the Hawks to bring in a legitimate big man to fill the paint and allow Al Horford and Josh Smith to play their natural positions, the team could still have success by bringing in a player of Beasley's caliber.
Things for Beasley have never really worked out since his arrival in the NBA, but his talent and potential are undeniable. Over his short career, he has averaged over 15 points per game, something that no other forward for the Hawks not named Smith or Horford has been able to do.
Michael Beasley is a restricted free agent and will command a significant salary weather he remains in Minnesota or takes his talents elsewhere. The thought of a Smith-Beasley-Horford frontcourt combination should make Hawks fans' mouths water.
#3: O.J. Mayo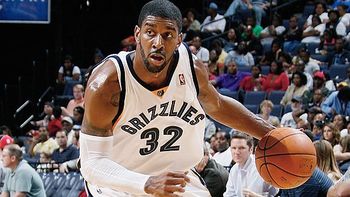 The achilles heel for the Hawks for what seems to be an eternity has been the lack of consistent guard play outside of Joe Johnson. Jeff Teague is beginning to come into his own, but the addition of O.J. Mayo would provide an immediate impact.
Mayo can do a little bit of everything, and would fill the void still remaining for the Hawks since the departure of Jamal Crawford, and Mayo is a better player than Crawford.
As a stat sheet stuffer Mayo would bring energy off the bench, considerable point scoring ability, and a level of excitement from the position that the team currently lacks. As a restricted free agent, it will take at least $7.4 million dollars to take him away from Memphis. If the Hawks want to take the next step, it would be money well spent.
2: Gerald Wallace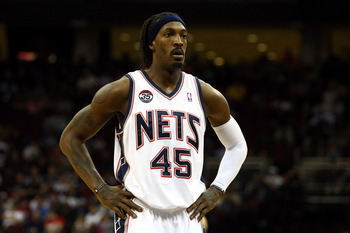 After six seasons it is clear that the Hawks made a mistake in taking Marvin Williams second overall in the 2005 draft before the likes of Chris Paul and Deron Williams (we will get to that in a second). The bigger mistake has been their refusal to acknowledge this mistake.
Gerald Wallace will be the premier small forward hitting the market this offseason, and the Hawks would be smart to do everything in their power to bring him to Atlanta. Wallace will bring skill, experience and southern hospitality (Roll Tide) with him to his new home, assuming he does not re-sign with the Nets.
Wallace is in his prime as a player, and would improve the play for the Hawks by leaps and bounds at a position which has troubled them for some time now. He has a player option for the 2012-2013 season, but unless New Jersey brings a man named Dwight onto the squad, there is a good chance he will be up for grabs.
#1: Deron Williams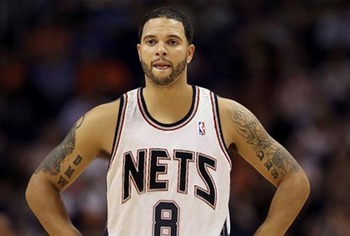 What else is there to say about this? Deron Williams should already be a Hawk. As we have already seen, the Hawks made a terrible mistake in the 2005 draft-they took the wrong Williams.
While Marvin Williams has gone on to role player status, Deron Williams has won an Olympic gold medal, played in three All Star games, and is averaging 17.6 points and 9.1 assists for his career.
Without question, the lack of a caliber point guard to distribute the ball to the Hawks' talented starting cast while contributing points of his own has been the main factor in preventing the team from advancing deep into the playoffs. Deron Williams fixes this problem. Deron Williams makes the Hawks a championship contender immediately.
So on day one of the off season, if the Hawks want to correct their mistakes of the past they will do whatever is needed to secure Williams for a long time. Like Wallace, Williams has a player option for next season, but chances are better than not that he is out of a Nets uniform next year. Just for emphasis I will reiterate the importance of the Hawks acquiring Williams: by any means necessary.
Keep Reading

Atlanta Hawks: Like this team?