Chris Tanev Quietly Makes His Mark on Vancouver Canucks' Blueline
March 25, 2012

Rich Lam/Getty Images
Alex Burrows' rags-to-riches hockey tale has been well documented by now—rising from ball hockey to the East Coast Hockey League before being signed as an undrafted free agent by the Vancouver Canucks.
Despite the hatred his pesky style elicits from opponents, his success story is now written in ink: Burrows rides shotgun alongside the Sedins on the Canucks' first line, and he's logged four straight seasons with more than 20 goals.
Young defenceman Chris Tanev's story is shaping up just as well. He spent most of Thursday's game against Dallas paired with Dan Hamhuis, and The Province's Jim Jamieson reports that Alain Vigneault is so pleased with his play to date, he's looking to give him more minutes and position him as part of his top shutdown pair.
Those are big responsibilities for any 22-year-old blueliner, especially one who went undrafted and is just three seasons removed from the Markham Waxers of the Ontario Junior Hockey League.
Tanev was a late bloomer, physically. At age 16, it looked like his hockey path had ended as he was still just five feet tall. Tanev persevered in high-school hockey, then found a spot in the Ontario League once he started to grow. And Tanev was lucky enough to be the same age, and traveling in the same hockey circles as Sam Gagner. Gagner's father Dave was a constant presence, even coaching Tanev's spring roller-hockey team for two years.
Dave Gagner became the Vancouver Canucks' Director of Player Development in 2008. In 2010, he was scouting the annual NCAA tournament when he rediscovered Tanev—now 6'2" and the Rookie of the Year for the Rochester Institute of Technology in the NCAA's Atlantic Hockey Association.
Tanev was a standout in the tournament, and Gagner was pleased to renew acquaintances. Tanev signed with the Canucks that summer, foregoing his remaining three years of college eligibility.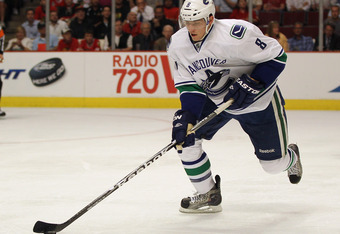 Jonathan Daniel/Getty Images
And the Cinderella story continued. After just 39 games of Tanev's rookie season with the AHL's Manitoba Moose, the Canucks found themselves in serious injury trouble on the blue line, and the summons were issued to the big club.
Through the stretch run of 2010-11, Tanev played 29 games to help the Canucks capture their first Presidents Trophy. His plus-minus was even, and most remarkably, he did not take one penalty in those 29 games. 
Once the Canucks' D-corps got healthier, he was returned to the Moose for their AHL playoff run, then came back to play five more postseason games for the Canucks. After his first appearance in the Stanley Cup Finals, in Game 5, teammate Kevin Bieksa paid him a huge compliment when he said Tanev was so calm on the ice, "he could have played with a cigarette in his mouth."
After making the Canucks' opening roster for 2011-12, Tanev was sent to the Canucks' new AHL affiliate, the Chicago Wolves, in order to get him more ice time and help him develop more fully.
An injury to his oblique muscle in his first game with the Wolves was a setback, but by February, Tanev was back with the Canucks. Initially, he was in and out of the lineup, but he has been making the most of the ice time that he has seen, and now appears to be competing for a key regular spot as the Canucks make their final preparations to head into postseason.
Tanev's not particularly physical, and he's not especially offensive-minded. But defensively, he gets the job done. He's rarely caught out of position, and he makes smart simple plays that make the game look easy.
Tanev has already defied the odds, yet the feeling remains: we ain't seen nothing yet.