Chicago Cubs: What to Expect from the 2012 Rotation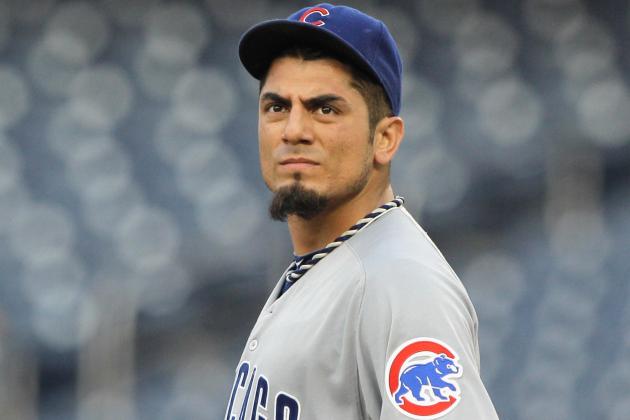 Rob Carr/Getty Images

Sometimes I think many Cubs fans like myself forget that the 2011 season ever really happened. Never fear, I don't believe this to be an outbreak of city-wide mass amnesia (although that idea does sound like a concept that should be pitched in a new Kiefer Sutherland TNT drama). The 2011 season itself was simply the definition of forgettable.
Matt Garza pitched admirably in a doomed season. Usually consistent Ryan Dempster was getting blown-up all year long. Young talent Andrew Cashner was held to a single start due to injury. The biggest issue was the rag-tag C-squad that took over the third, fourth and fifth spots in the rotation, compiling league worst production.

Blaming Mike Quade simply doesn't cut it. No manager can take a Doug Davis or Carlos Silva and spin gold from straw.
The team has come out to say that for 2012, they can be safe every single day throwing out a pitcher. More or less I do agree, as the back end of the rotation has been shored up considerably with talent.
Yet talent never equals the expected production. On paper the staff looks to be a lot safer than 2011, but let's delve into it a little bit to see if this rings true.
This is the expected order of the 2012 Cubs rotation. Let's not get into the positioning from day one, as it's not something that really holds a lot of weight. You'll see why.
Begin Slideshow

»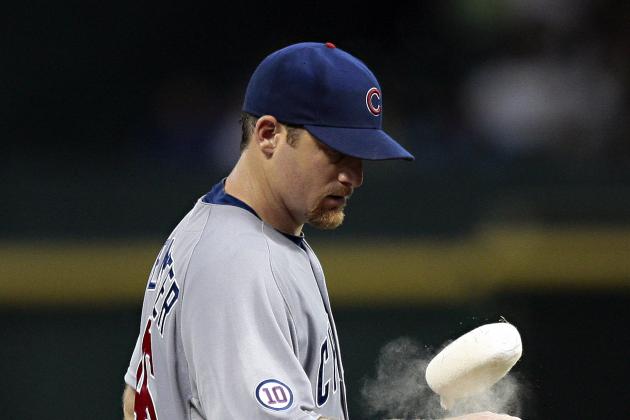 Bob Levey/Getty Images

Dempster has always been a polarizing player in the Chicago-land area. Being a Cubs closer will do that to a guy. He has had unprecedented success in a starter's role. From 2008 to 2010 he produced deserving of a No. 2 starter. Over the past four seasons he has topped 200 innings with over 172 strikeouts.
All while being a steady hand in an ever-shaky Cubs rotation, he has been the consummate teammate and leader. It's a little hypocritical how leadership and things of that nature only go accounted for when the team has enough talent to win. Either way, Dempster is someone that any team in baseball would have been lucky to re-establish as Chicago has done.
The 2012 season did not go according to plan for the 34-year-old, as he struggled for his first time as a starter on the North side. The deeper statistics show that he was more unlucky than he was losing his ability.
His FIP, or his expected ERA that rises or drops due to team defense, was at a career-steady 3.90 ERA. Yet because of the Cubs' porous defense attributes, his actual ERA on the season rose to a 4.80. This does not mean that all fault is off of Dempster, but it means that he should be due for quite the bounce-back due to it.
Seeing him post an ERA right around 4.00 would be right what that doctor ordered for this Svuem-helmed team that certainly desires the durability Ryan provides.
No one will confuse him with an ace that the Cubs will need to contend soon, but the position of No. 1 starter is an overrated thing in the eyes of many. The top four guys will be getting the same amount of starts at minimum, and the team is full of cool-headed players who couldn't care less about details like that.
Dempster is being rewarded for character, consistency, and what he has given the Cubs in the majority of his time here. On a team building toward a brighter tomorrow, how is that a bad thing?
Predicted production: 200 IP / 4.05 ERA / 1.33 WHIP / 185 Ks / 80 walks / (10-11)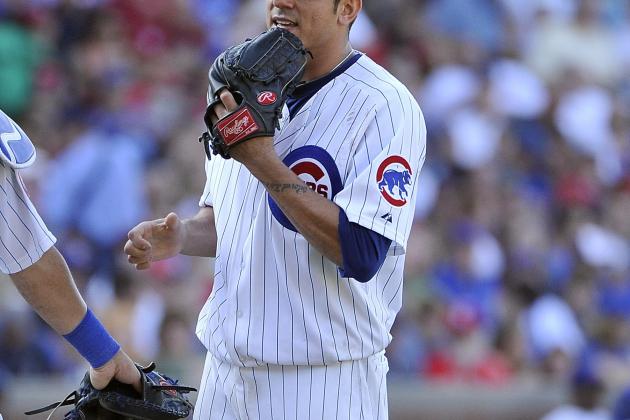 Brian Kersey/Getty Images

What Dempster is to "the veteran" role, Garza is to "the talent." While spending his days on the Rays in the American League, Garza bloomed into a quality mid-rotation guy who quietly and consistently did his job during the season and the playoffs.
The deeper story is how everyone kept expecting him to take "the next step" due to his freak talent potential. Coming to the NL really afforded him the chance to show it.
Garza came to the Cubs and did just that, having a career year at age 28. He posted a career-low ERA (3.32), and a career-high of 197 strikeouts. The most telling story was that he only allowed 14 home runs all season, which had plagued him in the AL.
I won't even touch on the fact that a a minority of baseball fans don't give him credit due to the low win total from last season. Anyone with a brain knows that holding a border-line star pitcher to fault because of a team like the past season's Cubs is foolish.
Garza is apparently listed and set to be the team's No. 2 pitcher. He has already been asked about this, and has loudly come out to remind everyone that things like that don't matter to him in the slightest. He pitches Game 2, that is all that matters to him. There is no disrespect given or story to be made of this.
If and when the Cubs do tie him up to a long-term deal, he would be a great asset on the championship-caliber team Epstein wants to create.
200 IP / 3.45 ERA / 1.25 WHIP / 200 Ks / 65 walks / (12-9)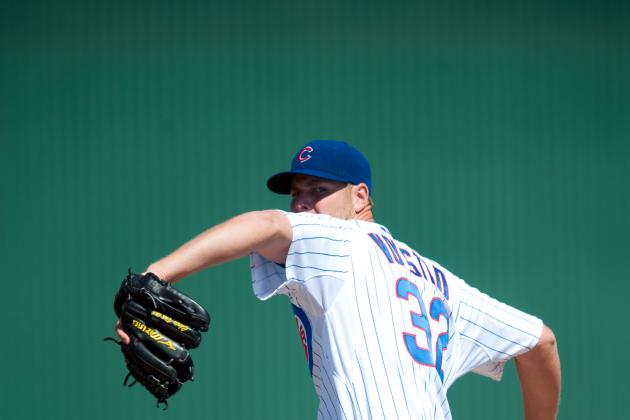 Rob Tringali/Getty Images

So, this is where the concerns start. I don't know how many spring training seasons have to pass before people stop delving into the statistics and making real assessment based off of it. Joe Mather supports, take heed!
Volstad may be impressing at the moment, but let's look at what he's done over the past three years before we start with any over-the-top predictions.
Volstad was acquired in the trade of Carlos Zambrano to the Marlins. Positives abound for getting rid of Z, but what about for Volstad himself. Non-coincidentally enough, we have a growing theme for the 2012 Cubs rotation: consistency.
It's not always a good thing. In Volstad's case, he has "consistently" had an ERA near five virtually his entire career. While not exactly beating the world with production, he has given Florida 29 starts for three years in a row. With Garza and Dempster being iron men themselves, having another spot filled with another non-health concern is a blessing.
Volstad is physically talented, and at only 25 years old has a lifetime of baseball ahead of him. Yet he has not shown it in any of his three full seasons so far. He gets hit a lot, and hard, giving up an exorbitant amount of home runs. He also isn't a guy who gets outs due to K's, never breaking 117 in a year.
But he is someone worth watching. He should certainly give the Cubs a full season's worth of starts, and for a young talent, it's no doubt a good investment of time. Even having a surefire guy at the back of the rotation is hardly a bad thing for a growing ballclub.
180 IP / 4.30 ERA / 1.36 WHIP / 120 Ks / 57 walks (9-13)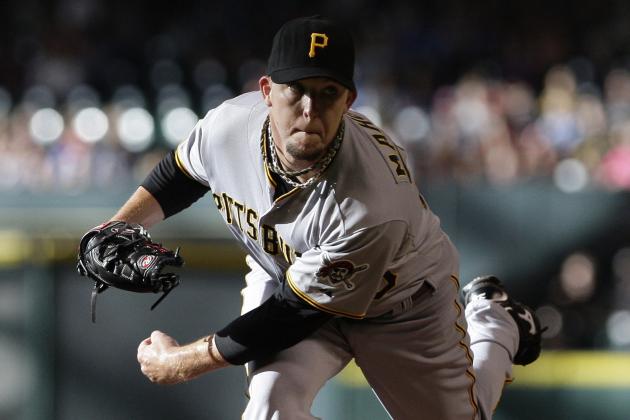 Thomas B. Shea/Getty Images

As it goes with generally all unproven baseball players, there are at least two sides to every story. Has Maholm struggled with consistency in Pittsburgh due to a lack of any talent around him, and when does it start to be a more internally-derived thing?
This is shaping up to be the show-up or bust season for the lefty. At 29, he put up arguably his best season in the pros. A left-hander who can post a 3.66 ERA for the 2012 team would be much-appreciated, but the two seasons saw him put up a 4.44 and 5.10 ERA respectively.
Not sure what to expect? Neither am I, or anyone who postulates about such MLB shenanigans.
Although Maholm can blame the Pirates for their horrid defense, the sun doesn't get too much brighter as a Cub. Unknown commodity first baseman, an injury-plagued third baseman, an erratic shortstop, an old-as-dirt outfield—hardly a festive welcome party.
Maholm is a fourth starter brand of talent, and that's exactly where he's set at the moment. Don't expect a lot from him and he might surprise us dramatically. Build his potential up and you'll likely be burned. I just saw The Hunger Games with that exact "low expectation" mentality and was pleasantly surprised.
In all seriousness, what I'm saying is this: Paul Maholm, will you be my Hunger Games?
185 IP / 4.25 ERA / 1.35 WHIP / 110 K / 60 walks / (9-11)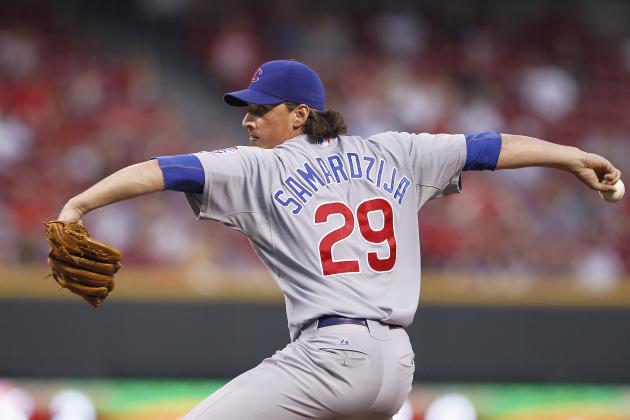 Joe Robbins/Getty Images

Talk about an enigma. I've had enough of highly-touted college players transitioning to the pros over the past few seasons. It's a rarity in baseball, but of course he's known more for his Notre Damn football.
Either way, 2008 to 2010 saw Samardzija pitch sparingly and incredibly erratically. In other terms, he was getting blown out of the water much more frequently than not, all while walking a ridiculous number of batters.
A physical talent with upside? Certainly. Whether or not this can transition to a successful stint as a member of the rotation is miles up in the air.
The 2011 campaign saw him have one of the team's few career years and bright spots. His 2.97 ERA gets extremely overblown by fans and the media however, as he happened to walk an unheard of 50 hitters in only 88 innings. He could never maintain an ERA anywhere near that while putting so many people on base, it's completely unrealistic.
I certainly believe that his potential ensures him enough starts to prove whether his can handle his own, but the spring results are his patented roller coaster of inconsistency.
He is the definition of a wild card, and Charlie Kelly would be proud of such a title, yet it's a moniker that Samardzija will want to shake very soon if he wants to make it in the majors. If he can instill himself as a mid-rotation guy before the year is over, he can and should be a building block for years to come.
160 IP / 4.35 ERA / 1.38 WHIP / 140 Ks / 80 walks / (7-10)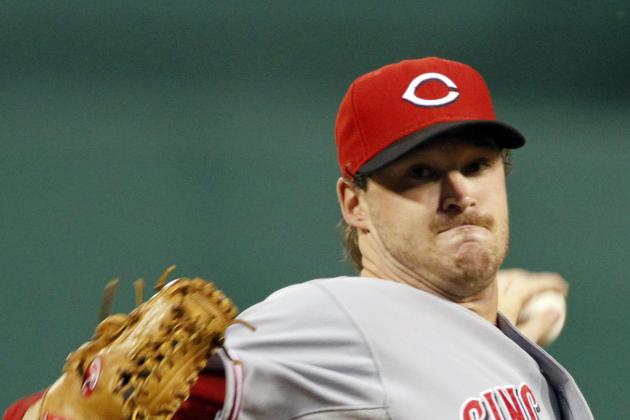 Justin K. Aller/Getty Images

We can see that these five starters have their positives and negatives, but no one doubts that it is a noticeable improvement from the trainwreck of 2011. From here on out, the team has a few options that will see their time due to injury or the almost inevitable failings of at least one member of the aforementioned starters.
Travis Wood was most likely the best talent of the pitchers added to this 2012 team, acquired in a package from the Reds in the deal for Sean Marshall. Wood pitched extremely well in his rookie season in 2010, and struggled in his sophomore season last year.
It was a perfect buy-low situation, as he just turned 25 years of age and still has the ability to be a top-of-the-rotation guy in the not too distant future. He is a strikeout lefty, highly touted his entire minor league career.
I don't quite understand the negative feeling toward him by some, as his "down season" in 2011 happens to look IDENTICAL to how Volstad has pitched for three straight full years.
His spring training struggles aside, he will be back on the Major League roster at the first sign of a sprung leak. That is an incredible safety valve to have up the team's sleeve, one more teams in baseball wouldn't mind to have.
The Cubs did give up a quality talent to acquire the young pitcher, no one doubts that. Yet a betting man would be in good shape to predict Wood as an important part of the future of the team, in some vein or another.
While Wood brings youth with an upside worth monitoring, Randy Wells brings a few different positives of his own as another weapon of the Cubs new-found rotational depth. Wells is not only dirt-cheap and relatively young at 29, but he has been a perfectly adequate back-end of the rotation pitcher for the past three seasons. Over these years, he has compiled a 4.01 ERA and a serviceable 1.35 WHIP. He ain't a strike-out pitcher, but his walk rates are beneficial, and many teams in the Majors could do a Heck of a lot worse for a 5th starter than him. His career has been short and full of ups and downs, but the Cubs would be happy to earn some composite of what he's produced over his Cub tenure.
After Wells, the team has some lesser considerations to mull over. On top of Rodrigo Lopez potentially making the team, they have optioned the former Ray Andy Sonnanstine to their Triple-A affiliate. The two should only see time due to more serious rotation concerns, or in some long-relief role.
In so many words, some semblance of a collapse would have to occur before I want this franchise to be giving legitimate time to Lopez or Sonnanstine. They're not the worst options in the fifth spot in a pinch, but they don't really help the team in any regard.
You might infer that I'm not a fan of them. You'd be right. How observant of you. You must be Sherlock Holmes with such deductive skill, or at least Watson.
All in all, even when it comes to the end of the line, the team has done a lot to be prepared for all situations. They have many more prospects that could all see time in the second half of the season as well. They have the upside, they have the durability and they have passionate and steadfast cogs in place.
Whether or not everything will mesh remains to be seen, but there should be something worth viewing every game of the year on the mound, and for that Cubs fans can keep their hope alive. To a degree.