Ohio vs. North Carolina: Bobcats Scare Tar Heels, Put Athens on the Map
March 24, 2012

Andy Lyons/Getty Images
In case you live under a rock, North Carolina nearly lost last night, and that's putting it lightly. To say the Ohio Bobcats had them on the ropes is an understatement. They had them falling through the ropes and the referee was thinking about calling the fight, but North Carolina got up and put one final punch right on the money, just enough to avoid the upset.
The look on the face of the Bobcats players walking off the court and in the press conference afterward was one of defeat, deflation and depression, but these guys have no reason to feel down at this point. It's rare that a losing team comes across as more victorious than the winning team, but the Bobcats gained something last night that the Tar Heels could only gain with a title this year. This team put an entire city into the national spotlight.
I wrote at length after Ohio beat South Florida to gain a trip to the Sweet 16 about how this basketball team was the embodiment of an entire city and how they reflect Athens, Ohio more than any one entity could, and that was on full display Friday night.
Ohio was outmatched in every way (save maybe that point guard spot) against the bigger, faster, stronger, more athletic Tar Heels, yet they were a mere free throw away from chopping down Goliath at the knees. It's one thing to sit here and dwell on what could have been, but it's a completely different thing to look at what was.
This team was one of the hardest working teams in the tournament this year. Sure, they were out-rebounded by 30 boards last night (a ridiculous disparity), but they forced 24 North Carolina turnovers (a season high for the Heels) and held them to 40 percent shooting. But if you were to ask one of the college basketball experts (i.e. not Charles Barkley) what to expect before the game, you would hear about the rebound disparity—but nobody saw Ohio coming in and thrashing the Heels on defense.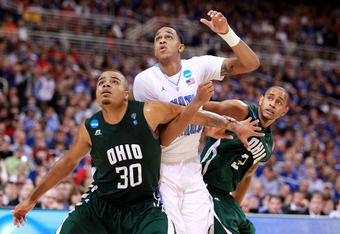 Andy Lyons/Getty Images
From the start of the second half on, you saw one team brimming with confidence although they had made just eight field goals in the first half, and another team struggling to find someone to step up (although Reggie Bullock eventually did).
What you saw from the Bobcats last night was indicative of the town they come from. Just like the seemingly poor, outmatched Athens, Ohio, the Bobcats seemed to be dwarfed by the obstacle in front of them. However, they played to their strengths, kept shooting even though nothing seemed to fall early on, and came within two inches on a half-court heave of crashing into the Elite Eight.
It's hard to find victory in defeat immediately after a loss, but as the hours, days and weeks go by, the players on this team are going to realize that something special happened on March 23rd in St. Louis, even if it didn't result in a win.
People who have never before heard of the quaint yet crazy corner of Ohio are abuzz about the little underdog that nearly took down North Carolina, and that in itself is an accomplishment.
These guys will beat themselves up over each shot that didn't fall. D.J. Cooper went 3-of-20, Walter Offutt missed a free throw to put the Bobcats ahead at the end of the game, Jon Smith stuffed himself on the rim on a sure-thing dunk, Reggie Keely was handled by Tyler Zeller on more than one occasion and the rest of the team made their fair share of mistakes—but those thoughts aren't going to linger. Not one of the guys on this Bobcats team has anything to apologize for, because without each one of them this run never would have happened.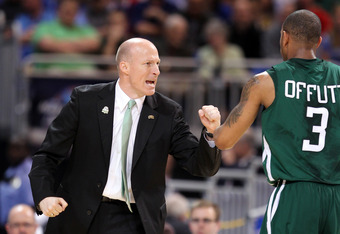 Andy Lyons/Getty Images
Friday night the featherweight Bobcats went 15 rounds with a heavyweight, and even though they lost, they can take pride in the fact that they made it that far while everyone else was throwing their money down for a second-round knockout.
I can't say for sure whether this team will be the same next year or whether John Groce will be back to coach again next season (Illinois would probably be happy to have him), but I can say that I can't wait to see this group of guys on the court again. This year they were the embodiment of everything that we love in college basketball, even if they did come up short.
I've got to implore this team not to think about what could have been, but instead to think about what was and what could still be.