Ohio University's Trip to Sweet 16 Sends Bobcats, Athens into Frenzy
March 19, 2012

Kevin C. Cox/Getty Images
Athens, OH, home to Ohio University, a quaint school with a big reputation that hasn't seen anything like this basketball team since 1964. And even that team can't compare.
Ohio University's men's basketball team is moving on to the Sweet 16 for the first time in nearly 50 years, and they're playing with the type of swagger that has made them an infectious team to watch.
Now, normally, I stick to scribbling about the NBA—I know it, I live it and I breathe it—but this is something so near and dear to my heart that I can't bear to keep quiet about it.
Call it the love of the underdog, call it the love of my school. But what it really is is the love a community, of which the Bobcats are a huge part of.
Living in Athens for the past four years brings you into a community setting that big cities just can't rival. It's why so many people want to stick around after graduating, and why so many people keep coming back. Growing up in Columbus brought me close to Ohio State, but as I speak to you today, no team is closer to me than my Bobcats.
As a part of a community that nobody seems to speak positively of, these Bobcats are shedding a positive light on what is a great corner of Ohio. This is showing off a hard-working and slightly lucky shade of green that emits from a city of just over 20,000 people (not including the semi-permanent college population).
Playing the role of giant killers for the second time in three years, Ohio took down Michigan in the second round when few people gave them much of a chance (though a few more than back in 2010 when the Bobcats took down Georgetown). Now, after a rough battle with South Florida, Ohio is going onto the Sweet 16 to take on what might be their toughest opponent in two years (they were throttled by Kansas in 2010).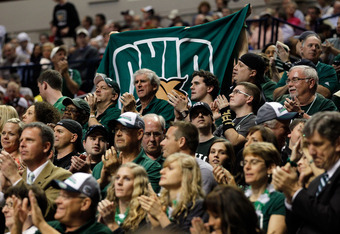 Kevin C. Cox/Getty Images
It's easy to look at this team and think that there's no way they can take down North Carolina, even with an injury to John Henson and, now, Kendall Marshall. It just doesn't seem to be in the cards.
We're talking about a team whose tallest everyday player is possibly shorter than UNC's small forward, Harrison Barnes. 
This is a team with 14 guys just looking to graduate and move on to the real world, going up against a team with at least five guys looking to make it to the NBA (two of which should be first-round picks in this year's draft). However, none of that will matter to the Bobcats when they go to St. Louis on Friday.
The theme of this year's tournament has been the lower seeds not having the "we're just happy to be here" mentality. Norfolk State has showed it, as has Lehigh, VCU, NC State and Colorado—but nobody has showed it like Ohio.
Sure, North Carolina has taken down Michigan State, Wisconsin, Virginia and Duke at one point this season, but for one shining moment, who knows what can happen?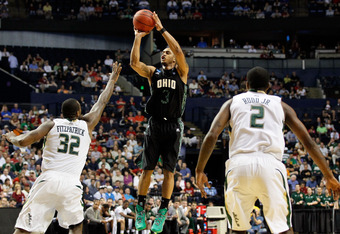 Kevin C. Cox/Getty Images
All I know is this Bobcats team is not just happy to be in the Sweet 16, and they're going to play the game of their lives this Friday. They don't mind being a long-shot, and they don't mind being on the big stage playing the one-seeded Tar Heels. At this point, the only thing they mind would be taking a flight back to Athens. They want to celebrate with their people, but not quite yet.
In Coop we trust.