Marion Barber Retires from the NFL: Why Giving Up Is Hard, but Noble
March 23, 2012

Doug Pensinger/Getty Images
Marion Barber retired from the NFL today and the only way one can construe it, is that he gave up.
Hear me out. I don't begrudge the man or his decision one bit. Why would he care what I think anyway? Yet, in today's NFL, players constantly hang on just a bit too long. Brett Favre, known for wavering on his retirement decisions, made a fool of himself in his last hurrah.
Hines Ward, also retiring this offseason, stopped being a capable target for Ben Roethlisberger long before he decided to hang up his cleats.
Marion Barber could keep on going. He just doesn't want to. That's giving up, but that's OK.
For those of us who dreamed of one day putting on their favorite jersey and strutting out to the cheers of thousands, and for those of us whose dreams were shattered by lack of God-given height, skill or athleticism, giving up seems absurd.
The timing of Barber's retirement can't be coincidental.
Michael Bush, formerly of the Oakland Raiders, was just signed to a four-year, $14 million deal. By all accounts, Bush will provide the thunder to Matt Forte's lightning, and give the Bears leverage in oncoming long-term contract negotiations with the Bears' franchise player.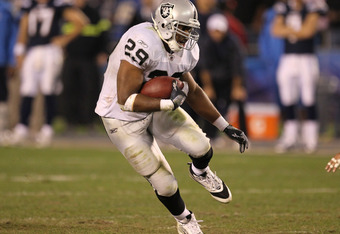 Stephen Dunn/Getty Images
When Barber was signed last offseason to a two-year, $5 million contract, the Bears hoped that he would provide much the same. He replaced Chester Taylor, who replaced Cedric Benson and so on. The Bears hoped, perhaps foolishly, that they could strike gold if only Barber could finally get healthy again.
Remember, it was not that long ago that Barber was a valued commodity in the NFL. As part of a Dallas backfield that ran roughshod over opponents, Barber never broke the 1,000 yard marker, but came awfully close from 2007 to 2009.
Fans of numerous teams clamored for their front offices to make a trade for either Barber or Tashard Choice, now both castaways.
It seems crazy to think that Barber couldn't find another home in the entire league. So, that only leaves the option that he doesn't want to take.
Put yourself in Barber's shoes. The last two years have been spent in never-ending pain as his calf muscle injury never seemed to really heal. For a back who was known to pound into defenders, suddenly he was taking the blows. It couldn't have been fun anymore.
So, why keep playing? Barber doesn't need the money. He signed a deal with $16 million guaranteed in 2008 with the Cowboys and could have all the money he would ever need. With his age (28) and his injury history (not good), he would likely have to pursue a "show-me" contract, and the likelihood of Barber showing any team much is long gone.
That doesn't mean Barber couldn't try, but Barber didn't want to. As I said before with Carson Palmer, if you don't like what you're doing, why kill yourself doing it? Barber, like Palmer, plays a position that invites big hits. At any moment, a concussion or a knee injury could drastically alter the rest of Barber's life.
So why would any sane man keep going?
Critics can say that Barber has lost his love of the game. That may be true. Naysayers can say he hung it up because he was washed up. That is probably not true. Everyone should recognize that he's leaving with plenty left in the tank.
Rather than bounce around from roster to roster, Barber gets to enter the next stage of his life with confidence. Rather than risk himself to prolonged and serious injury, Barber hopes to live a long and vibrant life, rather than leave on someone else's terms, Barber is taking control of his destiny.
As focus grows around retired NFL players and the long-term health effects of such a dangerous game, maybe giving up doesn't deserve the stigma that has been ingrained into our sports culture. Maybe hanging on for one last collision isn't the wisest or the most noble choice in the world after all.
So, Barber is giving up rather than have one more go at the NFL. Hopefully, time will show he is the better man for it. Hopefully, this signals a trend toward health being that much more important to aging players.
If giving up is the alternative to taking risks with your health and body for no good reason, than we should all applaud Marion Barber for giving up, because for him, it's the right thing to do.
Michael Schottey is an NFL Associate Editor for Bleacher Report and an award-winning member of the Pro Football Writers of America. He has professionally covered both the Minnesota Vikings and the Detroit Lions, as well as NFL events like the scouting combine and the Senior Bowl.