Joba Chamberlain: Why His Latest Injury Could Be the End of Yankees Career
March 23, 2012

Elsa/Getty Images
It really hasn't been an easy road for Joba Chamberlain.
He was once the talk of the town five years ago, lighting up the radar guns with his fastball, and his slider was one of the most unhittable pitches in the sport.
That seems like a really distant memory.
On Thursday, the Yankees reliever was seriously injured in a trampoline accident while playing with his son down in Tampa, Florida, according to Kieran Darcy of ESPN New York.
Chamberlain suffered a severe dislocation of his right ankle, which caused an open-flesh wound and required surgery to repair the damage.
Joba was already out until June while recovering from Tommy John Surgery that he had last summer to repair a torn ligament in his elbow.
As of right now, there is no timetable set on if and when Joba can come back from this type of injury.
According to Dr. Michael Kaplan, ESPN's medical analyst, Joba will likely miss most of the season, as he can't put any weight on the ankle for four-to-six weeks, and then a lengthy rehab program will have to begin afterwards.
It was an accident, and things do happen. But in all honesty, it's just more of the same story for Joba.
He didn't transition well from reliever to a starter, and I don't blame Joba for that one. That was the Yankees fault, because they should have never tried to convert him.
They took a dominant reliever and made him into an average starter at best. He showed signs of being a good starter, but he got hurt in August of 2008 and really was never the same.
In 2010, after the starter experiment blew up in the Yankees faces, Joba moved back to the bullpen, and he was too inconsistent to be relied upon with an ERA in the mid-4.00 area.
In 2011, he looked like he was getting back to form with the Yankees. His ERA was down in the 2.00 area, he was striking out hitters and everything seemed to be fine...until June.
And then Joba gets hurt again and is lost for the season.
And now, he's hurt yet again, and the Yankees can't rely on him, because I wouldn't be surprised if Joba is out for the season with this severe of an injury.
Joba will be 27 by the time the season is almost over. It's not like when he was 23 or 24 when he first got hurt and the Yankees knew he could recover enough because he was still young.
Sure, his current age is still young, but this is five years now that the Yankees have been dealing with these types of injuries from him.
And you really have to think that maybe, just maybe, Joba isn't cut out for New York anymore.
Remember when he had the most t-shirt and jersey sales of any player at the end of 2007 and into 2008?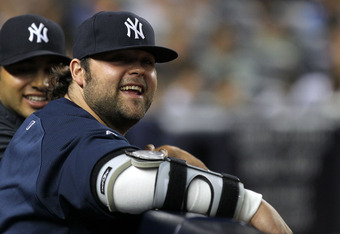 Al Bello/Getty Images
Remember when kids wanted to imitate his fist pump after a strikeout?
Those days seem to be long gone now.
The Yankees might want to think about moving on from Joba Chamberlain, because it really hasn't worked out for him here.
It worked out for a short period of time, but when it seems like he'll emerge, a setback happens.
At one time, everyone thought Chamberlain would be the heir to Mariano Rivera's closer spot. David Robertson has taken those reins now.
It's a tough loss for the Yankees for the 2012 season.
But for Joba, this injury could ultimately mean the end of his tenure in New York.