Arsenal Interested in Edin Dzeko: Why Manchester City Would Be Crazy to Sell
March 23, 2012

Alex Livesey/Getty Images
Reports on Friday morning suggested that Arsene Wenger is monitoring the Edin Dzeko situation at Manchester City.
The Bosnian striker, 26, has found it difficult over the last couple of months to regularly force his way into the starting XI, as it seems that Roberto Mancini favours the enigmatic and sometimes brilliant Mario Balotelli alongside Sergio Aguero.
Add to the equation the unexpected return of former skipper Carlos Tevez, although he surely is only an option until the summer, and getting a game seems a tough ask.
The situation seems unfair on the talented front man. At times this season he has been simply unplayable, and there seem to be signs of a partnership building between him and Aguero.
Dzeko has scored 13 goals in the Premiership this season, a contribution that has been invaluable, especially in the early part of the season.
So the thought of even letting him go seems absurd.
When coming off the bench against Chelsea, he made an instant impact. His willingness to shot at goal was a breath of fresh air in a game where Manchester City were trying to walk the ball into the net.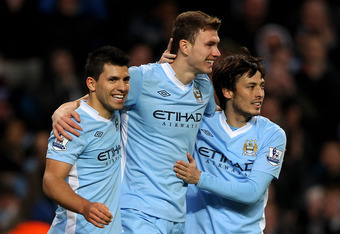 Alex Livesey/Getty Images
Dzeko arrived in January 2011 from Bundesliga outfit Wolfsburg and initially struggled with the pace of the English game.
But from the start of this campaign he has looked a different player.
When scoring four against title rivals Tottenham at the beginning of the season, it looked as though the Bosnian was living up to his potential. He added another two when coming off the bench in the 6-1 thrashing of arch-rivals Manchester United.
But Dzeko is very much a confidence player, and when he was taken out of the team it affected his game badly.
If he can get on a role and start scoring, though, he could be indispensable to City both this season and next.
Personally, I think City would be stupid to let Dzeko go.
He is the only real target man at the club, and his superb aerial ability is a massive asset to Roberto Mancini and his side.
His hold-up play brings the likes of Aguero, David Silva and Samir Nasri into play.
Without him, City lose a dimension in their play. He could become a pivotal part of this side in years to come if given the chance.
At the moment the mercurial Balotelli seems to be flavour of the month, but he is one mishap away from yet another ban.
But in the long run, Dzeko surely has a massive part to play in this chapter of Manchester City's history.