Hines Ward's Steelers Legacy from the Eyes of a Fan
March 22, 2012

Jared Wickerham/Getty Images
I have followed the Steelers faithfully since my dad first brought home Madden in 2000. I lived and died by the Sunday (and Monday night) results of the black and gold. I cried when I lost a bet to my best friend when the Steelers lost to Tennessee in the 2002 playoffs and wore over-sized Steelers jerseys my dad would get me. 
Through it all, Hines Ward was always with the team.
That 1998 draft class that featured Peyton Manning, Charles Woodson, and Randy Moss is already looking prolific in the eyes of many Steelers fans though Alan Faneca was the best Steeler in that draft. 
Now, just one day after Hines Ward tearfully said goodbye to football wearing black and gold, his legacy is being scrutinized and looked at by experts all across the media. His stats show that he is perhaps the fifth best wide out awaiting Canton's call, and that he was the best wide receiver to wear the black and gold.
Former players rave about his toughness, his love of the game and his dedication to just play the game it was meant to be played. He was a player teammates would die for on the field and opponents targeted.
But for Steelers fans, Hines was even more than all of this. My earliest recollection of Ward was a Steelers-Ravens game where he and cornerback Chris McAlister were punching each other off the line. The TV cameras kept showing how after every altercation, McAlister was left looking frustrated while Hines kept smiling.
In that one game and moment, Hines became my favorite player and perhaps Steeler Nation's favorite player. He embodied what it meant to be a Steeler and a Pittsburgher.
He was an immigrant who was not sure of his identity as a person for much of his life nor his identity as a football player  coming into Pittsburgh. Ward then adopted the persona of the blue collar workers the Steelers were named after.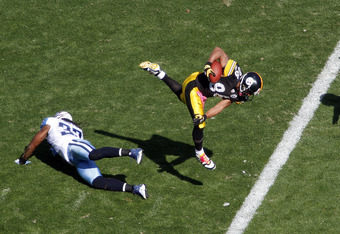 Justin K. Aller/Getty Images
He did whatever was asked of him with no regrets. He gave his all on special teams, blocking and practice. He trained every offseason like he was the rookie who needed something to prove.
He did not have the prettiest job in the world, but he was just happy to work and never forgot who helped him get there (he is currently taking his mom on vacation now that he is officially retired).
Even as his work was diminished and his talents fading, he was unselfish, giving his wisdom to younger players. Mike Wallace, Antonio Brown and Emmanuel Sanders would not be who they are today without Hines. 
The icing on the cake: he knew all of this and never shirked away from the responsibility. He always embraced Steeler Nation and did all he could to ensure that he was engaged in the Pittsburgh community or abroad (Hines' foundation helps bi-racial Koreans to be accepted into society, a huge problem in his home country).
So you want to know why Hines and so many other fans surely cried watching him say he was done? Because he was more than a Steelers player who we all loved.
He was a Pittsburgher, a worker and a true role model.