LSU Football: 6 Games the Tigers Must Win in 2012
Chris Graythen/Getty Images
While teams are just beginning spring practices, we're already looking forward to the regular season. Sure, it is still a good six months away, but it's never too early to think about everything that comes with college football and the games that actually matter.
The LSU Tigers only return 11 starters from last year's squad, but many will say they are more talented this year than last. One thing that does not change is the fact that their schedule is absolutely brutal and they'll have to win several tough games in order to have a shot to return to the national championship.
While every game is important in college football, here are six games that the Tigers must win for them to accomplish all of their goals.
Vs. Washington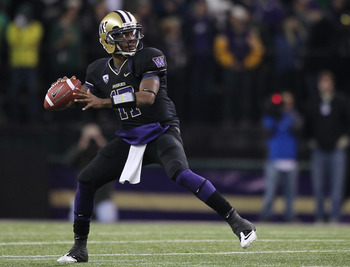 Otto Greule Jr/Getty Images
When I think of a leadoff hitter, names like Rickey Henderson, Vince Coleman, Tim Raines, Lou Brock and Pete Rose are the first that come to mind. Guys who possessed incredible speed and had a knack for getting on base, but aside from Henderson, offered little in the way of power.
Their job was simple—get on base and let the heart of the lineup bring you home.
When I think of leadoff hitters today, I think of players like Jose Reyes, Jacoby Ellsbury, Michael Bourn and Jimmy Rollins.
I do not think of Alex Gordon, and chances are, neither do you.
Entering 2011, many considered Gordon to be something of a bust, as he had hit .252 with a .328 OBP, .770 OPS and 29 stolen bases over the course of four years that saw him bounce around the Royals lineup, hitting as high as third and as low as eighth.
However, Gordon had a rebirth last season atop the Royals lineup, hitting .305 with a .383 OBP, 15 HR, 56 RBI, 10 steals and .916 OPS over 370 at bats.
Initially projected to be a force in the middle of the Royals lineup, Alex Gordon is reinventing himself as a power-hitter with marginal speed who thrives as the table-setter of the Royals lineup.
At Auburn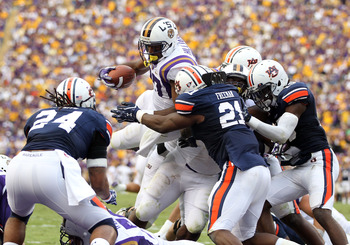 Jamie Squire/Getty Images
He who finds himself batting second in the lineup, in the "two-hole," is typically a contact hitter who has one primary goal—move the leadoff hitter into scoring position, whether it be by a hit, walk, sacrifice fly or bunt. Like the man who hit before him, this batter has some speed, perhaps more power, but all-in-all, the second batter in the lineup has many of the same characteristics that managers look for from the leadoff spot.
Curtis Granderson is no contact hitter. He has the power to hit in the middle of the order and the speed to bat leadoff, something he has spent the majority of his career doing and something that he's done fairly well, hitting .273 with a .345 OBP, 88 HR, 263 RBI, 56 SB and an OPS of .841 in over 2200 at bats.
Since being slotted into the second spot in the lineup by New York Yankees manager Joe Girardi, however, Granderson has flourished. He hit second in 112 games in 2011, posting numbers of a .272 BA, .367 OBP, 31 HR, 92 RBI, 20 SB and an OPS of .927 over 438 at bats.
Someone who should be hitting lower in the order to capitalize on his power hitting second?
Only in New York.
At Florida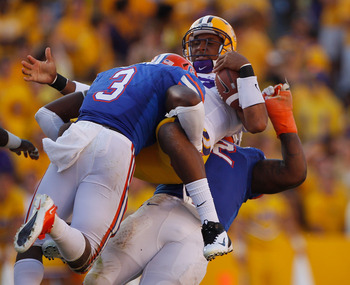 Chris Graythen/Getty Images
The third spot in the lineup is traditionally reserved for a team's best all-around hitter, someone with a combination of contact and power that hits for a high average and drives in runners on base.
Cameron Maybin had his best season to date in 2011, hitting .263 with nine home runs, 40 RBI, 40 stolen bases and an OPS of .716—not exactly numbers that you'd expect from the third spot in the lineup.
Padres manager Bud Black doesn't exactly have much in the way of options—perhaps Yonder Alonso will replace Maybin in this spot as the season progresses—but until that happens or another candidate emerges, Maybin is Black's best option.
Vs. South Carolina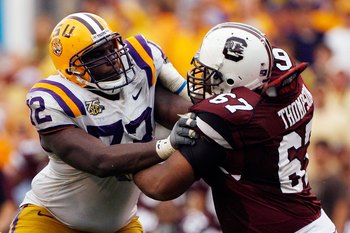 Chris Graythen/Getty Images
Prince Fielder is your prototypical cleanup hitter—an imposing physical presence who is a legitimate threat to send the ball deep into the night every time that he steps to the plate. At the very least, it is expected that he will find a way to drive in any runners on base in front of him.
Remember the numbers we looked at with Curtis Granderson in the two-hole? To refresh your memory, Granderson hit .272 with a .367 OBP, 31 HR, 92 RBI, 20 SB and an OPS of .927 in 112 games last season. Those are typical cleanup hitter numbers.
Pirates 2B Neil Walker is a solid baseball player both in the field and at the plate. But Neil Walker is not a typical cleanup hitter, though he finds himself slotted there primarily for two reasons, the first being the continued regression of Pedro Alvarez, who has simply looked over-matched and completely lost at the plate in spring training.
The other reason that Walker finds himself hitting fourth in the Pirates lineup is that he has performed fairly well with runners in scoring position, hitting .286 with four home runs, 113 RBI and a .770 OPS over the past three seasons.
However, Walker's career high in home runs is 12, a feat he's accomplished each of the past two seasons. While gaudy home run totals are not required to bat cleanup, they have become somewhat expected. At the very least, 20 home runs and 90 RBI is a reasonable expectation from this spot in the lineup.
Walker came close to that RBI total last year with 83. Whether he can reach the 20-home-run plateau remains to be seen.
Vs. Alabama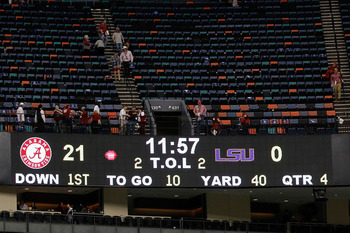 Kevin C. Cox/Getty Images
The last spot in the heart-of-the-order, the batter hitting fifth is expected to be a run producer much in the same way that a cleanup hitter is. Home runs and RBI rule the day in this spot, and in the same vein as a cleanup hitter, 20 home runs and 80 RBI are reasonable expectations.
But not in Houston.
The Astros, who are still trying to rebuild their once proud franchise, enter 2012 with only one real home run threat, Carlos Lee. Lee, who is slotted to hit fourth in their lineup, is followed by Brian Bogusevic.
Bogusevic, 28, has gap power and has been pretty awful with runners in scoring position, though he has admittedly not had much in the way of opportunities. He's come to the plate with runners in scoring position 45 times and hit .205 with one home run, 10 RBI and a .632 OPS—numbers that don't leave you with a warm, fuzzy feeling that he's going to get the job done.
This shouldn't come as a surprise to the Astros, though. Bogusevic's game has been based on his speed throughout his minor league career, with 65 stolen bases coming over the past three seasons. In seven minor league seasons, he's never driven in more than 57 runs and only hit more than 10 home runs once, with 16 in 2010.
He may turn out to be a solid contributor for Houston, but he's certainly not a typical heart-of-the-order bat.
At Arkansas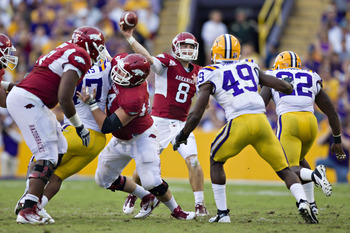 Wesley Hitt/Getty Images
Don't take Jed Lowrie's selection as me picking on the Astros, because that's not my intent. I happen to like some of their young players—specifically J.D. Martinez and Jose Altuve—and manager Brad Mills is doing the best he can with the cards that he's been dealt.
However, Jed Lowrie doesn't fit the mold of a typical sixth hitter in a lineup.
Typically, this is a hitter who—while not having the power of those who bat before him—is still a capable run producer.
Lowrie, albeit in a reserve role, has never hit more than nine home runs or had over 50 RBI in any season since making it to the majors in 2008. Now that he is in a full-time role in Houston, is Lowrie capable of hitting 10-to-15 home runs and driving in 70 runs?
We are about to find out.
Keep Reading

LSU Football: Like this team?