Most Incriminating Pictures in Sports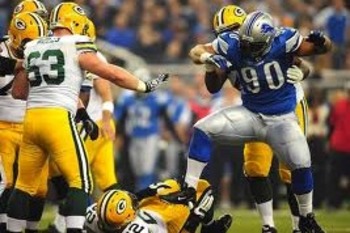 Source: sports.yahoo.com
While there is perhaps a province in which the photograph can tell us nothing more than what we see with our own eyes, there is another in which it proves to us how little our eyes permit us to see.
~Dorothea Lange
Cameras are everywhere: in parking lots, in locker rooms, on phones, on cars, zipping across the field on wires, soaring overhead on the bellies of blimps. Escaping their gaze is futile, especially if you're famous and the lenses seek you out.
And now with the world wired up and photos made of pixels rather than celluloid, images can be disseminated around the world in seconds.
And so what we missed because we blinked as we watched the game, or because it happened at a party we weren't invited to, or because someone just plain tried to hide it, can now be seen and judged by all.
Click on to see 15 of the most incriminating photos in sports.
Dishonorable Mention: The Junk of Multitudes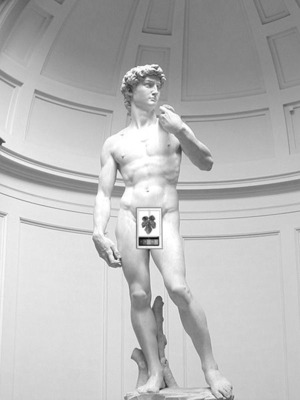 Source: wirefall.com
Seems that male athletes can't resist snapping a pic of their tummy banana and sexting it off. It's such a common scandal these days, it barely makes the news.
Here's a list of just some of the classy dudes who allegedly attempted wooing with a text or tweet that included a, um, er... partial self-portrait:
15. The Finger of Peyton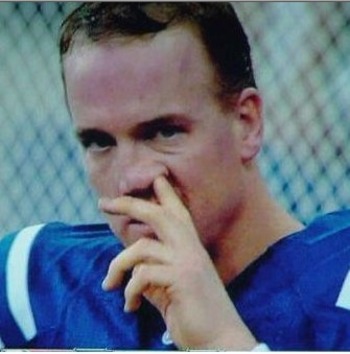 Source: athletespickingtheirnoses.com
Having boogers is not a scandal; it's human.
Burying an index finger in a nostril... in front of millions... well, if the crime is being uncouth, Peyton is as guilty as they come.
Any gold up in there, Sheriff?
14. The Wayward Skate of Brett Hull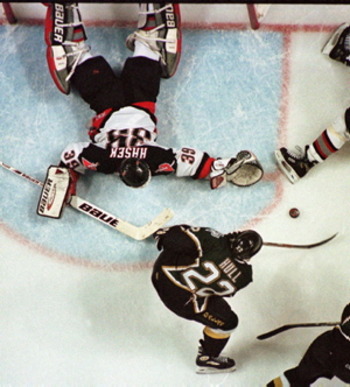 Source: thehockeynews.com
Buffalonians have two great sports laments:
Wide right! and No goal!
The first, there is no one to blame but old Scott Norwood.
The second, though... just duck those bits of culpability shrapnel yet a' flying.
This photo proves that Brett Hull of the Dallas Stars had in fact crossed over the goal crease in the nail-biting Game Six of the 1999 Stanley Cup finals.
According to the rules at the time, the goal was arguably not legit.
Throughout the season, goals like this had been disallowed.
13. The Squat of Nick Novak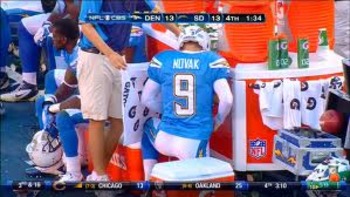 Source: sportsgrid.com
No, Nick was not tapping the Gatorade keg. No, he wasn't Tebowing either (though the Chargers were playing the Broncos.)
Yeah, that's right.
Pee pee sans urinal. We caught ya, Nick.
And if you're going to evacuate in front of the world before you kick a field goal, at least put some points on the board when you're done (he missed the 53-yard attempt that followed pee-pee gate).
12. The Cock of Pedro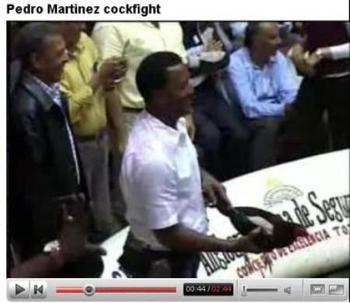 Source: boston.com
Don't confuse this picture of Pedro Martinez holding his cock with the crimes of the gentlemen dishonorably mentioned at the start of this article.
Martinez attended a cockfight in his home country of the Dominican Republic. Cockfighting is legal and quite common there, so no court woes for the former MLB pitcher.
But willing animals to maul each other is not so popular with the majority of sports fans around the world.
11. The Stomp of Suh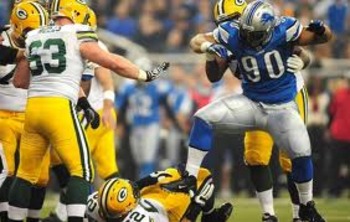 Thanksgiving Day 2011.
Ndamukong Suh was apparently demonstrating his thanks for the power of cleated footwear.
At first, Suh claimed he was just trying to get his balance back (yeah and when Tyson bit Holyfield's ear, he was just trying to get a piece of spinach out of his teeth).
But a picture speaks 1,000 words (and video another 10,000).
Suh was suspended for two games without pay.
10. The Snot Rocket of Becks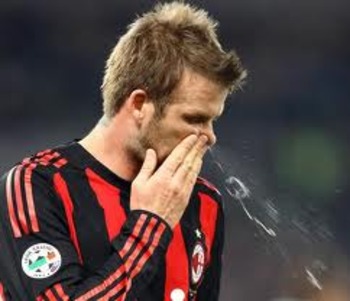 Source: agentbedhead.com
Soccer star? Check.
Underwear model? Check.
Fashion icon? Check.
One of the most recognizable personalities in the world? Check.
And now...military asset. Just look at that propulsion, that force, that aim.
9. The Bong of Phelps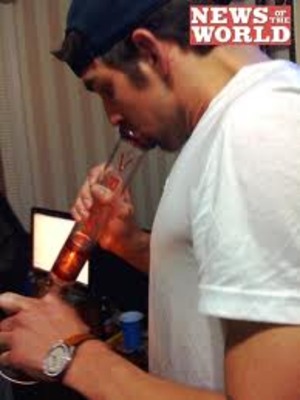 Phelps' "lapse of judgment" got him a three-month suspension from competition and funding after this photo went public.
When a championship swimmer gets caught like this, he really makes a splash. Wah wah wahhhhh.
8. The Bronze Medal of Scott Lago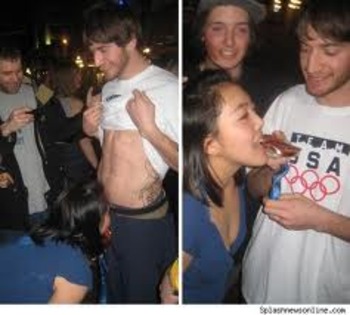 Winter Olympian Scotty Lago took his bronze medal and, well, celebrated a little. And tweeted some highlights of the festivities.
But the US Olympic Committee and US Ski and Snowboard Association felt that having a woman bite a medal held to one's crotch is not representative of the Olympic spirit.
Scotty left the Olympics before he was asked to leave.
7. The Inner Sausage Hater of Randall Simon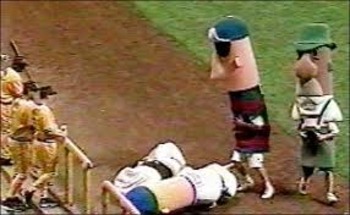 Source: tienmao.com
Simon clubbed the Italian sausage (no, this is not any kind of sex-scandal euphemism) at a 2003 Pirates vs. Brewers game in Miller Park.
This image will be printed his history books for decades to come as the defining image of "Sausagegate."
6. The Hand of God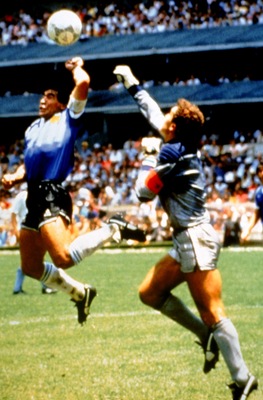 Source: whoateallthepies.tv
If in the video footage it was unclear to audiences and refs as to what extremity Maradona used in his notorious World Cup goal, this picture leaves no question.
Famously, Maradona claimed the goal had been made "a little with the head of Maradona and a little with the hand of God."
With this picture now gone viral, it is safe to re-phrase his quote as follows:
"The goal was made with one big fat punch from the hand of me."
5. The Love Child of Mr. Universe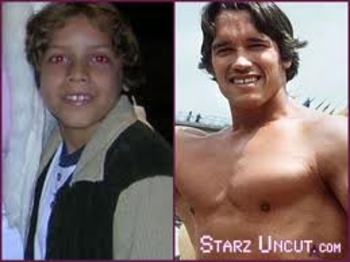 Incriminating? Nah. These two look nothing alike.
4. The Knee of Sal Alosi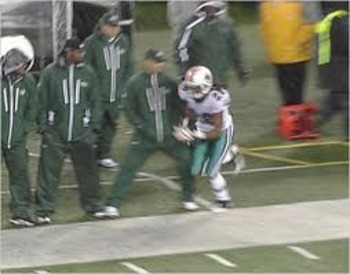 Source: urweb.com
Alosi, the NY Jets strength and conditioning coach at the time this photo was taken, apparently decided to choose this exact instant to begin his daily regimen of deep-knee bends.
Nolan Carroll, the unfortunate Dolphins player whose sideline jaunt coincided with the aforementioned knee bends, took a tumble.
Alosi was suspended indefinitely.
3. The Dog of Michael Vick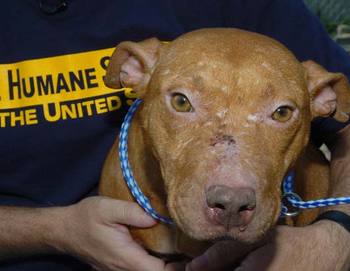 Source: abcnews.go.com
More than 50 dogs (including the one pictured above) were seized from Michael Vick's home in the 2007 scandal and arrest.
A humane society saved and rehabilitated the pooches while Vick was convicted and sent to prison for operating an interstate dog-fighting ring.
2. The Snort of Diego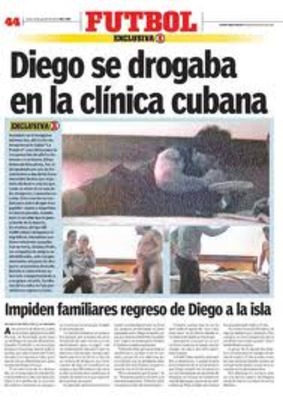 The Snort of Diego
Who else would make this list twice?
Here he is, El Pibe de Oro, allegedly snorting cocaine off a plate...IN A DRUG REHABILITATION CLINIC.
This picture was run in a 2004 Mexican newspaper. Apparently the photo is a still from a video that includes footage of El Diez running around naked and having sex with a girlfriend.
1. The Bloody Footprint Of...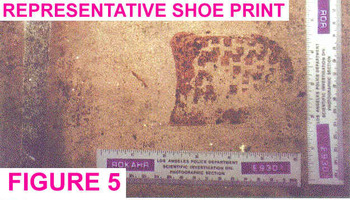 Source: wagnerandson.com
The bloody shoe prints found at the Nicole Brown Simpson and Ronald Goldman murder scene revealed a murderer who wore size 12s. Fewer than 10 percent of all shoes sold are that size.
OJ Simpson, the exonerated prime suspect in the double homicide, wore size 12s (I'm just saying...).
People who wear size 12s are usually between 6'0" and 6'4" tall. OJ Simpson is 6'1" tall (I'm just saying...).
Forensics determined the prints probably came from rare and expensive Bruno Magli shoes. Simpson says he never wore "ugly-ass shoes" like that. But AP photographer Harry Scull Jr. snapped some pics of Simpson wearing Maglis at Rich Stadium in New York in 1993.
Some people believe that the OJ was a victim of a framing and that at least one of the incriminatory footprints had been planted. Such theories have been thoroughly debunked.
Keep Reading