NFL Free Agency: Peyton Manning Didn't Join Broncos for the Money, Really?
March 21, 2012

Doug Pensinger/Getty Images
Manning's recent signing with the Denver Broncos for a rather spectacular five-year contract that is worth over $ 96 million is a little confusing to a lot of people inside the NFL community.
Passing up on the San Francisco 49ers, a team that was an overtime score away from representing the NFC in the Super Bowl last year, has some people scratching their heads.
Manning also snubbed the Miami Dolphins who were the favorite landing destination for the four-time MVP. Miami hasn't had a legitimate quarterback since Dan Marino—they still don't, but Miami was willing to do everything in their power to build the entire team around Manning as the Colts had done since his arrival in Indianapolis.
Other teams not chosen included the high flying Arizona Cardinals which would have had Peyton playing with the highest caliber receiver of his career in Larry Fitzgerald. Marvin Harrison might have been a legend in his own right, but other than Andre Johnson there really is no one who can challenge Fitzgerald's mantle of being the NFL's top receiver.
What nobody is really talking about is the most intriguing question. Why did Manning chose Denver over all those other teams?
The Broncos have a stellar defense, but that's not who Manning is going to be playing with. The offensive line is probably what he found most attractive. The simple matter of the fact is that Peyton, while playing in Indy, never was really subjected to that many sacks. He is probably the smartest quarterback to play the position and was excellent at knowing when to get rid of the ball—the above average O-Line in Indy didn't hurt either.
One has to wonder though what kind of support Manning will get from his fellow playmakers on the offensive side of the ball though.
When you look at Denver's receivers you have to say: who, who and who?
Since Brandon Marshall and more recently Brandon Lloyd were sent packing, the Broncos haven't really had a big name receiver, and with the best being plucked early in free agency, the Broncos don't have a lot of options.
And who will Peyton be handing the ball off to? How much does Willis McGahee have left in the tank, seriously?
The New England Patriots showed how important it is to have tight ends who can provide matchup problems for your opponent, that's another area Denver is devoid of talent.
After we look at the facts, one can determine that Peyton Manning signed in Denver for it's offensive line and defensive support, but was that really what he was after?
After all, San Francisco's defense was the most dominant in the NFL last year, perhaps from an overall view stats wise, but that defense dominated a lot of categories and carried an Alex Smith led team to the NFC Championship. Patrick Willis, the leader of the defense, and perhaps the team, is only going to get better and better, and at an exponential rate to boot.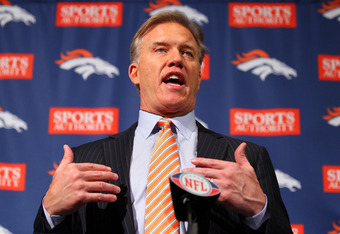 Doug Pensinger/Getty Images
Before his injury, Manning was making almost as much as his NFL salary in endorsements. Now, due to privacy laws, the actual amount of Peyton's endorsement deals, which he had more of than any human being could possibly remember, was not and will not be disclosed. All one has to do, however, is look at his peer in golf, Tiger Woods, before his divorce issues, to see that these guys were making the same off their respective games, if not more off endorsements.
There is little doubt that a few years back these two men were raking in more money than any other North American athletes in the world, and you can guarantee it wasn't because of their set in stone contracts.
That doesn't explain why he chose Denver though; wherever he would have gone he would have gotten big time checks from corporate sponsorship. You have to conclude that Manning chose Denver because they were willing to pay him more than anyone else, and that was the deciding factor in his decision. There is no conspiracy or deeper meaning of life in this case, it was all about the money.
Let's rewind a year and go back to when Tim Tebow was on SportsCenter on a nightly basis and was the subject of just about every single segment on every single sports talk media. Whether it be in the newspaper, television or online, Tebow reigned supreme.
Tebow loved Denver and Denver loved Tebow and sooner or later Mr. John Elway would have to pony up and pay the kid. It personally burned Elway to think about doing that—his treatment of Tebow was tumultuous and rocky from the get go. Despite Tebow leading his Denver Broncos, who really had no business being in the playoffs to a playoff victory against the Steelers, Elway couldn't wait to get rid of him.
Enter Peyton Manning. All eyes are on Denver anyway. Might as well step right on in, remove the beloved incumbent, and capitalize big time on any and all attention Denver was getting because of Tebow—nice way to make a few bucks without actually doing anything.
If it wasn't all about the money, then it was definitely about the attention. Nobody in the NFL loves to hear the sound of their own voice more than Peyton Manning. With a blow hard of a father like Archie Manning, who cannot shut up and feels like it's his business to comment on everything he possibly can about one of his two sons whether they're actually playing or not, who can really blame Peyton?
I'm curious to see if we will ever find out what other teams offered Manning. If it was above $100 million, for an aging superstar who was one hit away from retirement, this writer would recant and apologize immediately, but it is completely unlikely that will be the case should the numbers ever be revealed.