New Orleans Saints Coach Disciplined: What This Means for Carolina's 2012 Season
March 21, 2012

Streeter Lecka/Getty Images
New Orleans Saints coach Sean Payton has been suspended from the NFL for one year.  What does this suspension mean for the Carolina Panthers?
Well, for one thing, this means the Panthers have a better shot at making it to the playoffs.  By taking one mastermind (Payton) out of the equation, the Panthers are presented with less obstacles in the upcoming season. 
Carolina will attempt to take advantage of this situation and try to claim the NFC South division title. 
We can't forget about the Atlanta Falcons, though.  Along with the Saints, the Falcons have been dominating the NFC South for the last couple of seasons, reaching the playoffs both years. 
The Tampa Bay Buccaneers, particularly Josh Freeman, performed quite well two seasons ago, but last season was a disaster for them.  If Tampa's 2012 season is similar to last year's dismal 4-12 performance, then Carolina has another reason to be optimistic.
But let's try not to get ahead of ourselves.  Though Payton's suspension might make the Saints an underdog next season, it doesn't mean the Saints won't win games.  In the past, we've seen a lot of teams in the NFL get beaten by the underdog. 
Hopefully, this doesn't happen to the Panthers.
The Panthers are going to need to stay healthy.  They must avoid the injury bug to members of their defense (such as Jon Beason and Thomas Davis) and their offense (David Gettis and especially Cam Newton).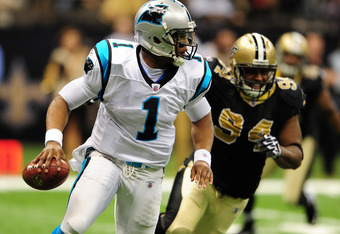 Scott Cunningham/Getty Images
There have been reports that Newton was listed under the Saints bounty program, which should come as no surprise.  Last season, Newton ran for 706 yards and scored 14 rushing touchdowns.  He's obviously a target outside of the pocket and teams will continue to try to find ways of bringing him down.
In my last article ("Panthers Free Agency: Tolbert Is Good for Newton and Not Bad for Double Trouble"), I talked about the benefits of adding a guy like Mike Tolbert to the mix and how that would benefit Newton's health.  Hopefully, with the addition of Tolbert, the Panthers can find alternative ways of getting into the end zone, reducing the number of times that Newton needs to dive toward the goal line.
The Panthers are going to need to take care of Newton, especially this upcoming season.  If the Panthers make it into the playoffs, it'll be more than a 16-game season for them.  And more games means more opportunities to get hurt.
If the Panthers can capitalize on Payton's suspension and become legitimate competitors in their division, we can expect to see them in the playoffs. 
Once in the playoffs, who knows what the ceiling may be for this team?