2012 NFL Offseason: A Look at What the Kansas City Chiefs Have Done, What's Next
March 21, 2012

Jamie Squire/Getty Images
While the full-court press of the John Elway-led Denver Broncos brass paid off in luring Peyton Manning to town, there's been another AFC West team quietly going about its business and assembling one of the more productive offseasons in all of football.
The Chiefs, who stumbled to a 7-9 finish in 2011, had reason enough for optimism heading into 2012 with the returns of Jamaal Charles, Eric Berry, Tony Moeaki and Matt Cassel to the lineup, each of who missed significant time last season due to injury.
Alas, the Chiefs still entered the 2012 offseason with a laundry list of needs and–as we've come to find out–a deliberate plan in mind.
To review what the Chiefs have already accomplished on each side of the football.
Offense
Kansas City pounced on the opportunity to land coveted free agent tackle Eric Winston, a prototype for the right side who was a surprise cut by the Texans. This move was doubly imperative because Barry Richardson–the Chiefs starter on the right side in 2011–was woeful. 
The Chiefs also lured in a pair of veteran weapons in RB Peyton Hillis and TE Kevin Boss. Each fills a depth need and comes at a discounted price tag; the signing of Hillis has low-risk, high-reward written all over it, as he should be motivated to run for the big contract he didn't get this offseason (he'll make a modest $2.6 million this season). 
Kyle Orton waved goodbye to Kansas City when he took a handsome contract to backup Tony Romo in Dallas. The Chiefs opted to snag Brady Quinn–who previously played under head coach Romeo Crennel–via free agency. 
As far as holding onto their own, the Chiefs wisely franchised WR Dwayne Bowe. He's been highly productive as a Chief and as we've learned through a little over a week of free agency, teams are in the business of overpaying receivers who reach the open market.
Defense
The downside to franchising Bowe was the inability to do the same to CB Brandon Carr (the Chiefs had to make the move, however), and Carr will join Orton in Dallas after inking a mega contract with the Cowboys. It's hard not to love what Carr became during his time in KC and clearly he fits the mold of player development that teams pine for.
But roster management is no easy chore and the Chiefs were able to find a replacement for Carr at a fraction of the cost in Stanford Routt. While Routt isn't the same caliber of player as Carr, his deal opened up an abundance of cap flexibility (more on this later). And as for keeping the nest intact, the Chiefs re-signed DL Amon Gordon with a two-year deal.
Overview
It'd be easy to say the Chiefs have valiantly plugged holes on their roster–which is true–but the team has also adopted an offensive strategy best viewed from a broader scope.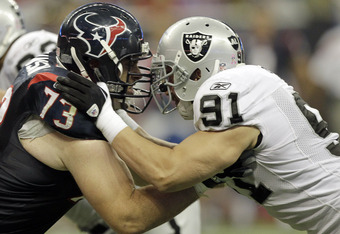 Bob Levey/Getty Images
Simply, surround Matt Cassel with more weapons. 
Kevin Boss and Peyton Hillis likely wont even start for Kansas City next year, but each is an upgrade over the players they'll replace (Leonard Pope and Thomas Jones, respectively), and each will lighten the load on Cassel. With Hillis, Charles and Dexter McCluster in the backfield, the Chiefs have the makings of a versatile, dynamic, and bruising running based offense. 
Couple that with the development of the receiving core (especially Jonathan Baldwin) and Cassel will take to 2012 with a more healthily stocked cabinet of weapons than a year ago.
Looking forward
Despite the fact that free agency is just eight days old, much of the notable activity has come and past.  Buzz will soon turn to the April draft, where the Chiefs have eight picks (one in each round plus an additional seventh rounder), starting with the 11th overall selection. 
From a resource standpoint, the Chiefs have somewhere in the range of $15-$17 million of remaining cap space, which needs to be allocated amongst draft picks and other free-agent signees. Additionally important, however, is the ability of the Chiefs to look forward to next offseason, when four current starters will be unrestricted free agents.
So while some may be desperate for Kansas City to further its free agency splash by going out to get the best of what remains available, don't expect the Chiefs to make any moves that will limit future flexibility.
Candidates For New Deals
The four aforementioned starters in search of a new deal are players Chiefs fans wouldn't care to see in another uniform and GM Scott Pioli likely feels the same way: WR Dwayne Bowe, DE Glenn Dorsey, LT Brandon Albert and LB Jovan Belcher. 
Of the four, it's most likely that Bowe will get a new deal this offseason, as he currently is scheduled to play for the franchise figure of roughly $9.5 million next season. Pioli has done well to lock up potential free agents before they reach the market (e.g. Derrick Johnson and Jamaal Charles) and may aim to do the same with the crew of 2013 free agents.  Don't forget this consideration when looking at the Chiefs available cap space.
Needs
Heading into the offseason, I was part of the chorus proclaiming the Chiefs single biggest need was an upgrade at right tackle. Mission accomplished. But beyond that, the Chiefs still had (and continue to have) work to do. 
Arguably the hardest position to fill on a 3-4 defensive front is the nose tackle. The Chiefs need help there. While 2011 sixth round pick Jerrell Powe is at the very least intriguing, he shouldn't be confused as a ready-made starter for 2012. 
And although Belcher has been sufficient as the "mike" linebacker in Kansas City, the Chiefs could really solidify their linebacking core with an upgrade, particularly a player who can stay on the field for third downs. Neither Belcher nor Brandon Siler (who should be back after tearing his Achilles' last year), is rangy enough to produce on the ball in pass coverage. 
Time will tell if he'll even be available when the Chiefs pick, but Boston College's Luke Kuechly would seamlessly transition into a starting role next to Derrick Johnson for the Chiefs.
Three Other Areas Of Need
Depth at the safety position, depth on the offensive line and interior pass-rushers. These positions don't require stars, but they're indispensable members of the roster  The Chiefs saw what happened when players like Sabby Piscitelli were forced into duty last season—the entire defensive dynamic was altered. 
The Draft
As has been mentioned already, the Chiefs will pick eight times in the forthcoming April procession, starting with pick 11. Pioli has always adopted a strategy of matching value with need, and the Chiefs have a multitude of directions they can head in with the first choice. 
If available, Kuechly or a nose tackle would make plenty of sense. The name so many have floated as the first nose tackle to come off the board is Dontari Poe from Memphis. After destroying the combine, he's flown up draft boards and may not last past the first 10 picks.
I've had limited exposure to Poe, but for those decrying his merits on the basis of minimal production last year (22 tackles, one sack), keep in mind the oldest adage in drafting: draft traits, not production. 
If the Chiefs see enough of the nose tackle qualities (ability to anchor his weight, move laterally, control the point of attack, and strong mental endurance) in Poe, he may fit the bill.
Recap
The Chiefs are off to a strong start, having signed up a number of critical free-agent pieces, retaining Bowe and managing to keep a focus on the present and future. The draft is yet another opportunity for Kansas City to further build its roster, and having a full offseason will benefit what is still a young team. 
Heading into 2012, it's clear that the roster Romeo Crennel will work with is already better than the one he coached to two wins in three tries last season. 
Follow Field on Twitter: @FieldYates