National Lacrosse League 2012: Week 12 Preview and Predictions
March 22, 2012
The National Lacrosse League's trade deadline came and went with a couple of intriguing moves, but nothing earth-shattering.
The biggest move was the Colorado Mammoth reacquiring Jamie Shewchuk from the Minnesota Swarm. Shewchuk is a fan favorite in Colorado and a solid scorer, but has only played in six games this year due to injury.
Shewchuk is scheduled to be ready to play again at the end of March, so Colorado is banking on the extra firepower he might provide for the home stretch.
Meanwhile, the Toronto Rock released starting goaltender Matt Roik and picked up backup goalie Nick Rose from Calgary in exchange for a first-round pick in the 2014 draft. Roik has struggled in his last few games, prompting the Rock to make a move to try to salvage the season.
Rose, meanwhile, has only logged a handful of minutes as one of two backup goalies in Calgary. His move to Toronto most likely pushes the Rock's No. 2 goalie, Patty Campbell, into the starting role with young but established backup Rose in the wings.
As league play resumes on Friday, a busy schedule presents some interesting matchups. Three teams are poised to lock up playoff spots if they win this weekend. Several other teams are continuing to fight for their playoff lives.
Philadelphia Wings (6-4) vs. Colorado Mammoth (8-2)
The first game of the weekend is potentially a sneak preview of this year's Champion's Cup matchup, with the best in the East facing the best in the West. The teams then do it all over again in Philly on Sunday.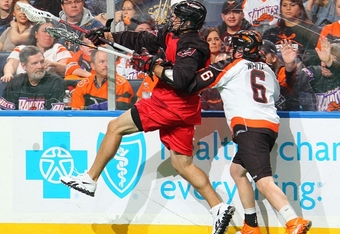 If the Mammoth win either game this weekend, they assure themselves of a playoff berth.
The Wings are coming off a big win in Edmonton last week, where they outgunned the Rush 16-15. They will have to maintain that scoring pace to stay in the game against the high-powered Mammoth offense.
Philly's offense is being powered by Dan Dawson, who is tied with Colorado's John Grant Jr. for the league lead in scoring with 68 points. Rookie Kevin Crowley is second with 52 points and leads the team in goals with 29.
Between the pipes, Brandon Miller has posted some of the weaker goaltending numbers in the league. His goals-against average of 12.00 is eighth best among regulars. He'll have to step up his game significantly to help his team win.
The big question for Colorado will be whether Grant will play.
He missed both games of a home-and-home series against Washington two weekends ago, which the teams split. If he's back, his 8.5 points per game will be tough to neutralize.
Colorado's secondary scoring is provided by team captain Gavin Prout (50 points) and rookie Adam Jones (49 points).
Goalie Chris Levis is having a decent season, with a passable 11.67 goals-against average and a solid .773 save percentage, but he's going to need help from his defense, which has been outworked for loose balls and forced turnovers thus far in the season.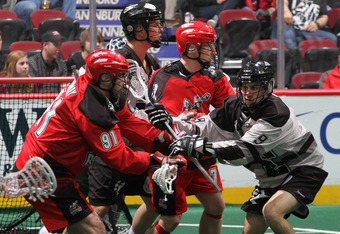 This is liable to turn into a run-and-gun style game, with the last team to score likely being the team to win. Although Grant had a bye week to recover, he's still only a maybe for this game. On that basis, I have to go with the Wings to pull this one out, 14-13.
Toronto Rock (4-6) vs. Rochester Knighthawks (5-5)
Here's a case of teams headed in opposite directions.
Rochester has had a controversy-filled, up-and-down season, but seem to have gotten back on track, winning its last two games before its bye week.
Toronto meanwhile, briefly held first place in the East but has now dropped three straight, including a 21-14 smackdown last week at the hands of the Buffalo Bandits.
The Rock's troubles have been centered around the injury bug, which has taken out forwards Blaine Manning and Rob Hellyer, transition Ryan Sharp and defenseman Drew Petkoff. Inexplicably, the Rock didn't seek to repair any of this damage at the trade deadline, opting instead to release goalie Matt Roik and bring in Nick Rose, who has been a backup for Calgary this year.
Roik's numbers were not great, but his backup, Patty Campbell, hasn't fared much better and is a question mark taking over the starting role. Rose will be ready to step in, but his 18.53 goals-against average in limited action isn't very reassuring.
The real problem is up front. Garrett Billings (63 points) has done an admirable job of leading the offense and Josh Sanderson (50 points) has supported him well. The rest of the offense simply hasn't been getting it done. If they are to compete in this game, they need a couple more players to step up and make contributions.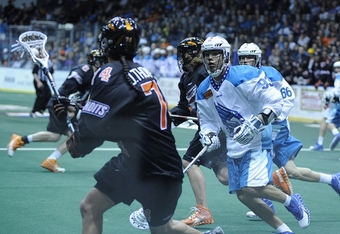 As a team, they also need to finish strong. The Rock have been outscored 74-53 in the second half of games and need to keep their intensity through a full 60 minutes of play.
The Knighthawks have been getting better as the season wears on. A big part of that has been their goalkeeping, where Matt Vinc has been improving steadily. His 11.67 goals-against average is solid and he is now playing with the confidence Rochester expects of him.
Cody Jamieson, with 25 goals and 56 points, is leading the offensive charge for a unit that is averaging almost 13 goals per game. If it can maintain that pace, Toronto will be hard pressed to keep up.
Look for Rochester to carry its momentum through this game and win 13-10.
Washington Stealth (3-7) vs. Edmonton Rush (2-7)
The two teams that are languishing in the NLL West cellar are both fighting for their playoff lives.
Washington made a huge leap last weekend when it split a two-game series with Colorado. The Stealth needed that win badly and will look to turn that win into a streak against the floundering Rush.
The triple threat of Rhys Duch (39 points), Lewis Ratcliff (43 points) and recently acquired Athan Iannucci (17 points in five games) is finally paying dividends, as the offense clicked for a solid 22 goals in last weekend's two games.
With only 21 goals surrendered in those two games against one of the best offenses in the league, the defense was also on its game.
New arrival Kevin Croswell has performed admirably in part-time duty for the Stealth, with a 9.59 goals-against average. This seems to have pushed regular starter Tyler Richards to pick up his game since returning from an injury. He is sporting a .783 save percentage, good for second best in the NLL.
Edmonton is desperate for a win and has been close on numerous occasions. Last week they came within a goal of taking out the Philly Wings, but couldn't finish the job.
There have been some positives in an otherwise disappointing season.
Aaron Bold is having a great year in net, posting the second-lowest goals-against in the league sy 11.09.
In the last two weeks, Shawn Williams has become just the sixth player in NLL history to reach the 1,000-point plateau and also became the all-time NLL ironman after playing in his 189th consecutive game.
As for the rest, the team simply needs to figure out how to put the ball in the net. Scoring fewer than 10 goals per game isn't getting it done. Williams needs more help and someone (or several someones) need to step up.
As things stand, it looks like Washington will win this one. Look for a 12-10 Stealth victory on the road. 
Buffalo Bandits (4-6) vs. Calgary Roughnecks (7-3)
The Bandits are coming off two big wins last weekend. The Roughnecks won a pair two weekends ago before getting a bye week.
Buffalo's wins vaulted it right back into the playoff picture after dropping six games in a row. Traveling to Calgary, the Bandits will be aiming to extend their streak and start pushing for some momentum heading into the home stretch.
As always, John Tavares is leading the offense. He hit the 1,600-point plateau last weekend, becoming the first player in NLL history to reach that level, and shows no signs of slowing down.
Team defense is doing a solid job, collecting more loose balls and forcing more turnovers than their opposition. This puts them in excellent position to stay on track.
Time in net is now being shared by Mike Thompson and Anthony Cosmo, although Cosmo has not looked good yet in his limited time with the Bandits.
Calgary is continuing to try to chase down Colorado. The pair of wins last weekend closed the gap by a game and the Roughnecks want to continue that trend.
The Riggers are getting offense from all over the place. Last weekend, transition Peter McFetridge scored his first hat trick to help the team to a runaway victory over Edmonton. That's on top of five players with 30 or more points, six players with 10 or more goals and a league-best 135 goals scored as a team.
Geoff Snider is also having a standout season. Snider is leading the league in faceoffs (193) and loose balls (153) as well as being seventh on the team in scoring.
Mike Poulin is leading the league in goals-against average at 10.28 and has looked particularly good recently.
Overall, it looks like the Roughnecks have too much talent at both ends of the floor to lose to Buffalo. Call it a 14-11 Roughnecks win.  
Colorado Mammoth (8-2) vs. Philadelphia Wings (6-4)
A rematch from Friday night, the Wings and Mammoth take to the floor again on Sunday.
Momentum and home field advantage haven't meant much to this point in the season, so it probably won't matter who won the Friday game. Look for another hard-fought contest which could go either way.
Among the interesting matchups is which star rookie—Kevin Crowley of the Wings or Adam Jones of the Mammoth—will emerge as top dog. This series may put one ahead of the other for good.
Another interesting matchup—and one which may become more important as the series wears on—will be in the faceoff circle. This has been a strong suit for Philly all year and a real weakness for Colorado.
Jeff Reynolds for the Wings will likely dominate Scott Stewart of the Mammoth in faceoffs. Retaining possession so consistently is liable to pay dividends for Philadelphia's offense in the long run, which could put them over the top.
Nevertheless, I'm going to go with Colorado in this one. They're simply too strong to drop two in the same weekend. Expect a split between the top two teams and a 13-11 Colorado win on Sunday.
Minnesota Swarm (5-4) vs. Washington Stealth (3-7)
Minnesota lost to Buffalo last weekend to end a two-game winning streak. The Swarm will be looking to get back on track on Sunday in Everett.
Last year's scoring champ, Ryan Benesch, is solidly in seventh in league scoring with 51 points while Callum Crawford is right behind him at 50 points. 
Since going with their rookie goalkeepers, the Swarm's goals-against average has dropped like a rock. Evan Kirk has a tiny 8.33 goals-against average and Tyler Carlson is at a very solid 11.14. If this tandem can maintain this pace, they will be very tough to beat down the stretch.
The Stealth have a day to rest between games, so they should be reasonably fresh when Minnesota arrives at their house. They will be looking to Duch, Ratcliff and Iannucci to come out strong and solve the Swarm's goaltending.
I'm expecting Minnesota to come in fired up and looking to repeat the beat-down they doled out to the Stealth late in February. Look for the Swarm to outlast the Stealth 13-12.