Golden State Warriors: Joe Lacob's Vision for the Future/Letting Go of the Past
March 21, 2012

Ezra Shaw/Getty Images
"Sometimes change is inevitable and it's going to work out just fine. With your support and patience and use that passion in the right direction, this thing is going in the right way. I've got great confidence in Joe (Lacob), Mark Jackson, and everything will work out just fine."

—Chris Mullin
The Golden State Warriors organization is in a tough spot. As of now, the Warriors have a lot of questions waiting to be answered. There are plenty of "what ifs" with many outcomes hanging in the balance.
In the dark but all too recent past, the Warriors would have continued their losing ways with no hope of getting better.
Due to unpopular owner Chris Cohan, who for years was unwilling to pay a dime, the Warriors became perennial losers in the NBA.
Opportunities in the free agency market were nonexistent and the clouded vision of those in the front office meant that chances to capitalize in the draft were regularly squandered.
All of that built up frustration poured out from Bay Area fans on Monday night, via a chorus of boos directed toward current owner Joe Lacob.
There is more than one reason why fans booed Lacob so mercilessly at Oracle Arena, during a ceremony for the great Chris Mullin nonetheless. Trading beloved shooting guard Monta Ellis was only the tip of the iceberg.
Warriors fans have grown tired, impatient and sickened by the culture of losing basketball. And rightfully so.
Golden State has made the playoffs just once since 1994: A staggering figure in a league that sends more than half of its teams to the playoffs each year.
That one year in 2007, how magical it was for every Warriors fan.
The mantra "We Believe" was so simple, yet so poignant and ever so accurate to describe the support that the local fans had for their team.
The ragtag bunch led by Baron Davis, Jason Richardson and Steven Jackson stole the hearts of the Bay Area faithful. That one playoff appearance generated one of the loudest, most boisterous NBA crowds in recent memory.
Since that run, which seemed too short for many fans, the playoffs became a distant memory once again.
The following year, with 48 wins, Warriors fans felt cheated. It was unfair that their team that won nearly 50 games, more than several teams who made the playoffs in the Eastern Conference, was not given a playoff birth.
From there it all fell apart. Richardson was already gone. Davis, the heart and soul of that great push, wasn't re-signed. Jackson and forward Al Harrington eventually left town.
Now, Joe Lacob is left with the arduous task of rebuilding an organization that was so beyond destroyed that no one even helped him (or co-owner Peter Guber) pick up the pieces.
Lacob has done an admirable job up to this point.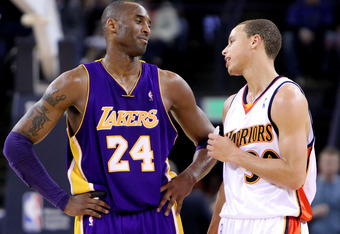 Jed Jacobsohn/Getty Images
He's hired hall of famer Jerry West as a head consultant. He hired a new head coach in Mark Jackson, who preaches the word of "defense," a term that became foreign in Oakland for too long. He's making an effort to acquire draft picks for an organization that was so used to trading away those picks.
And now, for his latest and least popular move to date, Lacob has tried to overhaul the Warriors' roster.
The trade that sent fan-favorite Monta Ellis to Milwaukee will not help the Warriors win today. Andrew Bogut will not see the court until next season.
But it will help the Warriors in the long run. Golden State finally has their elusive big man. The team will soon have a presence in the paint that fans have craved for years.
Here is the most ideal scenario that Lacob sees. The Warriors will tank this season, which will ensure that they will get to keep their first No. 1 draft pick (and not give it to the Utah Jazz).
At the same time, their prized young shooting guard Klay Thompson will get plenty of playing time to develop and sharpen his skills.
The team will acquire not one, but two good players from the upcoming draft (which is supposed to be a deep draft compared to recent years) in this situation. They may even find a gem with the second round pick they acquired from the Atlanta Hawks for cash considerations.
Hopefully, Richard Jefferson stays, along with his solid defense and his veteran leadership. Perhaps the team will add a key free agent or two to bolster the lineup.
Lastly, when the new season rolls around, Stephen Curry and Andrew Bogut will be healthy and ready to go.
Patience, or whatever is left of it, is wearing thin for Warriors fans. But perhaps Chris Mullin's words will prove to be right. Perhaps Lacob's vision is clear unlike so many Warriors higher ups before him.
Perhaps in due time, the Warriors will produce the results that will finally allow Bay Area fans to let go of that dark past—and embrace a much brighter future.