Oakland Raiders Free Agency Report Card for Every Move Made so Far
March 21, 2012

Greg Trott/Getty Images
New Oakland Raiders' general manager Reggie McKenzie inherited a mess.
The Raiders had been a mom and pop shop for decades under the leadership of Al Davis while the rest of the NFL was expanding their operations to more closely reflect Fortune 500 companies.
The mom and pop shop had advantages, but the lack of structure on the football side of the organization also had unintended consequences once Al Davis died.
Lopsided contracts became something of a norm in Oakland and McKenzie was left the task to clean them up while still trying to improve the on-the-field product.
The contracts of Stanford Routt and Kamerion Wimbley were two that McKenzie was unable to salvage, forcing him to move in another direction.
Richard Seymour and Michael Huff were examples of how McKenzie decided it was worth it to keep the players and take the cap hit over the next several years.
McKenzie is working with a skeleton crew and still trying improve the roster enough to compete in the AFC West.
While any final grades will have to wait, we'll give McKenzie a letter grade for the moves he's made to this point in free agency.
Release Kevin Boss
Grade: A-
Boss was making quite a bit more than he would have received on the open market. He was also benched in favor or Brandon Myers last season. It was in the Raiders best interest to release him and not pay a player that was no longer in the team's future plans.
Boss was a grade A human, but McKenzie can replace his production for almost nothing. Unfortunately, free agents can sign anywhere and Boss signed with the Chiefs. It was outside McKenzie's control, but it hurts the final grade.
Release John Henderson and Cooper Carlisle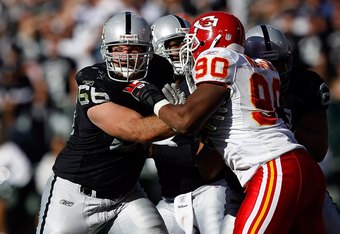 Allen Kee/Getty Images
Grade: A+
John Henderson and Cooper Carlisle were two high-priced veterans with hefty 2012 salaries. McKenzie had to release the pair to get under the salary cap.
While releasing Carlisle temporarily left a hole on the offensive line, the defensive line was no weaker or stronger than it was before.
Henderson was a one-down player at best and Carlisle's skills were diminishing and no longer worth his salary. McKenzie was absolutely justified in releasing these veterans.
Sign Ron Bartell
Contract: One year, $3 million
Grade: B+
Bartell is 30 and coming off injury, so the one-year contract seems wise on the part of McKenzie. The Raiders had to find a few value cornerbacks and Bartell might have been the third-best one on the market to Brandon Carr and Cortland Finnegan. 
McKenzie obviously believes Bartell is capable of being a top cornerback, so why only sign him for one season?
A longer deal with injury protections for his neck would have the Raiders benefiting from an inexpensive Bartell for a few more seasons.
Bartell is a very good singing for the Raiders, but the lack of commitment to Bartell makes me believe McKenzie is just putting a bandage on the hole at cornerback.
Sign Mike Brisiel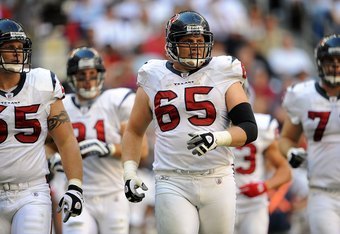 Ronald Martinez/Getty Images
Contract: Five years, $20 million
Grade: B
Mike Brisiel played right guard sandwiched between the more lauded Chris Myers and Eric Winston. The Texans shockingly released Winston and were seemingly lukewarm on re-signing Myers before the Raiders swooped in and signed Brisiel.
Brisiel will play either left or right guard and is reunited with Frank Pollack and Greg Knapp. Both Knapp and Pollack worked with Houston last season and will play a pivotal role in the Raiders' new offensive structure.
The Texans use the same zone-blocking scheme the Raiders will deploy, so why were the cash-strapped Raiders willing to pay more than Houston?
It seems the Raiders were desperate for a lineman they knew could start in the zone-blocking scheme and only Brisiel was on the market.
Release Kamerion Wimbley
Grade: C+
McKenzie and Wimbley's agent tried to work something out for weeks.
Raiders wanted to keep Wimbley, but were hoping he'd drop his price. Wimbley and his agent had no reason to take a pay cut and McKenzie had to release Wimbley to avoid $17 million in guarantees.
If the structure of the contract afforded the Raiders any leverage in the negotiations, Wimbley might still be a Raider.
McKenzie was forced to play his hand and no matter what choice he made, he wasn't going to win the battle. Like any good general, he conceded defeat and saved valuable resources that he will later use to try and win the war.
Sign Shawntae Spencer
Contract: Undisclosed (Believed to be a one-year contract)
Grade: B+
Spencer has starting experience but fell out of favor in San Francisco last season. Like Bartell, he's 30 and has something to prove, but if the Raiders felt like Spencer could play, why sign him to only a one-year contract?
McKenzie would prefer to build through the draft and it is clear he is only putting stop-gap players in place where he sees a need.
Re-sign Cooper Carlisle
Contract: One year, $925,000 ($275,000 guaranteed, with additional $75,000 available through incentives).
Grade: B+
A week after releasing Carlisle due to salary cap concerns, the team brought him back. His new deal will only be for one year and at a maximum of $1 million. He'll probably start at one of the guard positions like he was projected to do before he was released. 
Carlisle is a scheme fit and will be a very affordable starter. He's not a great player, but the one-year deal should motivate him. The re-signing of Carlisle means Stefen Wisniewski is likely moving to center where he'll be even more productive than he was as a rookie.