Fantasy Baseball Sleepers 2012: Hunter Pence and Sluggers Ready to Explode
March 20, 2012

Jonathan Ferrey/Getty Images
With the 2012 MLB season just a few weeks away, it's time to get to the nitty-gritty of the fantasy baseball sleepers for this season.
This piece will discuss the top three sleeper sluggers that fantasy owners can wait a few rounds longer on and still reap the rewards.
All of the following MLB stars will have stellar 2012 seasons, so feel free to grab them as late as physically possible.
The Philadelphia Phillies are starting the season down two men, with Chase Utley and Ryan Howard both nursing injuries that could cost them extended periods of the 2012 season.
With that said, they need Hunter Pence to deliver an MVP-quality season. That's exactly what he will do in his first full season in Phillies pinstripes. Fantasy owners should be scooping Pence up early.
After putting up a stellar .324 batting average with 11 home runs and 34 RBI in just 54 games with the Phillies last season, Pence will look to shock the world and become the Phillies' go-to guy.
Austin Jackson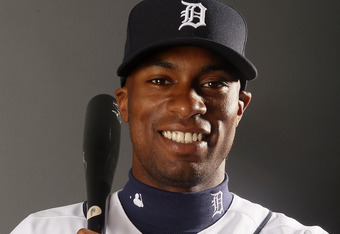 Elsa/Getty Images
After a superb rookie season in 2010, Detroit Tigers center fielder Austin Jackson had a mediocre 2011 that saw him bat .249 and strike out 181 times.
With the addition of a slugger like Prince Fielder to an already talented offensive bunch, Jackson should see more quality pitches to hit this season. No doubt teams will want to face the center fielder instead of Fielder or Cabrera.
If you can wait until the later rounds to snag him, that's your best bet. If he starts getting talked about in the middle rounds, take him and reap the fantasy benefits.
Cameron Maybin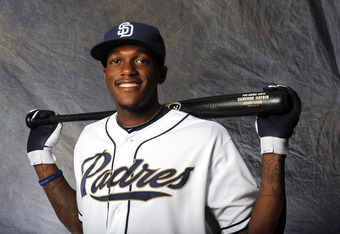 Rich Pilling/Getty Images
After already bouncing around in his short MLB career, it's time for 24-year-old outfielder Cameron Maybin to have the breakout season everyone wants from him.
In 2011, his first season with the San Diego Padres, Maybin made a huge mark, with 82 runs scored and 40 stolen bases. If he can continue to build confidence in a lineup that offers little help offensively, he will be a great mid-round fantasy steal.
While there is plenty of risk, as there is nobody in the Padres lineup to prevent pitchers from pitching around Maybin, his base-stealing ability will discourage much of that.
Check back for more on the Major League Baseball as it comes, and check out Bleacher Report's MLB Page to get your fill of all things baseball.