Peyton Manning to Broncos: Why QB Will Not Play out Duration of Contract
March 20, 2012

Doug Pensinger/Getty Images
Peyton Manning's deal with the Denver Broncos has him playing through the 2017 season, when he will be 41 years old. After coming off of four neck surgeries, and at his age, there is no way that he will play out the duration of his contract. 
According to the Denver Post, Manning's five-year deal with the Broncos will be worth about $96 million, with the first year paying the quarterback a guaranteed $18 million. 
The Post goes on to say about Manning's new contract: 
When Manning signed his five-year, $90 million deal with the Indianapolis Colts on July 31, 2011, he wound up with a first-year payout of $26.4 million. That guarantee came in handy as Manning didn't take a snap in 2011 because of a neck injury.

It appears Manning made some concession in his deal with the Broncos as his first-year guarantee was lowered 32 percent compared to his previous deal with the Colts.
The Broncos made the right decision signing Manning to play quarterback this season over last year's starter, Tim Tebow. However, handcuffing their franchise for five years to Manning was the wrong move.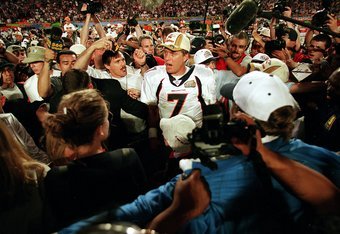 Rick Stewart/Getty Images
In the the NFL, there has only been one quarterback who has played in the last 25 years effectively after the age of 40, Brett Favre.  
After that, only Broncos quarterback John Elway has won a Super Bowl past the age of 36, when he won two at the ages of 37 and 38.  
Those two are a small percentage of players who have played past the age of 36 at a high level. After those exceptions, when a player reaches the tail end of their 30s, their level of play starts to diminish.  
Especially those players who are coming off of a major surgery, like multiple ones to their neck.
Manning will play with the Broncos for two, maybe three years. However, after that third year, when he's 39 years old and past the $40 million that's guaranteed to him from years two and three of his deal, it's very hard to believe that he will comeback for another year. 
Manning will win a number of ball games for the Broncos. However, he will not be playing there until 2017.