Open Letter to the Jacksonville Jaguars Regarding Mr. Tim Tebow
March 20, 2012

Sam Greenwood/Getty Images
This letter is addressed to any and all members of the Jacksonville Jaguars organization, from Gene Smith to Shahid Khan to Mike Mularkey to even Maurice Jones-Drew. I want to talk to all of you about the recent events that have unfolded in Denver with Peyton Manning deciding to join the Bronco's organization.
Tim Tebow will probably be traded in the coming days, and I cannot stress enough what a mistake it would be to acquire him.
Manning has beaten the Jags enough times quarterbacking for the Indianapolis Colts—don't let him beat you as a newly signed free agent.
First and foremost, I want to make my position on Tim Tebow perfectly clear. I am not a person who is blinded by a hatred or dislike for the way that Tebow performs on the field and lives off of it. I was immensely happy that a person of such high moral fortitude could be as popular and successful as Tebow has been, especially in a league that is far too often portrayed as consisting of thugs and criminals.
However, I strongly believe, despite the previous statements, that the exceptional (some would say miraculous) success that Tebow has achieved for the Denver Broncos is not sustainable.
One of the aspects of Tebow's game that is most admirable is his physicality. Unfortunately, that is also one of the biggest reasons why he will not have long-term success in the NFL. Defenders are becoming bigger and stronger, and this is clearly having major effects on those they are hitting.
Just look at the length of careers for running backs today. A quarterback that combines Tebow's appetite for getting hit and his need to move outside the pocket will most likely not enjoy a long career due to the constant wear and tear.
Another reason that Tebow would not be a good fit in Jacksonville is his poor accuracy. The Jags' 2011 campaign illustrated the negative effect of poor quarterback accuracy. And the only player to have a poorer completion percentage than Blaine Gabbert was Tim Tebow.
Take in to account that Tebow's targets were Demarius Thomas, Eric Decker and Eddie Royal. These are not Hall of Famers, but compared to the targets that Gabbert had, they certainly seem like it.
The addition of Laurent Robinson is a good first step, but the rest of the receiving core is still woefully the unchanged. The only difference would be Tim Tebow's diminished accuracy, which certainly would not help the team to improve their record in 2012.
The third and most important reason for not trading for Tim Tebow is the fact that the Jaguars are still rebuilding. Trading away draft picks would only hinder that process. Jacksonville is a team that is much closer to being on the right side of .500 than most people believe.
The defense is ranked sixth in the league and is led by Mel Tucker, a great defensive coordinator. If it wasn't for a litany of injuries, the unit had a chance to finish even higher than that.
With improvements through the draft, such as the addition of more wide receivers or a pass-rusher, the Jaguars could continue to rebuild in places that are more pressing than quarterback. While the Broncos probably wouldn't demand a first-round pick for their now backup quarterback, even a second or third-round pick would be too much to give up.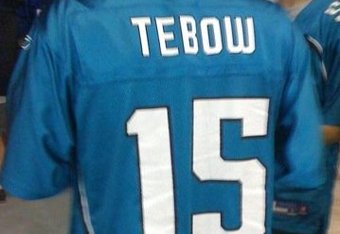 Gene Smith has demonstrated a talent for acquiring starting caliber players in later rounds. Derrek Cox, Terrence Knighton and Mike Thomas were all picked in later rounds and all seem to be just fine in Jacksonville.
The last and final reason why Tebow relocating to Jacksonville is a mistake is that it isn't in his own interest to do so. Imagine the pressure placed on his shoulders, the prodigal son returning home, tasked to lead a franchise from obscurity to the Super Bowl.
With the receiving core he has and the need for the offense to be completely restructured to suit him, wins will not come early or often and the weight will only increase. The chances of Tebow succeeding in Jacksonville are slim, and just like when every quarterback begins to struggle, there are calls for him to be benched.
In this scenario, it would be Tebow's most arduous supporters that would be calling into radio stations demanding he be benched. To hear the voices of those who have always supported you calling for your head is enough to demoralize any man, even Tim Tebow.
I am not naïve enough to claim that there are no advantages to acquiring Tim Tebow. He is a Florida native and surely the ability to see the local legend in action will drive people to EverBank Field. Tim Tebow could have the ability to finally rid the stadium of the dreaded tarps.
Teal Tebow jerseys would line the shelves and would be one of the most popular in the league, just like it was in blue and orange. The Jaguars might actually make it onto ESPN for a change; they might become important for the first time, well, ever.
If the intention is purely from a fiscal point of view, then for a short time, this would be a successful plan. The key point in that phrase is "for a short time;" Tebowmania, just like Linsanity, will eventually fade back into obscurity. However, unlike Jeremy Lin's meteoric rise in New York, the acquisition of Tim Tebow would have long lasting negative effects on the Jaguars.
Is Tebowmania really worth it?
The team supports Blaine Gabbert. Within hours of the Peyton Manning signing, Terrence Knighton was already tweeting his support for Blaine Gabbert, claiming that he is the Jaguar's starting quarterback.
Gene Smith put his career on the line with Gabbert. They brought in Chad Henne to push him, force him to work in order to maintain the starting job. If Tebow were brought in, people would be chanting for him to be put in (if he wasn't immediately named the starter).
Blaine Gabbert's career would be over before it really even had a chance to begin. Tim Tebow could be the savior for the Jaguars, God only knows he's done the impossible before, but this is a move that could destroy the team instead of leading it to the promise land (puns intended).