Roy Halladay: Why the Phillies Should Worry About Their Ace's Pitching Arm
March 20, 2012

Jeff Gross/Getty Images
After the news that Chase Utley is doubtful to be ready to go for opening day, the Philadelphia Phillies offense took a major blow.
The lineup, already without its cleanup hitter for maybe the first half of the season, only highlights the potential scarcity of runs they could be able to produce this season. This is immediately following the team's exit in a 1-0 loss for the elimination game.
On the mound that game, of course, was Roy Halladay, who was spectacular from the second inning through the rest of his time on the bump, for seven more innings. He was his true gritty self, especially when he got Matt Holliday to fly out to deep left field during a bases-loaded jam.
What if it wasn't the 2011 Roy Halladay in his prime on the mound? What if it were someone else?
The Phillies would have no chance of matching the runs their opponents would score. Although they may not be facing Chris Carpenter every day, they still have struggled against inferior pitchers.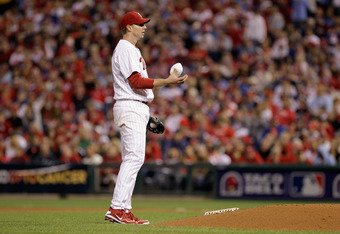 Rob Carr/Getty Images
If there is any truth to Roy Halladay having any type of injury, as some national writers tried to speculate after his velocity was down, their marathon of a season gets increasingly more difficult.
With the offense really just down to Hunter Pence, Jimmy Rollins and Shane Victorino as far as reliable production, the team is going to lean on the aces more than ever. Then looking at the aces, Cliff Lee has his moments where he doesn't have it on the mound, and Cole Hamels has never won more than 15 games, even on teams that have led the league in wins.
Doc anchors the rotation, and without him they are going to have a few issues keeping their offense in the game.
So if there is anything even close to resembling any sort of injury or decline, it is the worst possible injury news a single player on the team could face, even worse than the "Big Piece's" Achilles injury.
Just stay healthy, guys.