WWE: WrestleMania 28, Team Johnny vs. Team Teddy Possible Remaining Spots
March 20, 2012

On the March 19th edition of Monday Night Raw, we saw two more participants added to Team Johnny for the match at WrestleMania that pits the two general managers against one another and puts the running of both shows in the balance.
Dolph Ziggler and Jack Swagger were added to Team Johnny last night, the American Perfection duo gladly signed on with Laurinaitis in hopes to take down Teddy Long and what they refer to as his abuse of power.
Ziggler and Swagger seemed an obvious choice to add to the group, as their rivals R Truth and Kofi Kingston were put on Team Teddy last week.
Team Teddy currently only consists of Kofi Kingston, R-Truth and team captain Santino Marella, while Laurinaitis has the aforementioned  Ziggler and Swagger as well as a returning Christian, Mark Henry and their team captain David Otunga.
With one spot remaining on Johnny's team and three on Teddy's, let's take a look at possible participants, starting with filling up Team Teddy.
Zack Ryder
This has to be a given. He's started his Twitter campaign, he held a rally in Philadelphia before Raw last night, he's popular among the people and he is a sure thing when it comes to this event.
Zack will play a key role in this match if he participates. Whether or not he is done with the US Title is unclear.
Is it possible he's added to Teddy's group only to be the one to then back-stab the group and eliminate Santino so that he can begin a rivalry to get back his gold? 
Brodus Clay
While we haven't seen much of Brodus lately, we know every time he hits the ring, the crowd explodes. We have something going on in the WWE Universe right now that is really highlighting guys like R-Truth, Santino and Brodus—fun "characters" are getting over.
Adding Clay to Teddy's team builds up that fun family factor to this match. If Clay is added, I'm betting that Long's team wins, so the group of fun family superstars can celebrate in the ring, as they had just taken down the overbearing heels of the WWE Universe.
WrestleMania is that one pay-per-view of the year that more non-wrestling fans watch than any other. Having a group of fan favorites defeat a group that's hated so much is a feel-good moment for the WWE.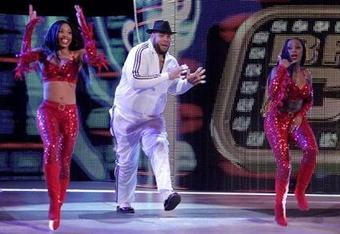 With Ryder and Clay as two spots to fill Long's team, that leaves one spot open on each. With these last two spots, I see two possibilities for how the WWE can use these and have it be both pleasing to the crowd and work with storylines as well.
Option 1
The two spots are filled by Vickie Guerrero and Aksana. Last night might have been testing the waters a bit to see how the crowd would react to having Teddy Long's girl go up against the self-proclaimed cougar Guerrero.
Vickie is a great heel character. She's loud, the crowd can't stand her and watching a younger, sexy diva like Aksana smack her around a bit would bring more fun to the match. 
Option 2
The last spot on Laurinaitis team is announced on the March 30th edition of Friday Night SmackDown when the expensive car rolls into the arena and Alberto Del Rio rounds out the team.
The last time we saw Otunga, Laurinaitis, Mark Henry and Christian all together, Del Rio was standing alongside them in the ring. A match like this to bring him back in a tag-team style match with so many participants puts him in action, but it doesn't have to have him carry on very long in the ring.
If Del Rio is added to the team on the 30th, I'm sure the big surprise of the night will be to have Rey Mysterio be the final man to join Team Teddy. Mysterio would explode from the stage, probably dressed in some sort of Iron Man or other Avengers ring gear (he likes to play up the superhero characters at Mania, and with the Avengers movie coming out soon, the odds are high on this one).
Mysterio is another guy, like the rest of Long's team, that is loved by the crowd so much, and a family favorite. It makes sense to put him back in the ring in this limited capacity, similar to Del Rio.
Returning from a serious injury, it's always good to come back to tag-team action, where your work can be split up.
The card for WrestleMania is wrapping up nicely and is filled with top-quality matches all around. Everyone in this match will have to put on their A game in order to stand with the other matches that will be taking place that night.
To be a part of the show where icons will clash and legends will battle for an era, this group will have to show that the next generation of WWE superstars has the potential for keeping Mania going another 28 years.