Kendrys Morales: What LA Angels Slugger's Spring Training Return Will Show Us
March 20, 2012

Rob Tringali/Getty Images
When Los Angeles Angels first baseman Kendrys Morales donned a Halos uniform for the last time during the 2010 season, no one expected he would miss almost 22 months before appearing in another MLB game.
When Morales hit a walk-off on May 29 of that year, not even the craziest conspiracy theorist expected that round trip to end with a broken left ankle caused by jumping on Angel Stadium's home plate.
Yet it did, resulting in a season-ending injury that turned out to be an extremely twisted karmic two-season penalty for unsportsmanlike conduct: celebrating after a team win. 
Now that MLB.com's Alden Gonzalez has tweeted that Morales is scheduled to play with the Angels during their Cactus League matchup with the Royals on Tuesday, Angels fans and team officials will be watching Morales with eager eyes.
Fortunately for the Angels and Morales, he will not have to worry about fielding his position. With Albert Pujols fully committed to this Southern California franchise, Morales will turn his full attention to the DH role.
As a DH, Morales will not especially need to worry about running nor speed—Boston Red Sox DH David Ortiz seems to do just fine without being especially fleet of foot—yet Mike Scioscia and the other coaches and team executives will be watching how Morales' left ankle responds to the strain of being used as a plant leg during swings.
For many Angels fans, there are two extremes. In the best case scenario, Morales will club a first-pitch fastball deep to center field and out of the stadium. In a worst case, Morales will take one swing and immediately collapse, clutching that tender ankle and likely ending his career permanently.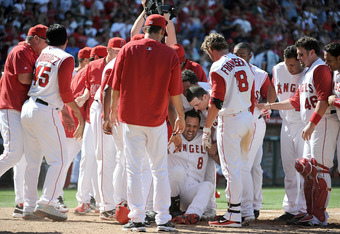 Harry How/Getty Images
In reality, neither of these two scenarios are all that likely, though it is uplifting that the former is much more likely to occur. After all, Morales has been playing in minor league games this month after a rehabilitation and recovery program that started off very slowly in the months after his injury and picked up steam heading into the home stretch this winter.
Baseball is a 162-game season, more than any other professional sport in the hemisphere: Championships and regular-season bouts are decided in series, not single games.
Likewise, Morales' regular-season readiness will be decided over the course of the next several weeks, not in a few hours one Arizona afternoon.
If Morales makes it through Tuesday's game without pain, that will be an encouraging sign, but the Angels will not be out of the woods quite yet.
Following Tuesday is Thursday, Friday and Saturday, with plenty of day-off potential in between.
As the Angels have been doing since 2010, it will prove most prudent to take it slowly: Ease Morales back into the MLB back-to-back schedule. If all goes well, follow that up with a back-to-back-to-back. Try giving Morales two at-bats a game, then increase to three and maybe even four.
When it comes to a 22-month-old injury, the last thing the Angels and Morales want to do is rush things. 
As a result, no matter what Morales brings to the table this spring training, at some point early in April, he will have to prove he is capable of the MVP-vote getting .306, 34 home run and 108 RBI-hitting slugger he was in 2009.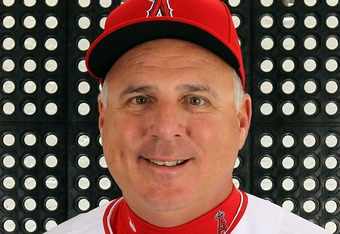 Jamie Squire/Getty Images
Morales might be back, but until he really gets into that spring training and regular season schedule, he won't yet be in playing shape, with manager Mike Scioscia expecting that Morales will "have to play himself into shape."
In the meantime, fans should expect more of the same. Morales might step up to the plate, he might even hit the ball a long, long way. However, Angels fans should keep in mind that Morales' spring training—just like everything else these past few years—is yet another step in his molasses-pace recovery.
Not even I could say that last sentence right the first time and not even Kendrys will be back to his pre-injury self on Day No. 1 of his own spring training preseason.
There is no on-off switch for the injury bug.