Miami Dolphins 2012 Mock Draft: 7-Round Predictions, Free Agency Edition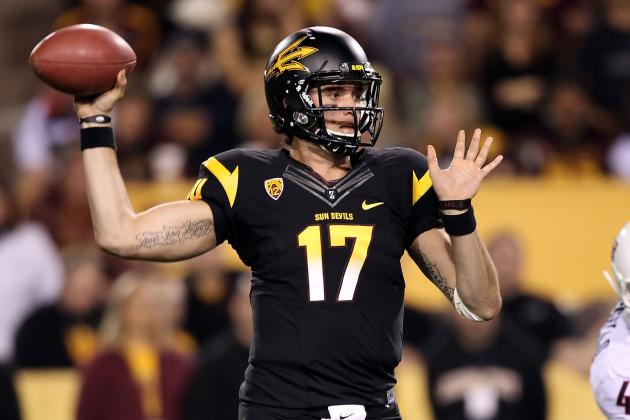 Christian Petersen/Getty Images

The sky is falling.
The Miami Dolphins whiffed on Peyton Manning and Matt Flynn, and the once-proud franchise is now doomed forever.
But not really.
Everybody needs to relax.
The offseason is still in its infancy.
And like it or not, the Dolphins are rebuilding. There's a reason they're dumping overpriced veterans like Brandon Marshall and Yeremiah Bell.
I know it's frustrating. It's been way too long since we've seen the Dolphins at their rightful place atop the football world.
But the team has eight draft picks to use in April, and Jeff Ireland and Joe Philbin can lay the foundation for a Super Bowl squad.
Just be patient, Dolphins fans. Our time will come.
Begin Slideshow

»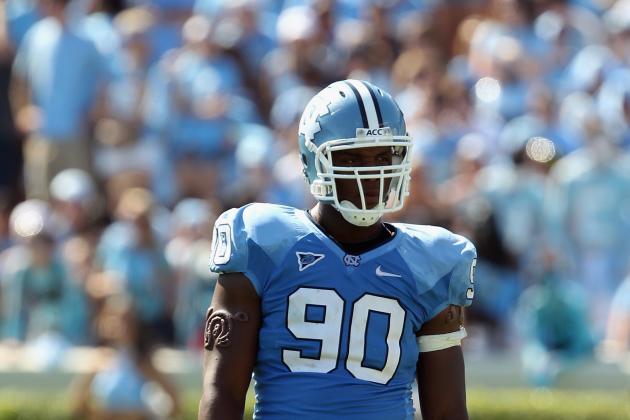 Streeter Lecka/Getty Images

I've been driving the Melvin Ingram bandwagon since January, but I'm jumping ship. Ingram's physical limitations make him a huge gamble, and Jeff Ireland tends to favor big players in the draft. Plus, Ingram is starting to remind me of Everette Brown.
Instead, I think the Dolphins will and should draft Quinton Coples.
The Dolphins need an elite player. They need a domineering athlete who can single-handedly dominate and change the course of a game. Coples has the potential to become that caliber of player, and he also fills one of the team's most pressing needs.
Installing Coples alongside Cam Wake, Randy Starks and Jared Odrick will give Tom Brady nightmares.
And please, don't get worked up about Coples' work ethic concerns. The media always overemphasizes them.
Cam Newton, Percy Harvin, B.J. Raji and even Vontae Davis "raised red flags" before the draft, but all have been model citizens and excellent players (barring one incident from Davis) so far. Coples will follow suit.
(I know a bunch of you want Ryan Tannehill, but here's an explanation why the Dolphins should stay away. He's just too much of a reach.)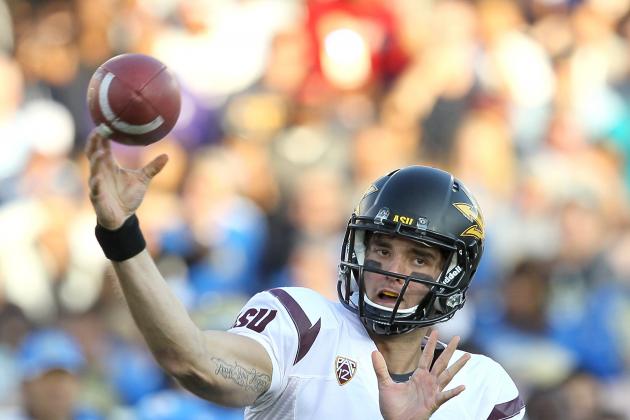 Stephen Dunn/Getty Images

I understand why everybody is so upset with Jeff Ireland, but all of this backlash is excessive.
Look, the Dolphins didn't want to overpay for Flynn. Nobody knows Flynn better than Joe Philbin. If Philbin believed Flynn was destined to become a franchise quarterback, then the Dolphins would've paid him whatever he wanted.
But clearly, Philbin had some hesitations. Overpaying for Flynn could've set the Dolphins back another five years, just like Daunte Culpepper and A.J. Feeley did.
Plus, like it or not, the Dolphins are rebuilding. They're years away from competing for a Super Bowl. So, the next most logical step is to draft a development quarterback in the second round.
Brock Osweiler is Miami's best option.
He's an absolute freak. Osweiler is 6'7", 240 pounds, has a strong, accurate arm and great mobility. Plus, he's marketable and has the charisma and swagger of a franchise quarterback.
All of the other second-round quarterback prospects have limitations or knocks—Kirk Cousins (amazing intangibles but average physical skills), Brandon Weeden (already 28, doesn't fit into a West Coast offense) and Nick Foles (Chad Henne 2.0, also doesn't fit into a WCO)—but Osweiler has the complete package. He's a special prospect who has infinite potential.
It's vital that the Dolphins let Osweiler develop, though. He was a little bit erratic at Arizona State, and comparisons to Dan McGwire are worrisome.
But, if the Dolphins properly groom Osweiler with discipline and patience, he could be the team's franchise quarterback within two or three years.
And hey, if he flops, it won't paralyze the team. It's only a second-round pick. If the Dolphins are in position to draft a blue-chip quarterback next year, they can easily justify drafting him.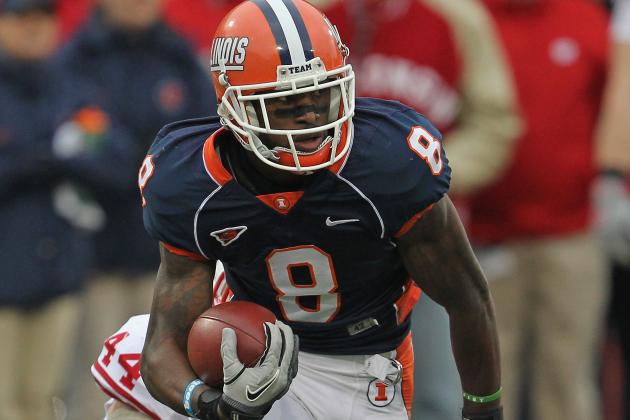 Jonathan Daniel/Getty Images

Now that Brandon Marshall is gone, there's a huge void at wide receiver. Luckily, this draft class is loaded with wideouts.
With the first of back-to-back third-round draft picks, the Dolphins should select Illinois wide receiver A.J. Jenkins.
Despite playing on an anemic Illinois offense that lacked a decent quarterback, Jenkins reeled in 90 receptions for 1,276 yards and eight touchdowns last season. Plus, he'll integrate perfectly into a West Coast offense.
Jenkins exerts the traits required of a "WCO" wide receiver—precise route-running, quickness and strength. He ran a 4.39 at the combine, can create separation and make plays after the catch.
Although he needs to pack onto his 190-pound frame, Jenkins could become a Greg Jennings-type player in the NFL.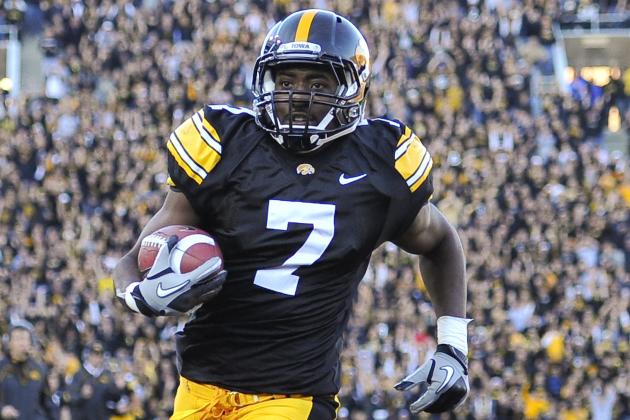 David Purdy/Getty Images

This selection seems is too perfect not to happen. Here's why:
1. The Dolphins should double-down on wide receivers. Unless the team believes Marlon Moore, Roberto Wallace or Clyde Gates can become reliable, top-flight wideouts, they need to bring in fresh blood. If Miami is going to become a pass-first team, the offense needs multiple premier wideouts—just like Green Bay has.
2. McNutt is a perfect fit for a West Coast offense. Iowa employs one, and McNutt has the size, quickness and hands.
3. McNutt's offensive coordinator at Iowa, Ken O'Keefe, is now Miami's wide receivers coach.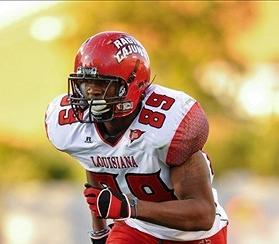 The Dolphins now have a quarterback and two young wide receivers in the fold. To top off their offensive overhaul, Miami should select tight end Ladarius Green in the fourth round.
Green, like his fellow Dolphins draftees, needs a few seasons to develop. But it'll all pay off in the end. Green can become the seam-threat tight end that the 'Fins need so much and have lacked for so long. He ran a 4.47 40 at the combine and caught 51 passes for 606 yards and eight touchdowns at Louisiana-Lafayette last season.
Green has the athleticism and the hands to become a stud in the NFL, but it's vital that he pack onto his 239-pound frame, bolster his blocking skills and adjust from marginal competition to the pros.
Still, he's a great value here, and he can grow alongside Osweiler, Jenkins and McNutt to form an exciting nucleus of young talent for the 'Fins.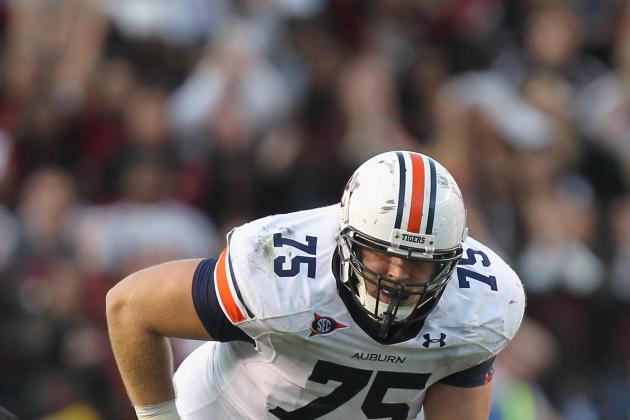 Streeter Lecka/Getty Images

Behind quarterback, right tackle is probably the Dolphins' biggest need. But Lydon Murtha deserves a shot at the starting job, and Nate Garner and Artis Hicks can also compete for that role.
The Dolphins have chosen not to splurge on a free agent, and wisely so. Offensive lines can be built through the back-end of the draft. For example, look at Green Bay's offensive: Chad Clifton (second-round pick), T.J. Lang (fourth-round pick), Scott Wells (seventh-round pick), Josh Sitton (fourth-round pick) and Bryan Bulaga (first-round pick).
Hopefully, Joe Philbin recognizes this and the Dolphins wait until the later rounds of the draft to pick up a lineman.
Auburn's Brandon Mosley is a perfect fit.
He's a converted tight end (so he has the athleticism required of a West Coast offense lineman), boasts a 6'5", 314-pound frame (meets Jeff Ireland's size criteria), has long arms and starred on a national championship team.
Mosley won't start right away. In fact, he might ever become a regular starter. But, he has the anatomy of a NFL lineman and could help add depth to Miami's line at the very least.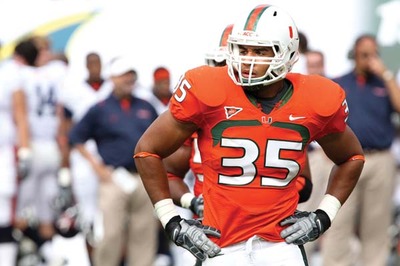 It's been seven years since the Dolphins drafted a Miami Hurricane, but it's time for that streak to end. Even though the Dolphins already signed Jamaal Westerman and drafted Quinton Coples, they should add a developmental pass-rusher to the roster.
The University of Miami's Olivier Vernon is an ideal prospect to grab here. He was suspended for much of the 2011 season due to his involvement in the Nevin Shaprio scandal. But when Vernon is on the field, he's a fierce and overpowering pass-rusher. In 2010, he registered six sacks in 11 starts.
Vernon has a stocky, 6'2", 260-pound frame, and so long as he can soothe those ole "character concerns," he could be an absolute steal this late in the draft.
(And once again, the Dolphins can please a large contingency of the fanbase—but that's only an added bonus to this pick. Don't think Jeff Ireland and Co. will succumb to pressure of the fanbase. But, by adding a promising quarterback, a pair of young wide receivers, a seam-threat tight and a former Hurricane, all of this animosity will subside. It's a win-win for the Dolphins).
Wesley Hitt/Getty Images

With their final draft pick, the Dolphins could literally go in any direction, but there's one area where they've struggled to add depth at: inside linebacker.
None of Miami's recent late-round linebacker draftees—A.J. Edds, Austin Spitler, J.D. Folsom, Kelvin Smith—have panned out. This might discourage Jeff Ireland from drafting another linebacker in the seventh round, but his history suggests he will.
If Ireland decides to take a shot at a linebacker again, he should consider Arkansas' Jerry Franklin.
Franklin possesses a nice combination of size (6'1", 243 pounds), athleticism (4.68 speed), experience (four-year starter) and production (led the Razorbacks in tackles in 2010). At the very least, Franklin deserves a late-round flier. Even if he only becomes a special teams contributor or practice squad fodder, Franklin has the potential for more.