2012 Philadelphia Phillies: How Chase Utley's Absence Changes the Lineup
March 19, 2012

It was definitely not a shock to learn from Phillies GM Ruben Amaro Jr that second baseman Chase Utley had left camp to get his knees checked out by a specialist. Face it Phillies fans, Chase Utley will never be the same. The way Utley gave his all every night disregarding his body for the betterment of the team has cut short his career longevity. 
When he returns, Utley will look more and more like the guy who played the second half of the 2011 season who hit .259 with 11 home runs and 44 RBI. Of course, appreciate what Utley did as the every day second baseman for the previous seven seasons, but understand its over.
That brings us to today's announcement and what that does to the lineup. As it looks right now, here are the starters:
C- Carlos Ruiz
1b- John Mayberry/Jim Thome
2b- Freddy Galvis
SS- Jimmy Rollins
3b- Placido Polanco/Ty Wigginton
LF- Juan Pierre/Scott Podsednik/Laynce Nix
CF- Shane Victorino
RF- Hunter Pence
Galvis has had a nice spring offensively and should be fine going from shortstop to second base defensively. Mayberry is probably the every day first baseman as I just don't see Jim Thome playing more than once a week. Pierre & Podsednik are in a dog fight to make the roster while Nix will edge out Domonic Brown, who has looked good but still suffers nagging injuries.
With Utley out of the customary three-hole and Ryan Howard missing from the cleanup spot, Manager Charlie Manuel has his hands full mixing and matching every night.
So, here is how I think Charlie should pencil it in vs right handed and left handed pitchers:
VS RIGHT
1. Scott Podsednik  LF
2. Placido Polanco   3b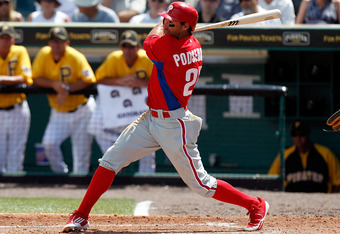 J. Meric/Getty Images
3. Jimmy Rollins   SS
4. Hunter Pence    RF
5. Shane Victorino   CF
6. John Mayberry   1b
7. Carlos Ruiz   C
8. Freddy Galvis   2b
COMMENTS:  Podsednik has shown he has more in the tank than Pierre this spring and deserves the chance to be the spark plug. While Rollins has always been a leadoff hitter, he hasn't been prototypical and he has the experience and confidence to not let the three-hole freak him out. 
Victorino is in the five-hole basically to break up Pence and Mayberry. Of course if Polanco isn't healthy, he shouldn't be in the two-hole, much less the lineup. Mayberry might eventually become a cleanup type hitter, but six is perfect for him now.
VS LEFT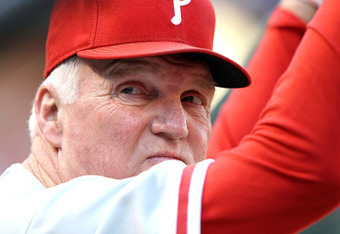 1. Shane Victorino    CF
2. Placido Polanco    3b
3. Jimmy Rollins   SS
4. Hunter Pence   RF
5. John Mayberry   LF
6. Ty Wigginton   1b
7. Carlos Ruiz   C
8. Freddy Galvis   2b
COMMENTS: Wiggington replaces Podsednik and Victorino moves to the leadoff spot. If Galvis struggles, Wiggington can play third and Polanco can move to second or just play Wigginton at second. Mayberry is a solid defensive outfielder so Wigginton can play first vs lefties.
Thome and Nix will get some spot starts vs righties but will mainly be used off the bench.
Manuel has his work cut out for him to begin the 2012 season. The Phillies are still led by starting pitchers Roy Halladay, Cliff Lee and Cole Hamels, but how much pressure will be placed on them to basically toss shutouts until Utley and Howard return, if they even do. 
Charlie is arguably the best manager in Phillies' history, but he might be tested more this season than any other season in mixing together the correct lineups night in and night out. It's a shame that Utley's career has come to this but that's how it goes. The Phillies can do nothing but move on, adjust and live up to the lofty expectations that they have.