Duke Basketball: Why Blue Devils' Austin Rivers Isn't Ready for NBA Jump
March 20, 2012

Streeter Lecka/Getty Images
Austin Rivers was highly regarded as one of the best freshmen in the nation entering his freshman year for the Duke Blue Devils, but in his first complete season playing college basketball, Rivers proved that he's not ready to play with the best and brightest in the NBA.
After an excruciating second-round exit in the NCAA tournament to No. 15 Lehigh University, the speculation has swirled regarding Rivers' status as a Blue Devil next season.
Rivers himself hasn't given any inclination as to what he'll do next season, as he spoke after Duke was ousted by Lehigh on Friday night.
I said at the beginning of the year I had one thing in my mind and that was to win – to do everything I could to help Duke win. And to lose in the first round – we failed. I failed. As far as what I'm going to do, this doesn't affect it at all. These are my brothers. I'm going to be best friends with these dudes the rest of my life. I'm not even worried about what I'm doing right now. We lost.
If Rivers does decide to declare for the NBA Draft, he'd be making a huge mistake, as he has a lot of work to do on both his game and his physical and mental toughness.
Duke head coach Mike Krzyzewski sat Rivers against Wake Forest on Jan. 19, in which Rivers acknowledged that he needed to mature.
At 6'4", 200 lbs., he's still young and immature as a ball handler—Rivers' turnovers per game outweighed his assists per game—and he needs to improve his shooting.
As Nicholas Schwartz of the New York Times writes, 
Rivers still lacks an NBA-ready body and has trouble finishing at the rim through contact, evident in his 5-for-14 performance against an unheralded Lehigh front line. Rivers is not an elite shooter either, at just 43 percent from the field, and shoots an abysmal 65.8 percent from the free-throw line.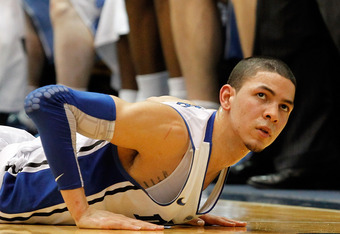 Streeter Lecka/Getty Images
Rivers' 2011-2012 campaign also proved that he doesn't have a defined position on the court. Coach K had him playing a point guard's role, as he showed the ability to drive to the hoop, but Rivers lacked the capability to distribute the ball to his teammates—he averaged 2.1 assists per game and 2.3 turnovers per game.
Walterfootball.com's scouting report on Rivers details his weaknesses as:
Half of those weaknesses could be improved by hitting the weight room, as handling contact, gaining strength and adding toughness as a defender would be aided by adding some muscle.
One aspect of Rivers' game that's without question is his ability to score the basketball.
Rivers led Duke in scoring—averaging 15.5 points per game and not shying away from the big shot—evident by his game winner against UNC on Feb. 8.
He'd be wise to remain at Duke for his sophomore year, as Coach K's resume of coaching players into the NBA is quite impressive.
That list includes Grant Hill, J.J. Redick, Corey Maggette, Christian Laettner, Shane Battier, Carlos Boozer, Luol Deng, Bobby Hurley, Mike Dunleavy and more.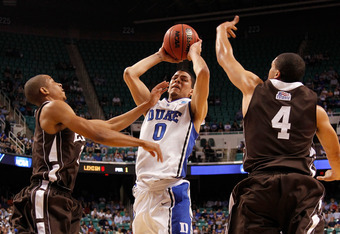 Mike Ehrmann/Getty Images
The way Rivers played this season, he wouldn't be awarded a starting role for an NBA squad. He'd likely be a bench player, whereas staying at Duke allows him to soak up the knowledge of one of the best college basketball coaches to ever step foot on the court.
Rivers doesn't want his legacy at Duke to be remembered as a second-round loss to a No. 15 seed in the NCAA tournament. That, alone, should be motivation to return for a sophomore season and prove the doubters wrong.
Follow Pete Schauer on Twitter @Pete_Schauer