NFL Rumors: Why Tim Tebow Belongs with the New England Patriots
March 19, 2012

Now please let me preface this with the admission that I don't personally think Bill Belichick and Co. are interested in bringing Tim Tebow to New England. 
If I had to stake some Featured Columnist credibility here, I'd gladly bet that he doesn't end up in a Patriots uniform any time soon. There's a storyline here that needs to be told, however. 
The Tebow-to-New England talk may just be speculation right now, but there are legitimate reasons behind the fantasy dot-connecting. There are also legitimate personalities reporting it might happen.
John Clayton on ESPN Radio said if Broncos get Manning the rumor circulating is Denver would trade Tebow to #Patriots

— Louise Cornetta (@ESPNLKCornetta) March 17, 2012
1. Tim Tebow's Long-Term Outlook 
The biggest key to this relationship working is the football knowledge and physical intangibles of Tebow. Belichick may see the playmaker as a developmental project worth investing in.
He's only 24 and already one of the most athletic and versatile players in the league. One of the best all-time collegiate players in history, Tebow is also known for his leadership, locker room presence and charitable work in the community.
Sound like a Patriot to anybody else?
He hasn't proven he belongs at any one position, only that he deserves a long look at a couple. To me that's a red flag that could indicate interest from the Patriots, as they love their projects. 
If Tebow does indeed project as a quarterback going forward, who better to learn from than the two-time Super Bowl and league MVP Tom Brady?
2. Josh McDaniels' Presence in New England
It's no coincidence Brandon Lloyd and McDaniels are back together for the third time in three years with their third different team. Lloyd likes how McDaniels uses him, and the offensive coordinator has looked pretty smart investing in the late-blooming veteran.
McDaniels had time to create a few of these types of relationships during his three-year stretch away from the Patriots. In 2010, he made Tebow his franchise quarterback, selecting the Florida Gator 25th overall.
If it wasn't for McDaniels' short leash in Denver these two could easily still be a head coach and starting quarterback tandem. McDaniels was cut loose mid-season in 2010 before Tebow even saw the field, and the quarterback now finds himself cast aside from the Broncos just a year later.
McDaniels' return to the Patriots is no fact to scoff at when considering the likelihood of Tebow heading in the same direction.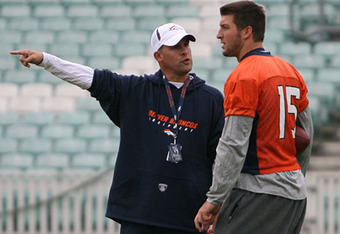 3. That Florida Background
Tebow may only have two seasons under his belt, but he's got former teammates on the Patriots roster already. Specifically former Gator teammates including Aaron Hernandez, Brandon Spikes and Jermaine Cunningham. 
Belichick is known to covet his relationship with the university and makes a habit of plucking players out of the mini pro factory just about every other year. Tebow was heavily scouted and was even worked out by the team back in 2010 as a draft prospect. 
Belichick has his own notes on Tebow and certainly wouldn't have to take McDaniels on word alone. 
4. Acquisition Costs
The decision to draft Tebow, at 25th overall, was shocking at the time.
Tebow was known to have interest league-wide, but projected to the middle rounds of the draft. The Broncos were willing to pull the trigger with their first-round selection, but that certainly won't be the asking price this time around.
There's no telling what the actual price will end up at, but Tebow very well may be available for a early-to-mid round draft pick or two.
At that price the dynamic of the situation changes greatly. It begins to look more and more like a small-risk, high-reward scenario that the Patriots love so very much. Toss up two third-rounders and you could get a lottery ticket for a budding superstar, one that could bloom in any number of ways.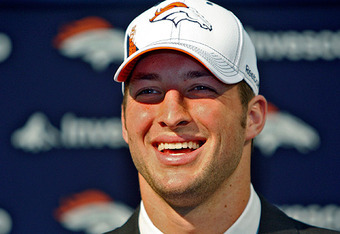 Interested in reading more by this featured columnist? Check out more of Aaron Dodge's work on Bleacher Report.
Pats Sign Three Wideouts, Competition Now Guaranteed 
Pats Splurge, Sign Five in Two Days
Jabar Gaffney Rumors Heat Up After Failed Reggie Wayne Signing

Feel free to "Like" me on Facebook. Your support is much appreciated.