Fantasy Baseball 2012: Ranking All 25 Philadelphia Phillies on Fantasy Impact
Drew Hallowell/Getty Images

Pitchers are working on their location and getting a feel for their pitches. Hitters are working on their timing and repeating their swing. Even managers are fine tuning a few facets of their game in preparation for the long season, but there is one group of baseball people going unnoticed in preparation for the upcoming season: fantasy baseball players.
Hey, it's spring training for them too.
While the players are working to be as productive as they can be during the regular season, fantasy managers are working hard to make sure they field the best, creatively-named team as humanly possible on Opening Day.
After all, there is far more than bragging rights on the line. Depending on your league, there could be a serious chunk of change at stake this season as well.
The Philadelphia Phillies are a team that many people will find themselves plucking players from for obvious reason. There is a lot of upside on this roster, but don't be fooled—there is a lot of risk as well.
So let this slideshow serve as a primer for draft day. Which member of the Phillies' roster will leave you sitting pretty at the season's end, and which players will have you hanging your head in regret? Who surprises and who disappoints?
Don't be left in the dark on draft day!
For news, rumors, analysis, and game recaps during spring training, check out Greg's blog: The Phillies Phactor!
Begin Slideshow

»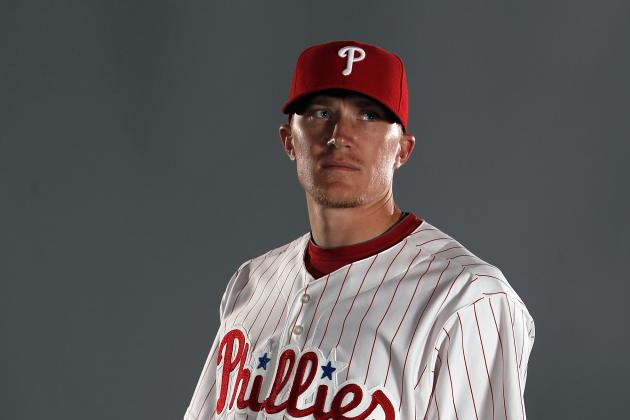 Jonathan Ferrey/Getty Images

There is no guarantee that Jake Diekman will make the Phillies' 25-man roster.
With a slew of injuries to the club's position players and a battle brewing for the club's final bullpen spot, the last spot on the Opening Day roster is truly up for grabs at this point in the spring.
From a bullpen perspective, it's probably going to be either a left-handed specialist or a right-handed reliever who won't see many important innings, and not someone you're going to want to waste a pick on, even if it is Diekman.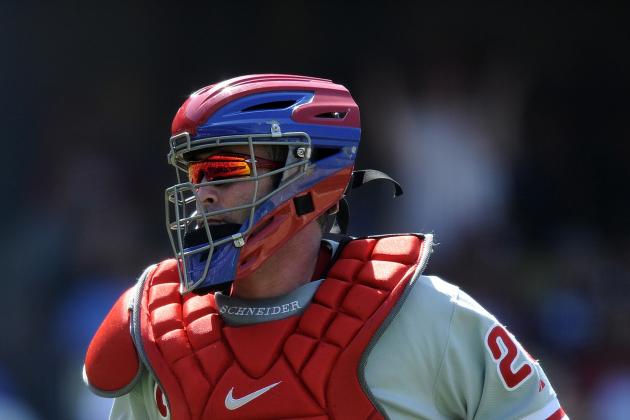 Harry How/Getty Images

The last time Brian Schneider was anything close to a starting catcher, Barack Obama and John McCain were battling for the country's presidency. That should say something about the state of the 2008 New York Mets.
Anyway, drafting a backup catcher is kind of like taking your chances with milk that's a couple of days past its expiration date: You can probably drink it (after all, a starting catcher may go down for an extended time period) but you're best served getting the fresh stuff (a starting catcher.)
I wouldn't draft Schneider if someone had a gun to my head.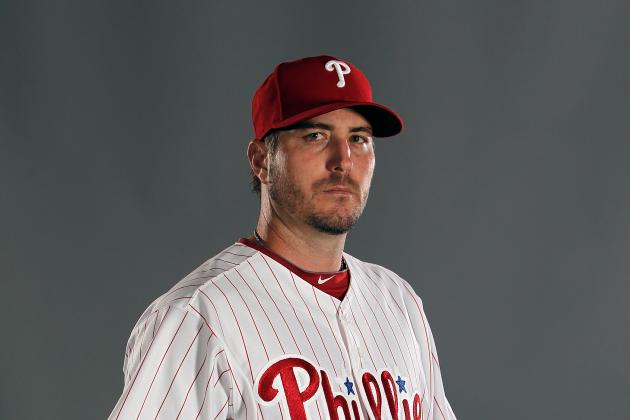 Jonathan Ferrey/Getty Images

Chad Qualls would be an interesting pick for relief help in a lot of different bullpens, but not with the Phillies.
Though he has a track record of pitching late in ball games for different clubs, he's way down on the Phillies' depth chart behind the likes of Jonathan Papelbon, Antonio Bastardo, Jose Contreras and maybe even a guy like Mike Stutes.
He's not going to sniff many saves and won't pitch enough valuable innings to hold any weight in your league—unless of course, something catastrophic happens in Clearwater between now and Opening Day.
I wouldn't rule that out entirely given the Phillies' track record with health, and that's only half-sarcastic.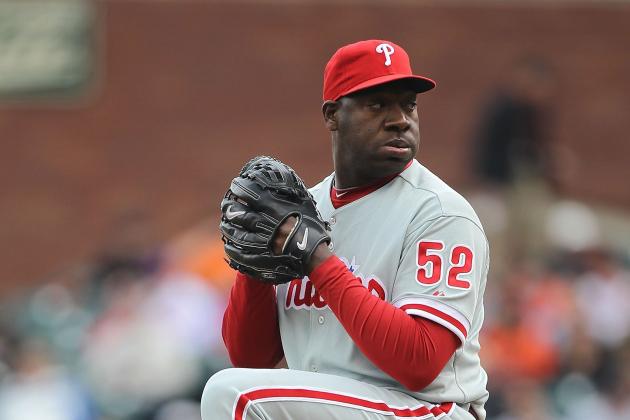 Jed Jacobsohn/Getty Images

Like Chad Qualls, Jose Contreras isn't going to get enough save opportunities or pitch enough innings to be a valuable pick in a lot of leagues, and that's why he's so low on this list.
At this stage of his career, Contreras is more like the "Big Question Mark" than the "Big Truck."
He pitched in just 14 innings last season, and while he proved to be valuable at the back end of the Phillies' bullpen, I wouldn't expect much of the same in 2012. He had exploratory surgery on his forearm over the offseason and the Phillies will likely ease him back into action.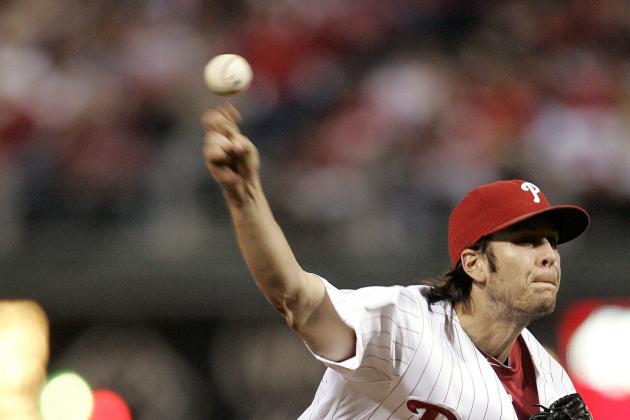 Rich Schultz/Getty Images

The only reasons that I'm ranking Mike Stutes ahead of Jose Contreras is the simple fact that he is younger and healthier, and while he may not even be guaranteed a spot in the bullpen, I certainly feel as though he is on an inside track for one of those spots.
If Stutes can reign in his control during the 2012 season, he has some upside in the Phillies' bullpen. Though he won't see many save opportunities, Stutes is a guy that Charlie Manuel has looked upon favorably in the past, and could see his fair share of innings in '12.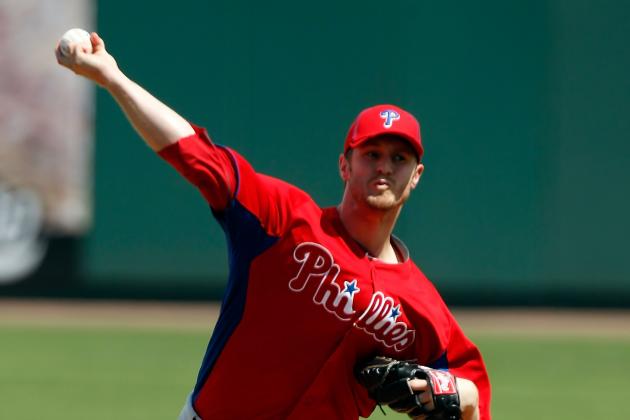 J. Meric/Getty Images

Kyle Kendrick is an interesting pick because of his versatility.
Though he is on pace to begin the season as the Phillies' long reliever, he'll fill a similar role to the one he played last season, finding a few spot starts and being the first option to replace a starter in the event of an injury.
The Phillies have also discussed the idea of using Kendrick as a set-up man, though I doubt that will happen, and I don't understand the logic behind a conversation like that in the first place.
Kendrick could certainly pitch better this season than he has in years past. The addition and continued development of his cutter has given him a legitimate out-pitch against left-handed hitters, who have been Kendrick's Achilles heel in the past.
Because he has the potential to pick up wins and log plenty of innings, Kendrick can be an interesting (very) late-round pick, especially in NL-only leagues.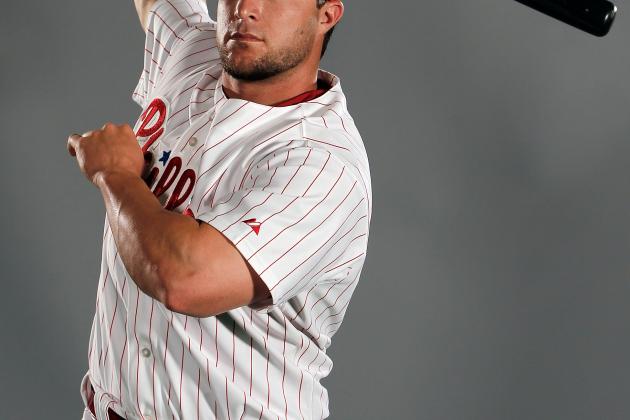 Jonathan Ferrey/Getty Images

Laynce Nix could be an interesting pick in the late rounds, but like the Phillies will have to do on the field, you'll have to manage him wisely, picking and choosing your spots against certain right-handed pitchers.
If you want to know why, here's an interesting tidbit: Over the last three seasons, Nix has hit 35 home runs, and all of them have come against right-handed pitching.
The guy has the most dramatic splits on the Phillies' roster, and while he can certainly provide pop against right-handed pitching, he provides a whole lot of fizz against lefties.
Pick your spots and Nix could provide some nice power numbers for you, but I question whether or not he'll even get enough playing time to do that. It wouldn't surprise me in the least bit to see John Mayberry Jr. run away with the everyday job in left field and prove to be the more valuable pick.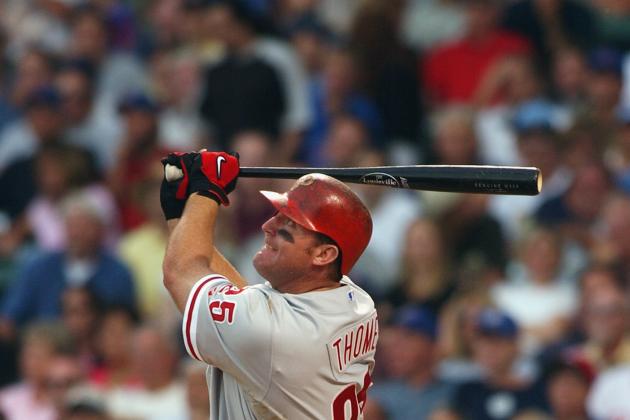 Jonathan Daniel/Getty Images

Jim Thome is still a pretty good designate hitter, so I would have no problem taking him.
Wait, what's that you say? Thome signed with the Phillies and is going to try and play first base? Pass.
In all seriousness, the Phillies signed Thome this offseason to provide a little thunder off of the bench, and while he'll certainly do that, he won't get nearly enough at-bats to warrant taking him as your primary first baseman.
Yes, he will attempt to play the field, but don't expect the slugger to be on the field more than once a week.
If you have a spot for him on your bench, he can certainly provide a bit of offense in a pinch, but don't pick Thome having to rely on him to put up big power numbers.
He can still hit, but who knows what he will do in a much more limited role with the Phillies?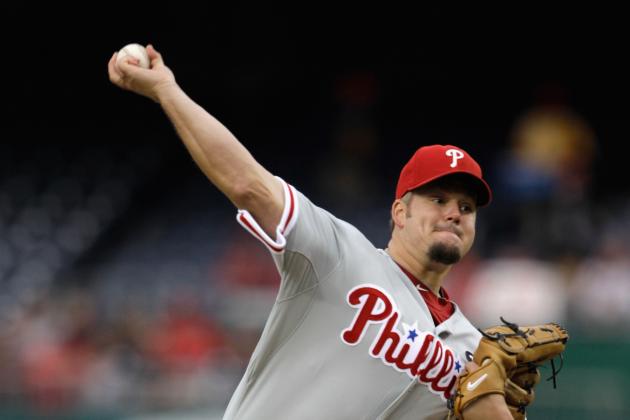 Rob Carr/Getty Images

After missing almost all of the 2011 season with elbow troubles, Joe Blanton's primary goal in Spring Training has been to prove that he is healthy, and so far, he has passed that test with flying colors, mixing in plenty of curveballs in his latest start, a pitch that was uncomfortable for him to throw last season.
Though there have been rumblings that the Phillies will trade him in the right deal, as it stands at this moment in time, Blanton will be penciled into the club's rotation as the fifth starter.
There is some value in that role, but obviously not as great as the first four spots in ascending order. At his best, Blanton is a solid middle of the rotation starter with the ability to log a fair amount of innings.
If you can snag him in the late rounds, I would do it. Blanton showed promise at the end of last season, and if he's healthy, you can pick your spots and get a fair amount of value out of him.
Jonathan Daniel/Getty Images

If you're looking for a potential steal in the draft, I'd snag Domonic Brown if he is still hanging around late in your draft.
Though Phillies' general manager Ruben Amaro Jr. has gone on the record with his desire to have him spend a full season at AAA Lehigh Valley, the latest slew of injuries may have forced the club's hand.
With Ryan Howard already shelved to begin the season, the club has learned that Chase Utley is not ready to go, and question marks surround the health of Placido Polanco as well.
Inserting Brown into the lineup in left field may be the Phillies' best shot at some offensive upside. Monitor his spring situation closely, because if that is the case, Brown has the potential to not only hit for average and power, but steal a few bases as well.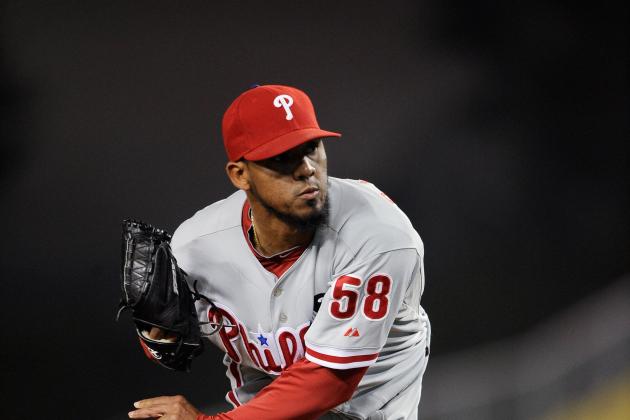 Kevork Djansezian/Getty Images

Drafting set-up men in most fantasy leagues can get a bit complicated, but to simplify the situation in regards to the Phillies, anyone looking for a guy who can potentially collect a few saves, post a low ERA and high strikeout rates, and serve as an "insurance policy" for closer Jonathan Papelbon should draft Antonio Bastardo.
Behind Ryan Madson, Bastardo was the Phillies' best reliever last season. Thanks to a great fastball/slider combination, Bastardo has become an effective reliever for the Phillies against both left and right-handed hitters.
His late-season struggles appear to be in the rear-view mirror, and as far as anyone can tell, his lack of velocity in spring training is nothing to worry about. That will come with more work.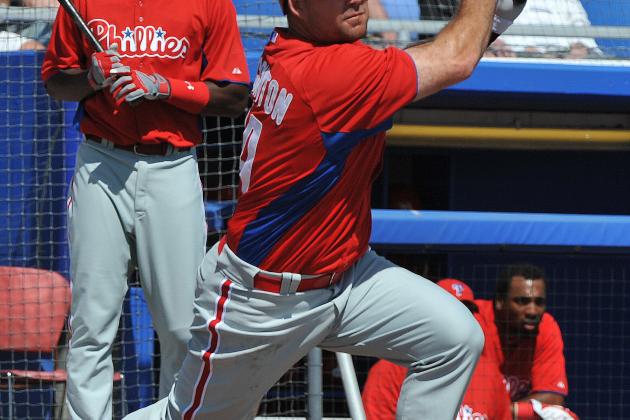 Al Messerschmidt/Getty Images

Fantasy players love drafting guys that play multiple positions, so the addition of Ty Wigginton by the Phillies is music to a lot of ears.
Wigginton will see time at first, second and third base for the Phillies this season, maybe even more time than the Phillies would like with Ryan Howard and Chase Utley likely to open the year on the disabled list and Placido Polanco's questionable health in mind.
The real question is this: What's he going to do at the plate?
Wigginton is a versatile player with a little pop in his bat, so fantasy owners should draft accordingly. He could provide offense in a pinch, especially in NL-only leagues.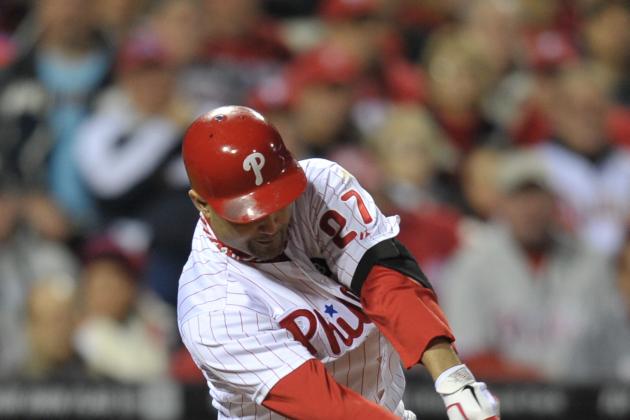 Drew Hallowell/Getty Images

If you're backed into drafting Placido Polanco as your third baseman, you could be in some serious trouble.
After arriving to camp looking healthy, Polanco injured a finger sliding back into first base and gave us a reminder of just how fragile he has been over the last couple of seasons.
Sure, he is going to play stellar defense when he is on the field, but he just doesn't have the skill-set to keep pace with other, more traditional fantasy third basemen.
Polanco lacks power, and if he isn't going to put up that fantastic batting average that we've all come to know, then he is next to worthless in most drafts. That's why you should pause with some concern: Polanco's average last season was his lowest since his rookie campaign.
If you absolutely forgot to draft a third baseman, take Polanco. Otherwise, explore other options. He could still provide some value for your team, but only if he is on the field and healthy.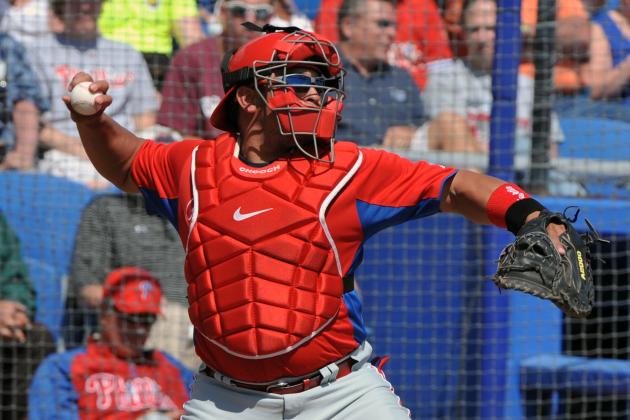 Al Messerschmidt/Getty Images

Catchers are usually the last regular position players drafted, so the fact that I'm ranking Carlos Ruiz ahead of Placido Polanco should tell you a lot about the latter, but don't get it twisted: Ruiz has plenty of value.
Though he isn't going to provide the same type of offensive firepower as Brian McCann or a healthy Joe Mauer, Ruiz has developed into a very solid hitter.
It wouldn't be unreasonable to expect Chooch to post a batting average of around .280, but his real value probably comes in the form of a stellar OBP out of the Phillies' eight-hole in the lineup.
Though he is still a player that should be taken only in the later rounds, Ruiz is a solid catcher to have on your club, especially if you're looking for a backstop on the cheap.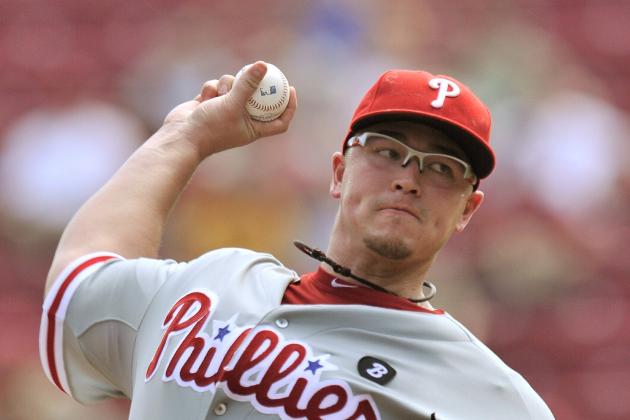 Jamie Sabau/Getty Images

Even with Joe Blanton's recent injury history (and much longer history of ineffectiveness) in mind, I still think that Vance Worley is the riskiest pitcher available in the Phillies' starting rotation.
With that being said, though, he also has a fair amount of upside.
Draft strategy should come down to what you expect out of Worley in 2012, but that isn't very good advice. The point is the simple fact that although statistics say you should draft Worley conservatively, there are reasons to be aggressive if he is available in the right spot as well.
Though he had a successful year in 2011, he posted a .283 BABIP, which among other advanced stats, is an indicator of regression.
However, Worley also posted strong strikeout numbers, improved his control by season's end, and continued the development of his sinker, cutter and changeup to improve his repertoire.
Worley is an interesting pick. If you have an open spot for him and you're feeling lucky, I certainly feel as though Worley is worth the risk. He just has a certain fire that makes you want to watch him prove statistics inaccurate.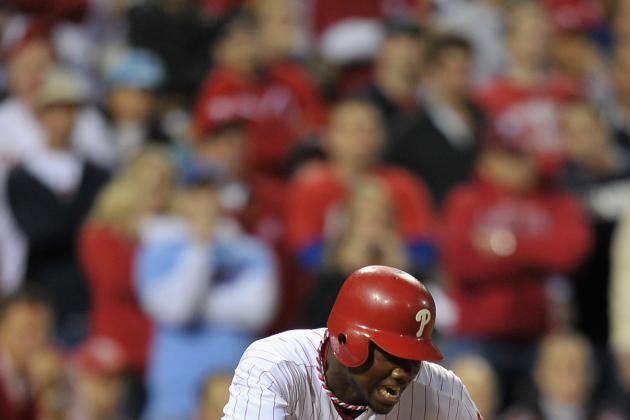 Drew Hallowell/Getty Images

I was seriously trying to avoid using this analogy because it seems rather insensitive, but I can't resist: Ryan Howard's fantasy value is following the same path as the end of the 2011 season—tumbling to the ground.
I went with that analogy because it's true.
The name of Howard's game, and subsequent value, has always been his power. Whatever the case may be, be it foot or ankle injuries or just a natural regression, Howard's power numbers have been on the decline for the last couple of seasons, and that should be troubling for fantasy owners.
He's never going to hit for average (even if he thinks that's because of the shift) and his strikeout numbers are terrible. Howard needs to hit home runs to maximize value. So when fantasy owners see that Howard's isolated power is way down in the last two seasons (.229 and .235, respectively) compared to his last great home run season (.292 in 2009) there is some obvious cause for concern.
That's without mentioning the simple fact that Howard is recovering from a torn Achilles tendon that will sideline him for who knows how long and how effective he can be once he returns.
Hunter Martin/Getty Images

John Mayberry Jr. has the potential to be an absolute steal in most of this year's fantasy draft, and a well placed gamble could pay off in dividends for most owners.
The Phillies have been as patient as humanly possible waiting for Mayberry to develop over the years and were finally rewarded in 2011 with somewhat of a breakout season, where the outfielder stole playing time away from Raul Ibanez and managed to slug 15 home runs in less than 300 at-bats.
Heading into the 2012 season, he should be guaranteed more of an everyday role. He'll certainly have plenty of playing time. Even after Ryan Howard returns from the disabled list, Ruben Amaro Jr. has gone on the record stating that the left field job is really Mayberry's to lose.
So what can he do in a full season? Well there is no doubt that the man has power and hits left-handed pitching well, so if you draft him, at the very least you'll have a strong platoon player to pick your spots with.
But Mayberry also showed that he has the potential to handle right-handed pitching well and could excel in an everyday role. He is a gamble worth taking, in my personal opinion.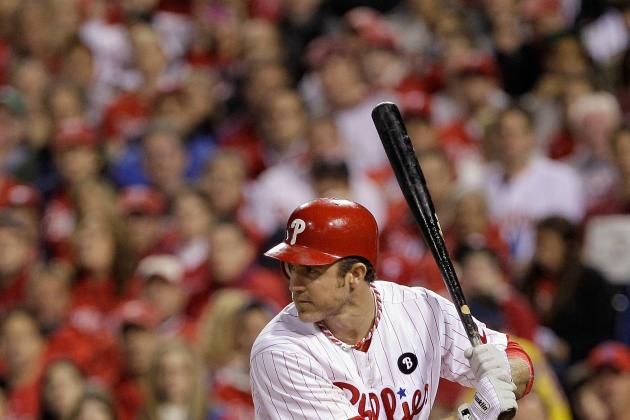 Rob Carr/Getty Images

Chase Utley is an extremely difficult player to get a good gauge on.
First and foremost, his chronic knee condition will force him on to the disabled list to begin the 2012 season. Though the knee does not seem to be as extreme as last season, which forced him to miss the first two months of the regular season, no one truly knows how much time Utley will miss.
Second, who knows what kind of numbers he is going to put up when he returns? A healthy Utley has the potential to hit for power, average and even steal a few bags, but that seems like a pipe dream nowadays.
Though it is impossible to get a gauge on the offensive impact he'll have, he is a guy you should monitor closely. His perceived injury may cause him to fall on a lot of draft boards, and if he is a guy you can pick up later in a draft, I would definitely do it.
Utley is going to play. "When" and "how" are words that you will be hearing a lot of, however.
Once you have drafted most of your dominant run producers and point earners, you will want to draft a solid closer, and Jonathan Papelbon has the potential to be more than solid in 2012.
In his first season with the Phillies, most professional draft analysts have Papelbon ranked within the top five of all closers, but truthfully, I don't think it would be unreasonable to rank him among the top three.
First and foremost, Papelbon is making the transition into the National League, a move that has been traditionally seamless for most pitchers of his caliber thanks in large part to the lack of a designated hitter and relative ease of NL lineups.
But Papelbon has value regardless. He is going to post incredible strikeout numbers, and with the Phillies—who have become a team designed to play in close games—will earn a great amount of saves, or at least, have the opportunity to do so.
I'd draft Papelbon aggressively. He has the potential to be extremely valuable as your closer.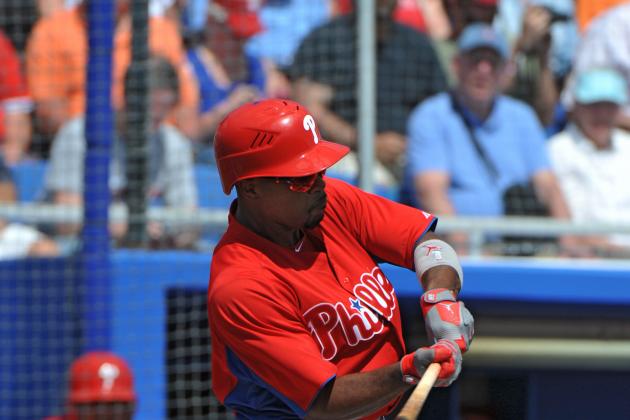 Al Messerschmidt/Getty Images

Truth be told, Jimmy Rollins' best days are probably behind him, and that's surely not the greatest of truths from a Phillies' perspective.
From a fantasy perspective, well, that doesn't tell the whole story. Rollins still has plenty of value.
Playing an above average shortstop in the National League certainly doesn't hurt his chances. That will make him more valuable for a few different reasons, the first being the obvious fact that shortstop is a relatively weak position around the game after big boppers are off the board.
Rollins is still going to find ways to contribute. He'll post an okay batting average, show some power and if 2011 is any indication, stay healthy for a full season to make it count. Of course, Rollins' game has always been predicated on speed, and he still has some speed to burn.
Injury is the greatest detractor for Rollins, but if he is healthy, he could certainly be a valuable pick for your team at shortstop.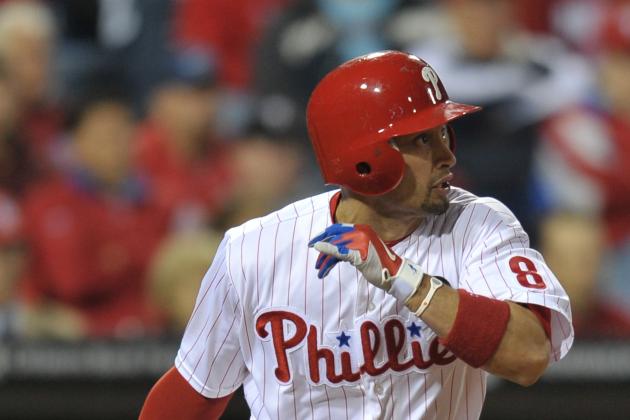 Drew Hallowell/Getty Images

Shane Victorino is a guy that I personally believe fantasy owners should be drooling over on draft day, and the reason is simple—you're not going to find many more well-rounded center fielders at the plate.
Victorino's transformation at the plate has been a glorious one for people who have drafted him in the past. He has come a long way from a scrappy, slap hitter, developing legitimate power (his ISO has climbed substantially) to go with his ability to hit for average and as always, steal bases.
Though the stolen base number was down in 2011, you can expect him to keep running in 2012. Victorino, if healthy, will be one of the most valuable fantasy players the Phillies have to offer thanks to his well-rounded attack.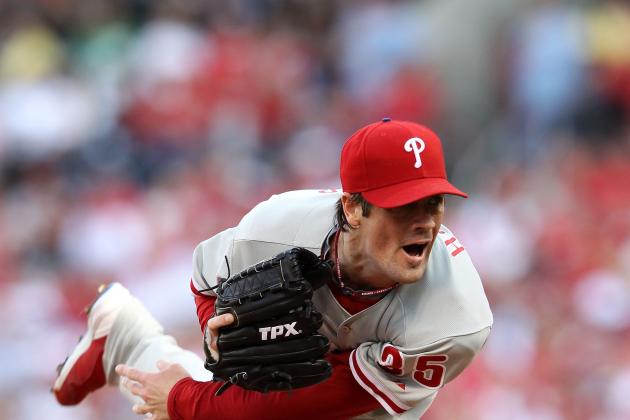 Jamie Squire/Getty Images

There is a strong contingent of baseball people with the belief that Cole Hamels is about to have the greatest season of his career, and given his numbers from the 2011 campaign—which at the moment would be the best year of his career—it is easy to be skeptical.
Then again, it is difficult to challenge that opinion as well.
The addition and full development of a good cutter has transformed Hamels. It gave him a legitimate out-pitch against right-handed hitters to complement his baffling changeup—already one of the best in the game—and a good fastball.
His location has improved, his make-up has improved, his conditioning has improved and by proxy, Hamels has become one of the best left-handed starters in baseball.
What can you expect out of him in 2012?
That's a good question, but here are some near guarantees: You can expect Hamels to post strong strikeout numbers and have excellent control. Personally, I don't think 20 wins and a sub-three ERA are out of the question for Hamels, who can be a legitimate Cy Young contender in a contract year.
With that in mind, reasons to not draft Hamels are, well, nearly nonexistent now that he is fully healthy, putting arm issues and a sports hernia in his rear-view mirror.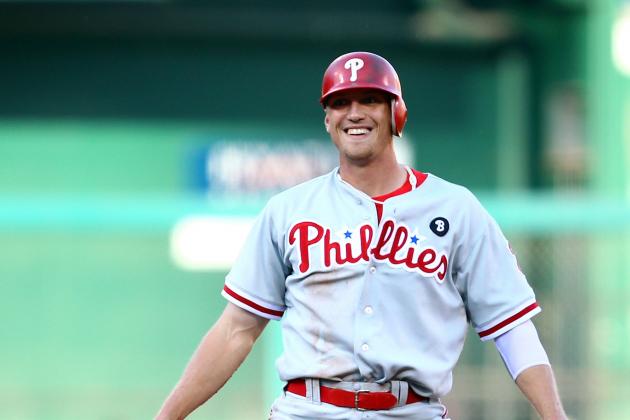 Dilip Vishwanat/Getty Images

There are a lot of people who believe Hunter Pence is on the verge of nationwide super-stardom, if he hasn't reached that plateau already.
After spending the first half of the 2011 season as a member of the Houston Astros, the mid-summer trade to the Phillies seemed to breathe new life into Pence, who went on an absolute tear during the second half of the regular season.
He found favor with the short porches of Citizens Bank Park, and took that new found power on the road with him. Pence's isolated power jumped from .163 with the Astros to .237 with the Phillies, and in 50 fewer games, matched his home run total of 11.
Pence is just an extremely valuable player. There are no two ways about it. Though an unsustainable BABIP will likely help his batting average come down some, there is very little reason to believe that Pence can't hit at least .285 and show impressive power.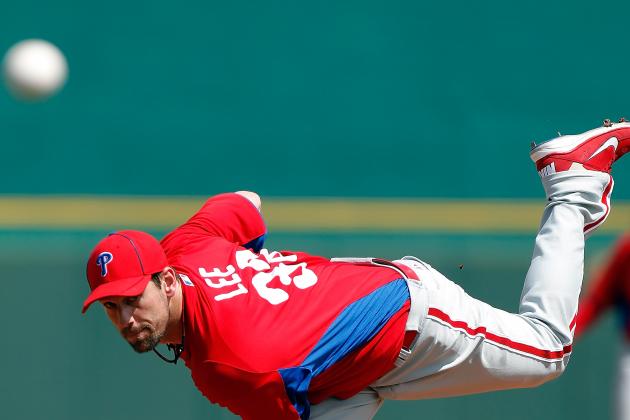 J. Meric/Getty Images

Cliff Lee is evolving.
The rest of baseball may not want to hear that from a competitive perspective, but from a fantasy perspective, owners love what Lee offers, and it is also based off of his pinpoint control.
Over the last three seasons, no pitcher in baseball has thrown more strikes than Lee at 69.7 percent. No pitcher has thrown more pitches in the strike zone than Lee, who posted a 57.8 percent mark in that regard.
Long story short, combine the above percentages with the move out of the American League and into the National League, and all of a sudden, Lee is a strikeout machine. At age 33, Lee struck out more than 200 batters in a single season for the first time in his career last season.
Slotted into the Phillies' rotation behind Roy Halladay, Lee is a prime candidate to pick up a slew of wins. If you're feeling a bit brave, you could always take Lee as your staff's ace.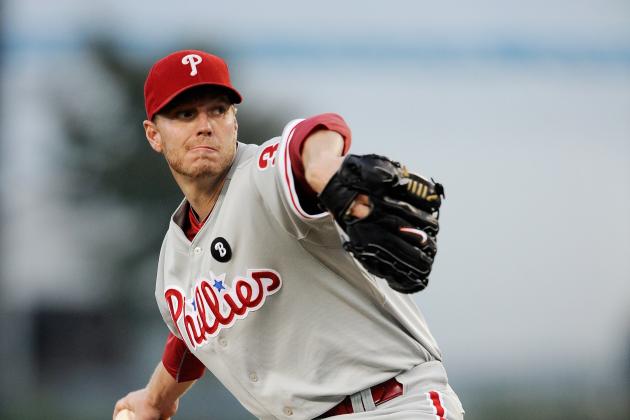 Kevork Djansezian/Getty Images

First thing's first: Roy Halladay isn't hurt.
After a couple of scouts noticed a slight dip in the velocity of Halladay's fastball and a different approach to his game, one single national report nearly incited a riot in the Philadelphia region in debate of Doc's health. He's fine. He's healthy. He'll be ready.
What does that mean for your fantasy team?
Simply put, it means that the best fantasy pitcher in all of baseball is still on the board. That's right. I would take Halladay over guys like Justin Verlander and Clayton Kershaw if given the opportunity, and the reasoning is pretty simple: Who provides the same history that Halladay does?
Much like Cliff Lee, Halladay has piled on the strikeouts in the National League, and combined with the simple fact that in two seasons in Philly he has not hit the disabled list once, he is more than just a "safe pick." He is the best starting pitcher available.
His two seasons with the Phillies has provided this line: 40-16, 2.40 ERA, 17 CG, 5 SHO, 484.1 IP, 166 ERA+, 1.041 WHIP, 6.75 SO/BB.
You don't pass up that type of success. You just don't do it.