Why Tim Tebow Would Flourish in Jacksonville Despite Initial Fan Reaction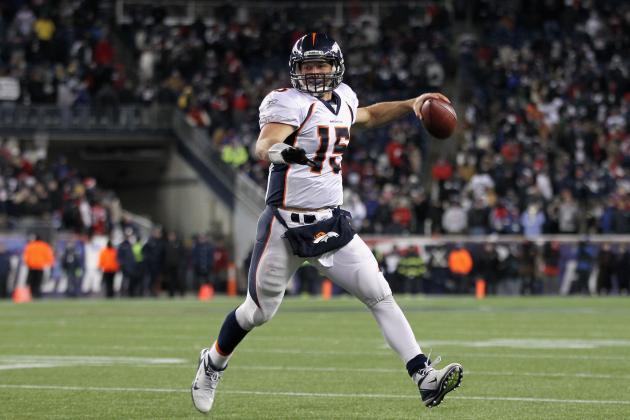 Jim Rogash/Getty Images

In one fell swoop, Peyton Manning turned the world of professional football upside down.
The 14-year pro has reportedly packed his bags for the Rocky Mountains, electing to join the Denver Broncos and subsequently writing a new chapter in the tumultuous story of Tebowmania, according to ESPN's Chris Mortensen and Adam Schefter.
With Manning's arrival, quarterback Tim Tebow has all but taken his last snap in blue and orange. Mortensen and Schefter are reporting that the controversial signal-caller will be traded as soon as the signing is official.
Tebow is a natural fit in Jacksonville for innumerable reasons. He grew up in the area, played high school football in northern Florida and rose to national prominence as a member of the Florida Gators.
But Tebow's unconventional playing style, paired with his polarity among the Jaguars faithful and general manager Gene Smith's investment in first-round draftee Blaine Gabbert, may certainly complicate things.
Would Tebow triumph in teal? Plenty of evidence points to a successful hometown return.
Begin Slideshow

»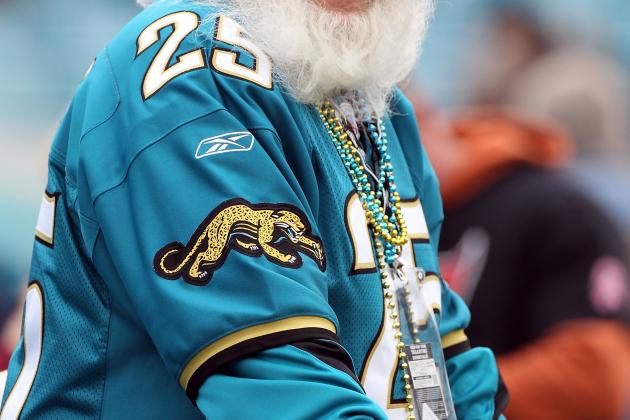 Sam Greenwood/Getty Images

It's no secret that the Jaguars have battled with subpar fandom.
Amid dismal ticket sales and rumors of relocation, the Jaguars would see an about-face in their marketability and franchise culture with Tim Tebow at the helm. The Jags would destroy lingering concerns over blackouts and would garner some serious national appeal.
True, this may not translate to success on the gridiron, but rejuvenating the masses at EverBank Field is a vital step toward re-asserting a league-wide presence.
Despite hosting multiple Monday Night Football games, the Jaguars ranked just 20th in attendance percentage in 2011 and are only two years removed from a season in which seven of eight home games were blacked out.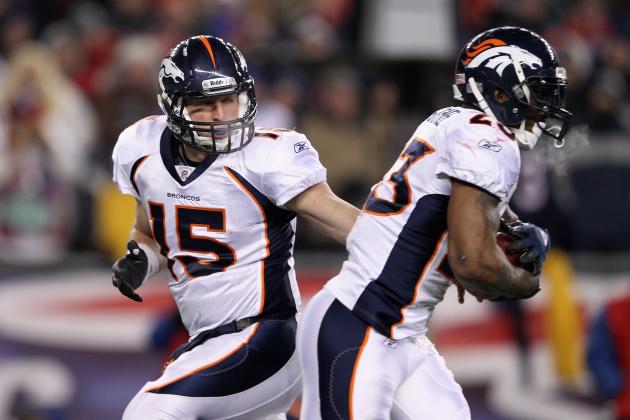 Elsa/Getty Images

Tim Tebow, for better or for worse, would bring attention back to Jacksonville.
A Tebow-led Jaguars team becomes a legitimate suitor for free agents. Both young talents and second-chance veterans alike would look to join the Jags for a chance to augment their productivity.
Tebow's system worked wonders for Willis McGahee, Eric Decker and Demaryius Thomas. The latter two saw their vertical potential skyrocket, as Decker tallied multiple 50-plus touchdown receptions, and Thomas averaged a whopping 17.2 yards per catch in the regular season, only to put up a 29.7 YPC in playoff ball.
McGahee experienced a statistical resurgence with Tebow as well, topping 1,000 yards last year for the first time since 2007.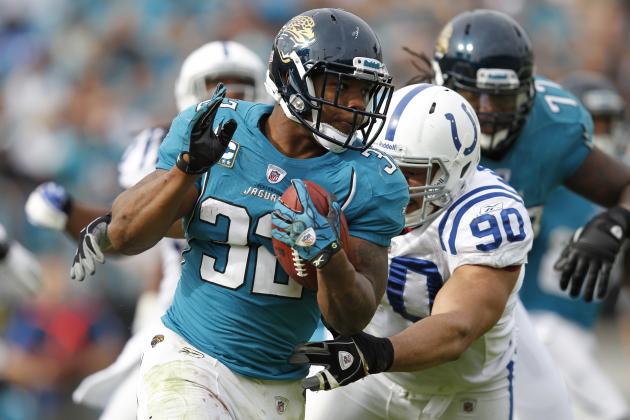 Joe Robbins/Getty Images

Considering Jacksonville's practically nonexistent passing game, what Maurice Jones-Drew was able to accomplish in 2011 becomes all the more impressive.
Jones-Drew topped 1,600 rushing yards and hit pay dirt 11 times last year, the lone bright spot in an otherwise dismal offense.
With Tim Tebow's reliance on receiving 'backs and his ability to spread opposing defenses through quarterback scramble, Jones-Drew could see truly unbridled success in 2012. The sixth-year pro was extremely effective from the shotgun last season, a formation that Tebow famously frequents.
At 26, Jones-Drew is still in his prime, and with a quarterback running a fresh, unpredictable offense, his talents can be fully utilized.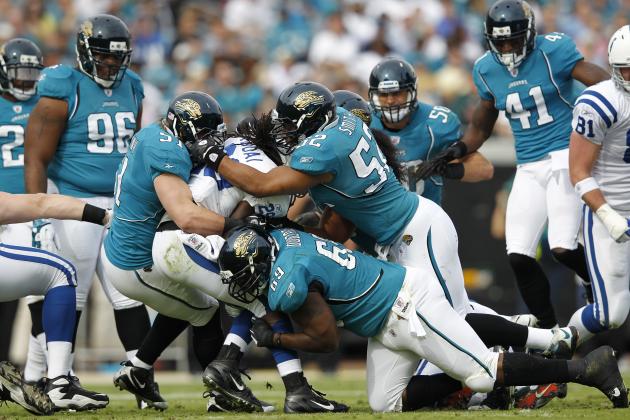 Joe Robbins/Getty Images

Overshadowed by egregious offensive output, the Jaguars flaunted a very formidable defense in 2011, ranking sixth in total yardage.
The Jags are built around a strong front seven, and with the re-signing of long-time corner Rashean Mathis, this unit has nothing but upside.
Yet this was all done with an inefficient offense. Blaine Gabbert tossed 11 interceptions last season, while Tebow tossed just six.
With the dual-threat Tim Tebow, the workhorse Jones-Drew and speedy wideout Laurent Robinson, the Jags should put up more points, retain the ball longer and subsequently put far less pressure on their defense.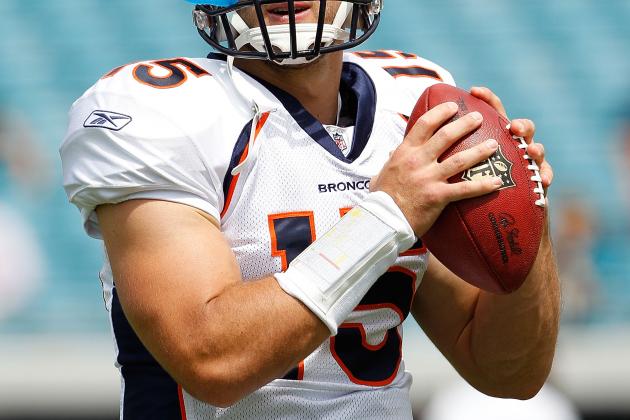 Sam Greenwood/Getty Images

While fans may be adamantly against Tim Tebow in teal at first, statistics show he is all but ready to immediately assimilate into Jacksonville and the AFC South.
Two of the division's four teams play indoors, where Tebow compiled an astounding 149.3 QB rating last year.
And in plays directed toward the middle of the field, Tebow's QB rating jumped to 103.1. With ever-consistent Brad Meester at the center position for the Jags, this success can certainly continue beyond 2011.
In the humid south, Tebow should also have no trouble: In outdoor games above 81 degrees, his rating was 95.4.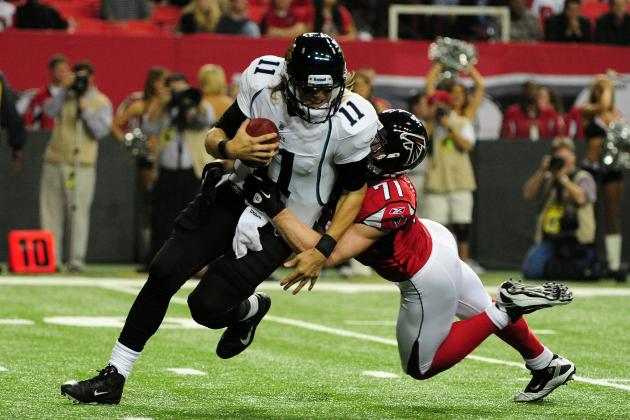 Scott Cunningham/Getty Images

It's common knowledge at this point that Blaine Gabbert had a long, painful rookie campaign.
Gabbert compiled an abysmal -2.21 win probability—dead last for all eligible quarterbacks. In other words, his play considerably hurt the Jags' chances of victory, and while it's far too early to peg the Missouri alum as a bust, his play is definitely worrisome for a franchise in panic mode.
Chad Henne was signed to give Gabbert competition, and Tim Tebow would only further challenge Gabbert's role as a starter.
With nobody to take the reins from him last year, Gabbert struggled mightily. But with two serviceable quarterbacks going against him, his development may not seem so rushed.