Tim Tebow: Should the Cleveland Browns Trade for Denver Broncos QB?
March 19, 2012

Al Bello/Getty Images
"The pessimist sees difficulty in every opportunity. The optimist sees the opportunity in every difficulty." —Winston Churchill
Browns Backers, Peyton Manning has reportedly decided to play in Denver, according to ESPN's Chris Mortensen and Adam Schefter, leaving many NFL fans wondering: What's next for incumbent Broncos quarterback and budding cultural icon Tim Tebow?
Before we start hashing this out, I consider draft picks the lifeblood of a franchise and always view the suggestion of trading them skeptically. While the Browns' needs number so greatly that shedding draft picks amounts to blasphemy, when some call for Ryan Tannehill with the 22nd pick in the first round, Tebow's prolific rushing campaign in 2011 merits the question if he can't be acquired for less. 
We've discussed the necessity of tough running yardage and the value of extending plays in the AFC North, and Tebow's size and running ability appear to make him an ideal quarterback for the harsh conditions and physical play of the black-and-blue division.
It would be a steep price for the Browns to potentially acquire Tebow in exchange for their No. 22 draft pick and/or a second-round pick, a move pundits and fans would no doubt find controversial; staunch support would emerge on both sides of the issue. But for a second, or later round pick after making two first round picks, Tebow offers an interesting alternative as a competitor for Colt McCoy in comparison to Ryan Tannehill or Brandon Weeden.
While Tebow's completion percentage for his career hovers below a horrendous 50 percent, the Denver quarterback has only thrown nine interceptions. Additionally, in only 14 career starts and two more contests with extensive action, he's rushed for 12 scores (albeit, often as a glorified short-yardage back) and would have likely eclipsed 1,000 yards over his first 16 career starts had he began the season in 2010 or 2011 taking snaps with Denver's first team.
A quarterback can be coached from a 47 percent completion percentage to 50 percent, but not throwing interceptions and running for 1,000 yards in a season sounds pretty, pretty, pretty good to this Browns fan.
Despite the instant revulsion that Browns-Buckeye fans naturally feel when confronted with the idea of Tebow as their quarterback, if Tebow were to succeed anywhere in the NFL, the AFC North could be an ideal fit.
Recall the emergence of Andy Dalton, Joe Flacco and Ben Roethlisberger; none of the three quarterbacks threw the best ball around or ran a 24-audibles-per-play offense. They took their teams to the playoffs by extending plays and drives with their legs while not throwing interceptions.
It may sound contrived, but Tebow's ability to avoid interceptions actually demonstrates a trait congruent to past successes at quarterback within the division.
Additionally, though it may provide a bonanza for late-night comedians, Tebow's personality raises whatever the opposite of "red flags" could be about a player. Pending even moderate success, Browns fans would likely embrace the national figure as their own, and Tebow jerseys would fill Browns Stadium for a decade. 
Finally, Tebow's contract has about three years and $6 million remaining. Given that Seneca Wallace stands to make that much over the next two years, I, for one, think a competition between Tebow and Colt McCoy augurs more promisingly for the Browns than McCoy vs. Wallace or McCoy vs. Tannehill.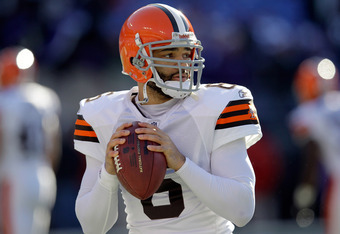 Rob Carr/Getty Images
Worst-case scenario, Tebow either fails to win the job from McCoy—in which case, he's a cheaper backup than Wallace—or wins the job, but never develops in the passing game, and teams stuff nine defenders in the box to shut him down. Such a scenario would cost the Browns years in development and multiple draft picks—either way, fans would watch and talk.
Let me also mention that, on a personal note, it gives me no pleasure to consider the irony of Urban Meyer coaching the Buckeyes and Tebow quarterbacking the Browns after their 2007 dismantling of the Ohio State Buckeyes. I endorse neither side of the debate explicitly; I simply wish to open the matter for discussion.
You can follow me on Twitter: @StepanekButton