Toronto Raptors Will Be in Camo Uniforms When They Play the Bulls on Wednesday
March 19, 2012

Claus Andersen/Getty Images
When the Toronto Raptors face off against the Chicago Bulls on Wednesday night, they'll look a little different. 
Different does not necessarily mean good.
With more than 300 members of the Canadian Forces attending the game, the team will debut its special Canadian Forces camouflage-style jersey. The team will wear these jerseys four times this season.
The camo uniforms were leaked when they appeared in NBA 2K12, but they're really something to see in the flesh.
The Raptors' PR Twitter account posted an image of Jose Calderon and DeMar DeRozan posing in the uniforms. Check them out and let us know what you think.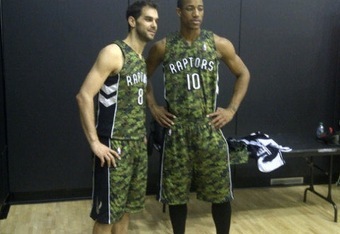 While I'm down with the gesture, four times is more than enough to see these uniforms on a basketball court.
I usually appreciate different, zany uniforms (example: I'm really digging Baylor's fluorescent uniforms they've been rocking in the tourney), but these camo ones do nothing for me. Absolutely nothing.
P.S. Check out Calderon's camo shoes. Or don't, if you want to be kind to your eyes.