Sweet 16 Bracket: Upset Picks and Predictions
Rob Carr/Getty Images
There are 16 teams remaining in the NCAA college basketball tournament, with a number of top seeds advancing to the second wave of games. However, there are still two teams lurking in their respected brackets that could pull off another shocking upset in the next round.
These Sweet 16 teams all are just two games away from playing on college basketball's biggest stage, the Final Four in New Orleans, LA.
Who will survive, who will pull off a shocking upset and who will advance to the Elite Eight?
East: Wisconsin over Syracuse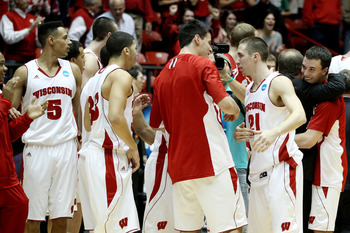 Christian Petersen/Getty Images
Wisconsin is playing some great basketball in the NCAA tournament. They destroyed Montana 73-49 in their opening game, and then proved to be too much for Vanderbilt, beating the Commodores 60-57.
If Syracuse had center Fab Melo available for this game, the Orange would have an answer for Jared Berggren and Ryan Evans. The two Wisconsin players combined for 23 points and 11 of Wisconsin's 27 rebounds against Vanderbilt to earn the right to play Syracuse in the Sweet 16.
Because Melo will miss this game, Syracuse will get dominated on the glass which will result in an upset win for the fourth seeded Badgers over the top-seeded Orange.
East: Ohio State over Cincinnati
Gregory Shamus/Getty Images
Ohio State is extremely focused on reaching the Final Four with their highly talented team led by sophomore Jarred Sullinger.
Through two wins against Loyola (MD) 78-59 and Gonzaga 73-66, Sullinger has seen his game improve. He started with 12 points in their first game, only to improve his scoring to 18 against Gonzaga.
Against Cincinnati Sullinger will lead the Buckeyes to the Elite Eight with a dominating double-double performance. He should have a final stat line of 16 points and 12 rebounds.
Midwest: North Carolina over Ohio
Streeter Lecka/Getty Images
North Carolina is the best team in the NCAA tournament. They've won their first two games by a combined 33 points (77-58 Round 2, 87-73 Round 3) and have not found themselves to be in any danger of being upset in those games.
The Sweet 16 will see the Tar Heels roll past another mid-major team, as they play the Ohio Bobcats.
Ohio has nowhere near the talent of North Carolina and will lose by a double-digit figure.
Midwest: North Carolina State over Kansas
Rob Carr/Getty Images
North Carolina State is a good basketball team that has won six of their last seven games. Their lone loss came against North Carolina by only three points.
Aside from that loss, NC State won three of those six games by double-digits, with one of those wins coming against San Diego State in the second-round of the NCAA tournament.
Kansas was lucky to get past Purdue in the third round, and will have no answer for the play of senior C.J. Williams and sophomore Lorenzo Brown.
NC State will move onto the Elite Eight to get vengeance for their loss to North Carolina a mere two weeks ago.
South: Indiana over Kentucky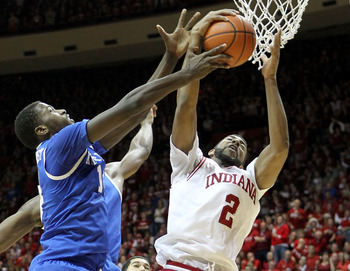 Andy Lyons/Getty Images
One of the best college basketball games in the 2011 season was between these two teams at Assembly Hall in Bloomington, IN.
The Hoosiers won because they shut down Terrance Jones and Anthony Davis to only 10 combined points. Aside from the suffocating defense, the Hoosiers were led by Christian Watford and his 20 points, five rebounds and four three pointers.
Indiana will get another big performance from Watford, while getting a sold showing from Big Ten Freshman of the Year, Cody Zeller, of 12 points and 10 rebounds.
South: Baylor over Xavier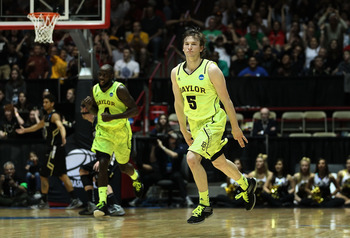 Christian Petersen/Getty Images
Baylor can shoot very well when they can move the ball around defenses creating shots for their dangerous shooters like Brady Heslip.
Heslip has gone off in the NCAA tournament hitting five three pointers in Baylor's opening game against South Dakota State. However, he carried the Bears in their third-round game against Colorado hitting nine three pointers while scoring 27 points.
Heslip will find room against Xavier in the Sweet 16, which will result in another 20-point game for the talented sophomore.
West: Michigan State over Louisville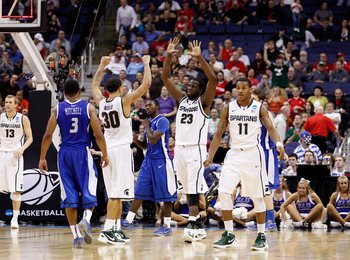 Rob Carr/Getty Images
This may be the best Sweet 16 game out of the eight this week. These two teams are about as evenly matched as any of the other games, as both Michigan State and Louisville have teams that can score, while playing great defense.
However, Michigan State has the slight edge on the Cardinals, averaging 72 points to Louisville's 68, while keeping opposing offenses to only 59 points to Louisville's 61.
Both of these teams will play a physical style game, but in the end the Big Ten Player of the Year, Draymond Green, will lead Michigan State to the Elite Eight after a 20 point, 13 rebound game.
West: Marquette over Florida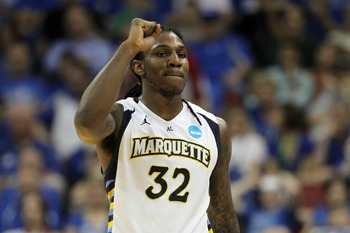 Jonathan Daniel/Getty Images
Marquette will be the only team left in the NCAA tournament from the Big East conference. However, they are a great team, who will go past the Sweet 16 and end up in the Final Four.
They are led by senior Darius Johnson-Odom who has had two great games to begin his tournament. Against BYU, Johnson-Odom torched the Cougars for 20 points, and then destroyed Murray State for 17 points.
Johnson-Odom will get hot against the Gators which will result in Marquette reaching the Elite Eight to face Michigan State.
Keep Reading