Steven Goldman: What Ty Cobb, Derek Jeter, Tony La Russa and I Are Doing at B/R
March 19, 2012

Flash back more than 100 years: Ty Cobb, 17, was about to begin a career that made him one of the most celebrated, admired, reviled, and feared ballplayers of all time. His father, a teacher who was less than enthused about young Tyrus's choice, allowed him to go, but warned him, "Don't come home a failure."
Not too long after, Cobb's mother performed surgery on his father's brain with a shotgun under circumstances that remain mysterious to this day. Dad's final instructions unsurprisingly took on ever-increasing resonance with the already-driven teen. If Cobb hadn't sharpened his spikes before then, he certainly did thereafter, and for the rest of his career.
It's a good thing that Papa Cobb's final advice wasn't, "Make sure you do the dishes before going to bed," or Ty would have blown his fortune on replacing Wedgewood damaged by obsessive-compulsive cleanings instead of dying a millionaire rich in shares of General Motors and Coca-Cola. The best parents know how to motivate with a well-timed exit. Think of Superman's, or Hamlet's—or Babe Ruth's, who simply dumped him on the orphanage steps when he was seven. "A legend begins here, sonny boy," George Ruth was heard to shout over the noise of squealing tires, "so stop bawling and start hitting!"
My name is Steven Goldman.  I've been hanging around the Internet, magazine stands, and bookstores writing about baseball for a long time—not since the time of Ty Cobb, but certainly since the time of Derek Jeter, which, looking at my watch, seems due to end any moment now (that's not a shot, as I'll explain momentarily). I suppose I'm best known for being a writer-editor at Baseball Prospectus, where I wrote dozens of columns and was part of the making of many a book, including the soon-to-be released Extra Innings. In addition, I've written the story of how one of my heroes, Casey Stengel, grew into a Hall of Fame manager, and continue to oversee one of baseball's longest-running team blogs, the Yankees-oriented Pinstriped Bible.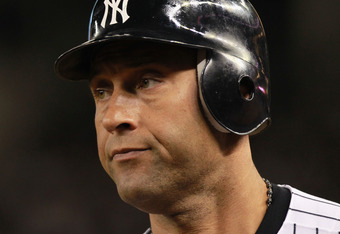 Nick Laham/Getty Images
Those are just highlights from the ol' curriculum vitae, though, and not all that meaningful. The real point is the mission. From the day I first took pen in paw, the goal has been to make an argument about the nature of winning baseball. The title of the Pinstriped Bible evolved out of that idea—the actual Bible is, among other things, an extended argument as to how to live a moral life; the Pinstriped Bible is an argument as to how to construct a winning baseball team. Similarly, these Horsehide Chronicles will detail the path that teams take to winning in 2012, from the wisest trades by the most astute general managers to the most foolhardy of in-game calls by benighted managers. The games are played out by amazing athletes with incredible fast-twitch reflexes and luck plays a huge part in each outcome, but quite often the determining factor was because someone on the bench or in the front office did what most of us are reluctant to do, and undertook the real labor of thinking—or failed to.
Remember Tony La Russa making all of those pitching changes in the World Series, or Joe Girardi losing games because he was condemned to lose by his own pitching slot system. These are the kind of baseball life-or-death decisions I'm talking about. We're looking for folly or perversity, what the historian Barbara Tuchman defined as, "the pursuit of policy contrary to self-interest," which we will first-guess rather than second-guess, and its opposite, wisdom, which we will first-guess as well. My Horsehide (be skeptical of the veal, my children) beat will center mostly on the American League, so before actual championship play sweeps us away, we will get to check in on all those stories now swarming around the junior circuit. By team: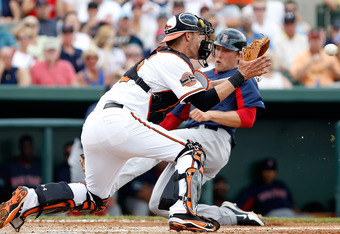 J. Meric/Getty Images
Baltimore Orioles: Will this latest reinvention of their pitching staff bear fruit? The early returns on Brian Matusz are promising, an incredible development given last season's 10.69 ERA. Can Nick Markakis find his power stroke? Will Brian Roberts ever return? Does Matt Wieters have more growth in him?
Boston Red Sox: Can the club recover from its historic collapse? Will Jacoby Ellsbury repeat his near-MVP-quality play? Will Daniel Bard succeed as a starter despite a horrific minor-league record in that role? Will the Ryan Sweeney/Cody Ross platoon provide enough of an upgrade in right field?
Chicago White Sox: What exactly is Kenny Williams up to this year? Are the Sox building or rebuilding? Can Adam Dunn come back from whatever-the-heck happened to him last year?
Cleveland Indians: Can a shaky defense support a pitch-to-contact staff? Can Ubaldo Jimenez rediscover his early 2010 form? Should we write off Grady Sizemore?
Detroit Tigers: They're going to win the AL Central whether their jury-rigged inner defense works out or not, right? Should we worry about Justin Verlander's workload? Will Max Scherzer find consistency? Can Doug Fister do it again? And Rick Porcello: Is this all there is?
Kansas City Royals: Does Salvador Perez's knee injury, coming on the heels of the Royals signing him to a long-term contract, suggest that Divine Providence has a cruel sense of irony? Will the youngsters continue to develop and prove themselves coming stars? Can Dayton Moore manufacture a pitching staff before the young position players become too expensive to keep?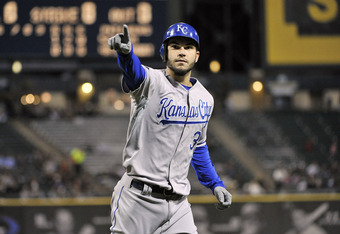 Brian Kersey/Getty Images
Los Angeles Angels: The Angels have an impressive starting rotation, but will the offense click? Last season they sat on their hands when the Rangers faltered, so will they make aggressive changes this time around? If Vernon Wells or Bobby Abreu continue to struggle and Mike Trout is healthy, will they make a change? Does the bullpen have sufficient depth and competence?
Minnesota Twins: Does Justin Morneau have a comeback in him? Can Joe Mauer both stay healthy and learn to hit at Target Field? Can returning GM Terry Ryan get over his and the organization's strange aversion to strikeout pitchers? Can Francisco Liriano show them the error of their ways?
New York Yankees: The list of strong offensive seasons by shortstops 38 years or older in the postwar period is mostly limited to Luke Appling, with a few half-decent Ozzie Smith and Barry Larkin years thrown in, so despite a strong finish, can Derek Jeter do it again? (I told you I would get back to him.) Can A-Rod arrest a four-season decline in power? How the heck do they structure the starting rotation with a minimum of seven candidates for five spots?
Oakland A's: Will they get clearance to move anytime soon? Will the semblance of an offense present itself? After dealing away two top starters and a closer during the offseason, has Billy Beane left himself with a starting rotation? Will Yoenis Cespedes pay off both on the field and at the gate?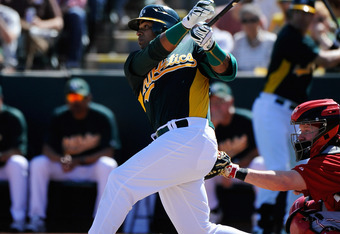 Kevork Djansezian/Getty Images
Seattle Mariners: Last year's offense bordered on the historically bad. Will they hit more this year? Does Ichiro Suzuki have anything left? What does the club do with all of these third base prospects? Will Jesus Montero get to catch? Can Franklin Gutierrez still play? Will King Felix's workload catch up to him?
Tampa Bay Rays: Will they have the best starting rotation in the division? In baseball? And is there enough offense here to support them? Will Evan Longoria produce the MVP-type season we've been expecting? Can Kyle "Bombs Away" Farnsworth lead the bullpen again?
Texas Rangers: Is this the year they finally win it all? Can they identify a center fielder? Can Mike Napoli slug .600 again? Does Michael Young have another .300-plus season in store at 35? Can Josh Hamilton survive personal demons and a fragile body to earn another big contract—from somebody? Can Mitch Moreland hold up his end of the bargain at first base? Will Yu Darvish live up to his advanced billing?
Toronto Blue Jays: Since 1997, the Jays have won between 80 and 88 games in 11 of 14 seasons. Is this the year they finally hop off the treadmill? Can Jose Bautista put up a third straight monster season? Can Adam Lind and Colby Rasmus reestablish themselves? What will Brett Lawrie do in a full season? Will the pitching staff fall into place behind Ricky Romero?
As my longtime association with Baseball Prospectus might suggest, my answers to many of these questions will be informed by sabermetrics. That doesn't mean a lot of messy stuff with numbers—when I was 16, my high school math department made like Oscar Madison's wife and threw me out, requesting that I never return. To me, sabermetrics means a common-sense, realistic approach to baseball that you can support with numbers if you really need to see the proof, but you don't have to. I'll talk about what common sense actually means in this context in my next post.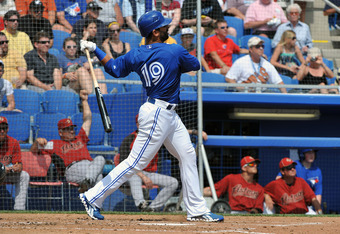 Al Messerschmidt/Getty Images
In 1927, Ty Cobb, now 40, was playing out the string with the Philadelphia Athletics. In a late April game against the Red Sox, Cobb hit a ball over the right field wall for what should have been a home run. Instead, the umpire decided to negate the blast because of a rule then on the books—a rule almost never called due to its sheer stupidity—that a ball not only had to be fair going over the fence, it also had to be fair where it landed. Cobb went nuts, shoving the umpire and inciting a near-riot in the stands. He was suspended indefinitely for his actions. Over 20 years after his father's death, with roughly 4000 hits in the books, miles from where he began, "Don't come home a failure" was still the rule.
Cobb was largely a reprehensible human being, and in most things I wouldn't want to be like him, but in this one instance I am. The venue has changed, but the dream remains the same: Tell the story and tell it well. Get at the truth. Debunk the conventional wisdom. See the real game behind the scrim of received knowledge. Welcome to the Horsehide Chronicles at Bleacher Report; it's going to be a blast. You can take my word for it: "A legend begins here, sonny boy."
Next up: Prejudices (and not the Ty Cobb kind).