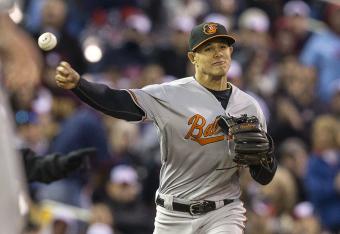 Manny Machado's defense is a big part of why he's among the WAR leaders so far, but it's just one part.
USA TODAY Sports
Last week, the case was made for WAR as baseball's best statistic. Now it's time to dig a little deeper to find out if some of the early-season leaders in Wins Above Replacement are for real.
Take a look at the WAR leaders, per FanGraphs, and amid proven studs like Miguel Cabrera, Evan Longoria and Joey Votto, you'll notice a bunch of hitters who seem like potential new entries for breakout stars.
But given that we're only a month-and-a-half into the 2013 season, it's possible that some of these stars-in-the-making actually are closer to stars-in-the-faking, inflated by luck or unsustainable underlying numbers.
Let's examine a batch of these players to uncover whether each of the following is a Breakout Star, a Legitimate Starter...or Just Lucky.