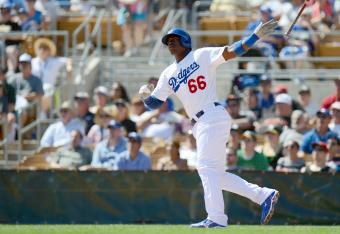 Yasiel Puig will be wearing Dodger blue very soon.
Jake Roth-USA TODAY Sports
It's been a busy week on the border between Major League Baseball and the wild land beyond where top prospects roam free, waiting for their chance to break through.
The Texas Rangers called up all-world shortstop Jurickson Profar, and young Baltimore Orioles right-hander Kevin Gausman is making his big league debut on Thursday night.
Now that they're (back in Profar's case) in The Show, we have to ask: Who's next?
That's always a tough one with prospects, as the dominoes have to fall just right and you just never know with the timing. The best you can do is take educated guesses.