NCAA Tournament 2012: Breaking Down Kentucky vs. Indiana in Sweet 16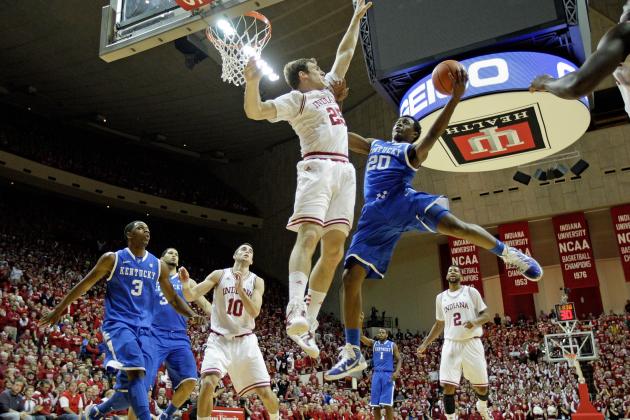 Andy Lyons/Getty Images

When Kentucky and Indiana met in December of last year, the Hoosiers ended up winning on a last-second shot in front of their home crowd.
Not only did it hand the Wildcats their first (and only) regular-season loss of the year, but it also signaled the return of Indiana basketball as one of the premiere college basketball programs in the country.
Fast forward to this weekend's Sweet 16 in the NCAA tournament, and the two teams are set to face each other again.
A lot has changed since their last meeting. The following are a few of the key factors that will affect the outcome of the second (and much higher stakes) battle between the Wildcats and the Hoosiers.
Begin Slideshow

»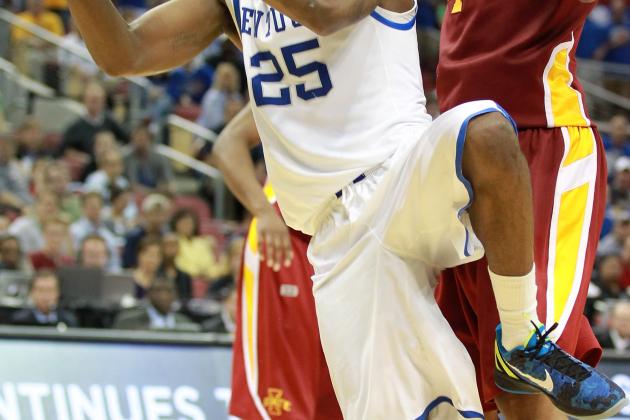 Andy Lyons/Getty Images

Back in December, Teague was still struggling to manage basketball games and accept his role as a distributor rather than a scorer. Fast forward to March, and Teague doesn't even look like the same player.
He is confident, poised and running the offense with incredible efficiency and great ball protection. He is also coming off his best game as a Wildcat against Iowa State, scoring 24 points and dishing seven assists.
Unfortunately for Indiana, senior point guard Verdell Jones was lost for the season due to a torn ACL. Junior Jordan Hull has shown signs up stepping up (particularly with his 22-point performance against New Mexico State) and Will Sheehey has also proven to be a good option to run the offense.
The Hoosier backcourt will be hard-pressed to stop Teague's speed, court vision and scoring ability.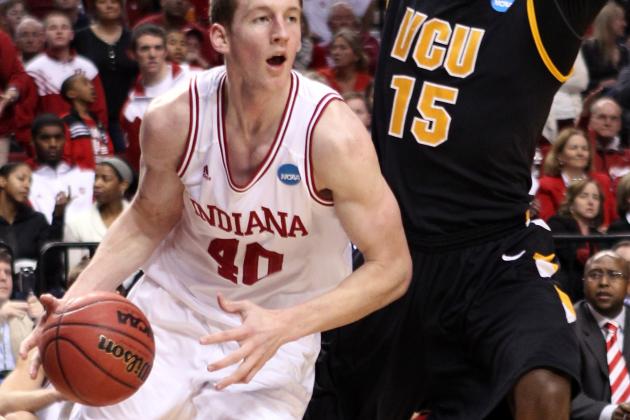 Jed Jacobsohn/Getty Images

As great as Anthony Davis is, one player that could cause of lot of trouble for him and the rest of the Kentucky frontcourt is Cody Zeller.
While Wildcat fans have become accustom to watching Davis completely dominate the competition, containing Zeller will not be an easy task.
In the teams' last meeting, Anthony Davis got into foul trouble, which resulted in the lane becoming wide open for the Hoosiers along with limiting the inside scoring opportunities for the Wildcats. If this scenario plays out again, Kentucky could be in big trouble.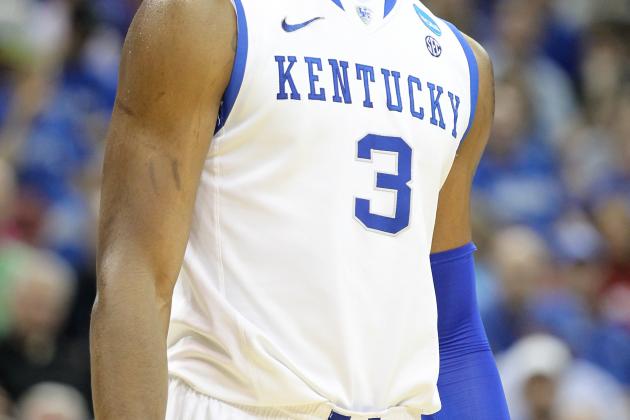 Andy Lyons/Getty Images

Back when the teams met in December, Terrence Jones was such a non-factor that even Coach Calipari couldn't explain what happened.
Jones attempted a career-low three shots, only grabbed one rebound and had six turnovers. He was also barely awake on his defensive assignments, which made things much worse when Anthony Davis got into foul trouble.
Since then, Jones has returned to form and shown signs of why he was a Preseason All-American. He has had offensively explosive performances (like his 22-point game against Western Kentucky to start the tournament), but even in games where his shots weren't falling, Jones can be found fighting for rebounds underneath the basket, blocking shots, playing great defense and making hustle plays.
Indiana has to hope that a reinvigorated Terrence Jones will equal less than one point (their margin of victory in December) of a scoring swing when the teams meet in Atlanta.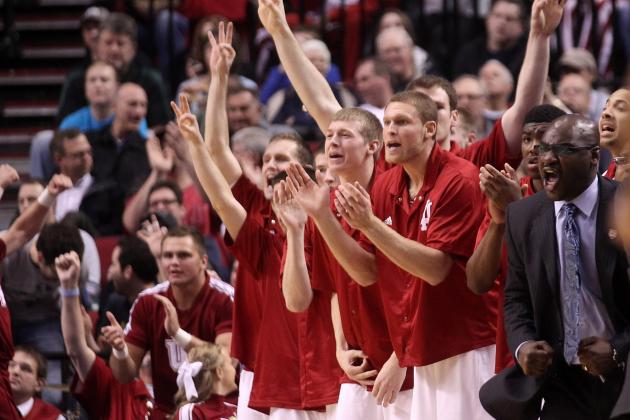 Jed Jacobsohn/Getty Images

Indiana has the obvious advantage here. While they don't have a lot of great depth, the Hoosiers field a bench that goes much deeper than Kentucky's.
The Wildcats seem to do fine only going two-deep with Darius Miller and Kyle Wiltjer. But things can get pretty scary if anyone gets into foul trouble, which doesn't usually happen...except when they played Indiana in December.
One thing the Wildcats can look for from their bench is a hot-handed Darius Miller, who has come on strong in tournament play this year. With Sheehey pressed into the starting lineup to help replace Verdell Jones, Kentucky easily has the most talented bench player available, but not much else after that.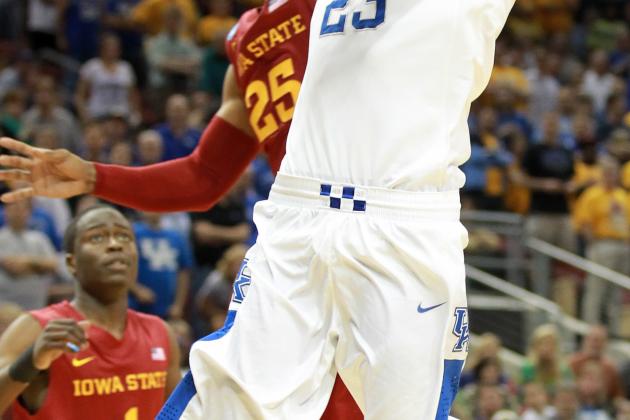 Andy Lyons/Getty Images

Fellow columnist Joshua Gleason wrote an excellent scouting report on the Hoosiers that touches on their issues with fighting through screens and rotating to open shooters.
Another thing he mentioned was Indiana's average length. While this may not be an issue against every team, it will definitely be a HUGE issue under the basket against Anthony Davis, Terrence Jones and Michael Kidd-Gilchrist.
The Wildcats have also begun to up the tempo of their offense as Teague has gotten more comfortable running the show. This makes the Hoosiers struggles with rotating their defenders to shooters like Doron Lamb—who live off of camping out behind the arc for open baskets—a potential defensive nightmare.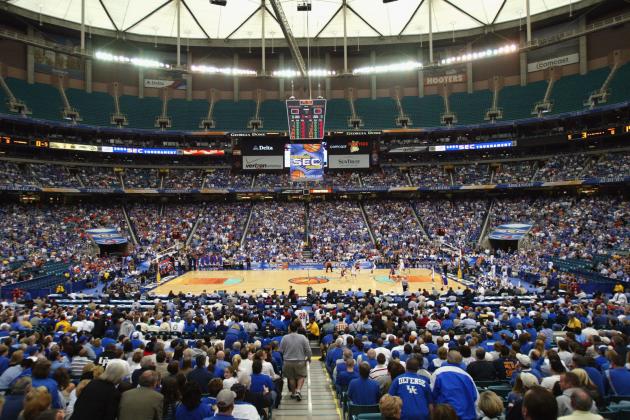 Doug Pensinger/Getty Images

Do you see that picture up there? That is not Rupp Arena. That is the Georgia Dome during last year's SEC tournament. Kentucky fans travel better than anyone in the country, especially to Atlanta, which becomes affectionately known as "Catlanta" when the Wildcats come to town.
Bloomington created one one of the most intimidating home-court advantages I have ever seen when Cats traveled there in December. This time, the crowd will overwhelmingly be in Kentucky's favor. For a young team playing in the NCAA tournament, having a "home-court" advantage like that will be a huge advantage.
If you want to sing my praises, tell me that I am the worst writer you've ever read or just want to observe my weird and offbeat view of things, follow me on Twitter @NickNafster79