NCAA Tournament 2012: Indiana Hoosiers Scouting Report
March 14, 2012

Andy Lyons/Getty Images
After a terrible end to last season that saw the Indiana Hoosiers drop their its last nine games. The Hoosiers turned it around in 2012 winning their first 12 games of the season including defeats of the Kentucky Wildcats and Notre Dame Fighting Irish.
Tom Crean has this squad heading in the right direction now, and it could be one that leads to a rematch with Kentucky in the Sweet 16.
Indiana Hoosiers Scouting Report
Strengths:
Excellent Shooting
Excellent Shooting the Three
Good Post Size
Great Free Throw Shooting
Great Hustle
Pick N' Roll Offense
Win the Rebounding Battle
The shooting for the Hoosiers stands out the minute you start watching this team. They possess an array of good shooters with plenty of pure strokes that can nail the three.
The main reason why they are able to score so much and at such a high efficiency is due to their execution of the pick n' roll. Cody Zeller is the ideal center for this kind of offense. Tall, athletic, with good feet, Zeller is also a smart kid who comes from a basketball family—brother Tyler Zeller plays for North Carolina—and knows how to properly set picks. Zeller's athletic ability allows him to flow to the basket well and pick-up easy buckets when the defense tries to trap the ball handler.
When you have a great center like Cody, defenses have to account for him, and in those pick n' roll situations the offense can be deadly. If the defense over commits to Zeller, than Indiana has multiple shooters who can make defenses pay for leaving them open. It's not a complex offense, but it's one that works because the players fit it very well.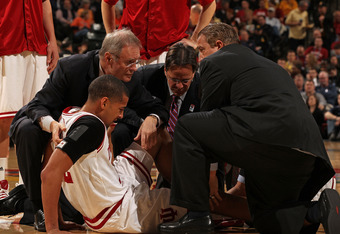 Jonathan Daniel/Getty Images
Indiana also shows great hustle and has an impressive +4.3 in rebound margin. Indiana simply isn't going to be beat due to a lack of hustle or inability to shoot the ball. Its defense could hurt them though.
Weaknesses:
Inconsistent Rotation
Trouble Fighting Through Screens
Average Length
Average Spacing
Verdell Jones Injury
Depth
The Hoosiers main problem on defense has been handling screens. They have displayed inconsistent rotations throughout the year. This has a lot to do with their struggles to fight through screens. Opposing players have been left wide open consistently against Indiana.
While their pick n' roll game has worked well throughout the season, I still don't see great spacing or great movement by the Hoosiers offense. They have a tendency to get jumbled up at times, which is something they can't afford to happen here in March.
The injury to Jones has been a common topic amongst college basketball fans. While it does hurt, I don't think it's a huge blow to this team. Jones is a good leader and all-around player who acts as a glue guy for this team. However, he is replaceable, because Will Sheehey has started eight games for him this season and is a similar player.
What worries me more is whether or not Indiana has enough depth to have Jones go down. The Jones and Sheehey rotation was a good one, and they also have Derek Elston and Matt Roth coming off the bench as shooters. Now, they lack a key sixth man, which is what Sheehey was operating as.
Remy Abell was the primary beneficiary of Verdall's injury in terms of minutes, almost doubling his minutes and points compared to his averages. They need a little more, though, than just the five points Abell gave them against the Wisconsin in the Big Ten Tournament.
Chances of Winning First Game: 85 Percent
Even without Jones, I love the Hoosiers chances to get by New Mexico State. The Aggies have scored a lot this year, but they aren't your typical three-point shooting mid-major. They have size inside and have used it against smaller WAC opponents all season.
Indiana has size inside with Cody Zeller and I don't think NMSU's center Hamidu Rahman can hang with him.
Chances of Reaching Final Four: 5 Percent
The Wichita State and Indiana game should be a very good one—assuming it happens— though I like Wichita State to win it. It's hard not to give the Hoosiers the similar odds since they have beaten Kentucky earlier in the season, though it did come in Assembly Hall.
Chances of Winning It All: 3 Percent
Indiana actually plays fairly similar to a mid-major, except with better talent. They shoot the ball remarkably well and have a talented big man. Its defense is inconsistent, though, and in the South Region that has a lot of talented offenses like Kentucky, Wichita State, UNLV, Baylor and Duke, it's going to be tough to win every shootout.
Crean has done a great job getting this team to where it is, but it doesn't seem to be enough for a title run this season.