Philadelphia Phillies: 5 Most Intriguing Spring Position Battles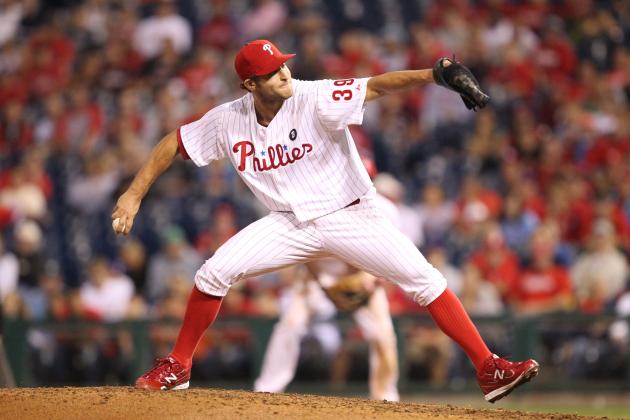 Hunter Martin/Getty Images

As you watch a Philadelphia Phillies spring training game, there are some things you have probably already taken note of.
Aces, Roy Halladay, Cliff Lee and Cole Hamels only throw a few innings per start, closer Jonathan Papelbon has come in to pitch in the 5th or 7th inning, Chase Utley and Ryan Howard are nowhere to be found, Jimmy Rollins and Hunter Pence don't play every game or every inning, veteran Jim Thome is playing as a DH and Domonic Brown is getting playing time with the big league club once again.
It isn't exactly the scenario you may have expected when the 2011 season came to an end, but hey it is spring training, and any baseball fan knows that the above and other spring oddities are totally normal and expected parts of baseball's version of a pre-season.
In addition to the line-ups that may have some shaking their heads, spring training is also the time when prospects, non-roster invitees and minor league free agent signings use everything in their power to play inspired baseball and win a spot on the big league club. The games may in and of themselves be a little boring but the position battles certainly are not.
So the next time you tune in to a Phillies Grapefruit League game, don't pay attention to the fact that Roy Halladay is only pitching four innings before being pulled or that Jimmy Rollins is striking out while working on his bunting. Instead, watch as Freddy Galvis flashes some leather and displays some surprising pop, notice how Domonic Brown's offensive output is improving, observe how Scott Podsednik has emerged as a candidate to earn a bench spot and pay attention to Phillipe Aumont, Justin DeFratus and Michael Shwimer every time they pitch.
These are just some of the stories that have emerged out of the Phillies camp and ones that will certainly be interesting to follow as Opening Day inches closer.
Begin Slideshow

»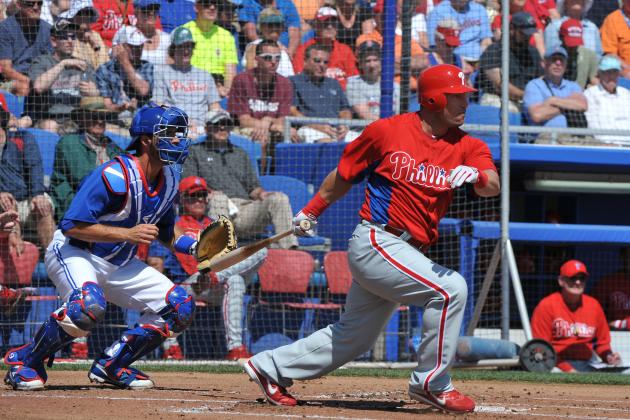 Al Messerschmidt/Getty Images

After putting up big numbers last year, John Mayberry Jr surpassed Domonic Brown at least temporarily as the heir apparent to Raul Ibanez for the starting left field job. However, Mayberry has put up lackluster numbers this spring which have some questioning if Laynce Nix, who was acquired as a possible outfield option, or even Brown, could take that job from him.
John Mayberry's case: Mayberry played in 104 games last season, 60 of them starts, and achieved career bests in every offensive category in far and away his best season as a professional. He posted a .273 AVG and a .874 OBP. In 50 OF starts, he only made two errors, both coming in CF. Unlike Brown, Mayberry has shown versatility in playing all three OF spots and also in starting ten games at first base. He has also shown that he can platoon in the outfield and that he does not need to play everyday to keep his bat hot.
Laynce Nix's case: It is highly doubtful that Nix will fail to make the team in at least some capacity come the start of the 2012 season. Over the course of his career, Nix, a career .244 hitter, has played every outfield spot and even spot-started at first a few times. His bread and butter however is in left field, the exact position that is up for grabs. Nix offers more experience as an everyday left-fielder than Mayberry and in 73 games played in the OF last year, only made two errors. With the Phillies left-handed heavy line-up, Mayberry's biggest flaw is in hitting against righties, something Nix has done with much better success over the course of his career.
Domonic Brown's case: Brown's case to win the left-field job is much more difficult than his competitors, both of whom are just about guaranteed a spot on the team. Working against Brown is first and foremost his poor defense, which has become a liability. Also working against him is the fact that if he spends anytime with the big league club this year, he will exercise his third and final option with the team, forcing them to make a decision on whether to option him or put him on waivers. Those two factors aside, Brown has showed up to spring training with a much improved approach at the plate and with low career strikeout numbers, already has a great eye at the plate. He isn't really a candidate and is a long-shot to win the job but in baseball, the Phillies especially, anything can happen.
And the winner is: At this point, Nix has to be the favorite to win the job. Both he and Mayberry are having terrible springs but with his experience, better numbers against righties and the fact that Mayberry may need to be in the line-up elsewhere, Nix will likely be the starting outfielder in 2012. Although, a platoon of he and Mayberry could certainly be another valid option.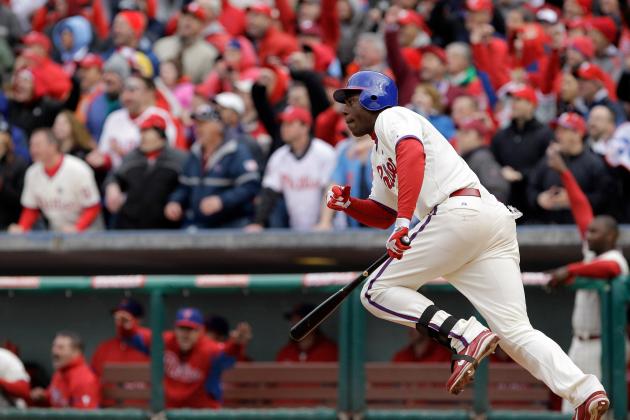 Rob Carr/Getty Images

Ever since Ryan Howard went down with the Achilles injury, the biggest question for the Phillies would be who would start at first base? Within the organization was John Mayberry, who had started a few times at first in 2011 and who had been a starting first baseman at Stanford. Although an option, Mayberry already looked like he would be the starting left-fielder after Raul Ibanez left in free agency. So the Phillies did a little free agent shopping of their own bringing in utility-man, Ty Wigginton, and former Phils first base man, Jim Thome.
John Mayberry's case: As I pointed out in the previous slide, Mayberry showed last season the potential to be an everyday major league baseball player. He played 18 games at first and started ten of them. In those games he played 100 innings, recording six assists and only one error. Most importantly, he looked comfortable playing the position he had occupied while at college. if he doesn't win the starting outfield job, it is pretty certain he will get the nod to start at first because if he hits with power and a pretty solid average like he did last year, his bat will be vital in the line-up until Ryan Howard returns.
Ty Wigginton's case: Wigginton has played his way around the baseball diamond, having only never held the position of C, P and CF. Most of his career games have been played at third base but Wigginton is no slouch at first, including starting 89 games at the corner in 2010 with the Orioles. Even though he is the ultimate utility player, Wigginton was brought to the Phils for the specific purpose of playing first until Howard comes back from his injury. He is an excellent fielder at first with only 16 errors in over 1900 innings for a .992 fielding percentage but his hitting is just average.
And the winner is: John Mayberry looks like he might have a slight edge to win this job. Sure Wigginton has the experience but Mayberry is better player offensively and with Ryan Howard and possibly Chase Utley missing from the line-up, Mayberry's bat is too important to keep on the bench. He has gotten looks at first in the spring and if he continues to show he can handle the position, the job will likely go to him, with Jim Thome, who has also gotten some spring training looks, likely to make spot-starts here and there.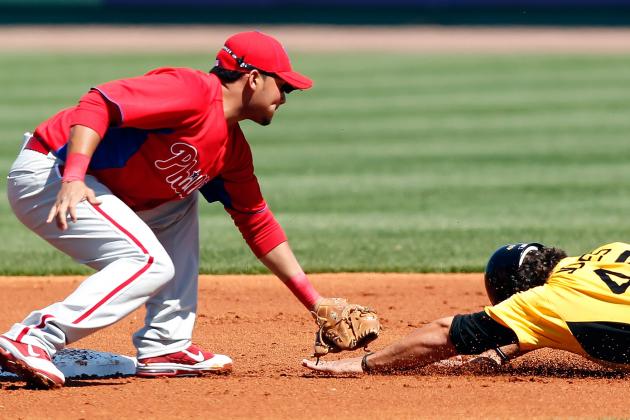 J. Meric/Getty Images

Over the past few years, the role of utility infielder has been very important for the Phillies as Chase Utley, Placido Polanco and Jimmy Rollins have all missed significant time, requiring a back-up to come in and play the position. In the past, this role was filled valiantly by Wilson Valdez, who the Phillies traded in the off-season. With veteran off-season signings, there is likely going to be only one spot left for a back-up infielder to replace Valdez and currently there are three guys vying for it.
Freddy Galvis' case: Out of the group of three, Galvis is probably the least likely to end up with the job. He is a short stop by nature and one which the Phillies organization wants to see return to the minors to play a full season at the triple-A level. Considered by many scouts to already be a gold glove short stop, Galvis' biggest flaw was his hitting, which he has improved upon coming into spring training. He has shown so much promise however that the Phillies have even had him start a few spring training games at second, an indication that he is being seriously looked at. If he doesn't wind up making the team out of spring training and if Utley or Rollins has to miss any time, don't be surprised if Galvis is the first one they call to step in.
Pete Orr's case: Last season, Orr made the team and played in 46 games while Utley was on the DL. This year, he is a non-roster spring training invitee just vying for a spot on the team. He has so far been having a pretty solid spring training and unlike Galvis, offers a handful of experience at both second and third. Offensively, Orr does not have great numbers and that may be the biggest obstacle to him earning the spring job as the Phillies without Howard, cannot really afford to sacrifice offense for defense.
Michael Martinez's case: Martinez joined Valdez last season as one of the Phillies utility players. Martinez spent most of his time subbing for Polanco at third but in his first season in the majors and showed amazing versatility by starting games at LF, CF, SS, 3B and 2B. He did not have great numbers last season but so far he is posting a .310 clip with a HR and three RBI and four runs in 29 spring at-bats. His defense leaves some to be desired as it is certainly not as good as the guys he may replace, but he brings speed to his game which could help the Phils as they learn to live without the power bat of Ryan Howard.
And the winner is: As it looks now, Martinez has a slight edge over Galvis to get the job. He has the experience and can step in at any infield position and even the outfield if needed. That said, Martinez's defense has not been good and if Galvis continues to wow with his glove at both short and second and show his improved offense, he could be making his major league debut sooner than expected, especially after this news has come out, posing even more questions about Utley's status (http://www.washingtonpost.com/sports/nationals/chase-utley-leaves-phillies-camp-to-have-injured-knee-checked-out-by-specialist/2012/03/19/gIQARbYyMS_story.html). The race for this position is anybody's game and too close to call as the role will likely go to the player who shows up the biggest in the final two weeks of spring training.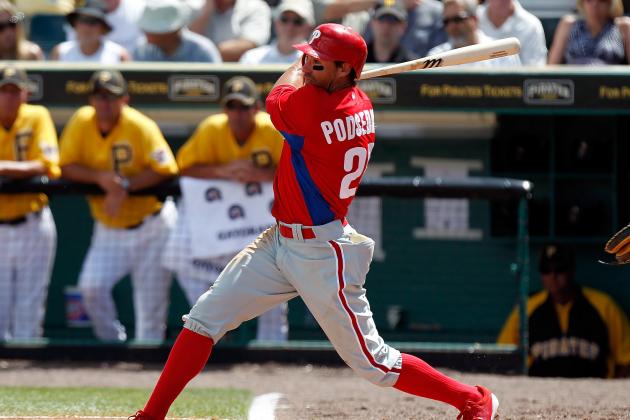 J. Meric/Getty Images

Competing for the final bench spot or fifth outfielder spot are two former Dodgers who bring a level of speed and solid offensive production to their game. Both Juan Pierre and Scott Posednik are with the Phillies by way of minor league, non-roster spring training invites and both have been fighting to earn a spot with the big league club.
Juan Pierre's case: If points are awarded for past performances, then Juan Pierre's 68 stolen bases in 2010, would certainly award him a ton of points. Pierre, who has always been a speedster and base stealer has only swiped less than 30 bags once in his twelve year career and even then, he still managed to steal 27. If Pierre can bring any of this speed to the Phils, he would be a great asset to this team and possibly be a guy to hit 20 doubles and have 20 steals. His offensive numbers sit at around .296 for his career, although in the past two years, that number has been closer to the .270s. He can hit both lefties and righties, can play in left or center field if needed and is also a good guy to bring in to pinch run. There is a lot of upside to having a guy like Pierre on the team.
Scott Podsednik's case: Podsednik, who was acquired in May of 2011, has really been proving that he can still play baseball at a major league level. Many expected him to see time with the Phillies last season but with the acquisition of Hunter Pence, the team was already full of outfielders. This year however, Podsednik is definitely in competition for a spot on the bench and the way he has been playing this spring might even work himself into a position to compete for the starting left field job. He has been the Phils best hitter this spring posting a .371 average in 35 at-bats including hitting five doubles. He is also no stranger to base stealing and so far is 5/5 in steals this spring.
And the winner is: Scott Podsednik is the odds-on-favorite and the job is easily going to be his if he continues to play up the level he has so far in spring. He has a better average than Pierre and is making better contact. The only area where Pierre could have been expected to surpass him was in stolen bases but so far Podsednik is winning that battle as well.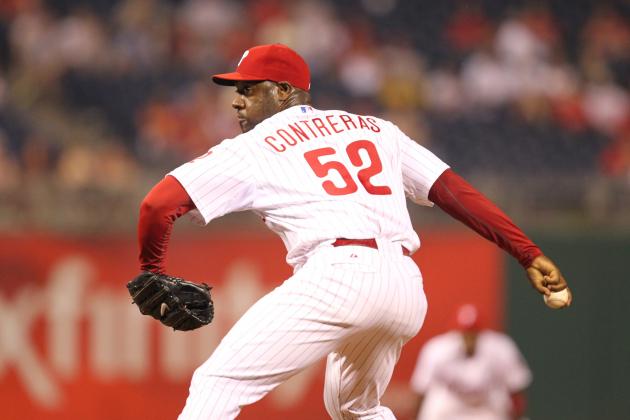 Hunter Martin/Getty Images

With Justin DeFratus yet to face batters this spring because of an elbow injury, Jose Contreras finally back from injury and Dontrelle Willis released, the bull pen is shaping up to regular season form. Kyle Kendrick has been great so far and he will occupy the long man role, Chad Qualls and David Herndon will likely be given spots to open the season, Antonio Bastardo and Mike Stutes probably have theirs locked up as well. Assuming the Phillies carry seven in their bullpen, adding Jonathan Papelbon in the mix means that there is one spot left and three guys fighting for it.
Phillipe Aumont's case: Aumont is one of the guys that is being looked at as the closer of the future for this organization. He is a power throwing righty with a good fastball and command of other pitches. Many scouts think he is just a few years or one major league play injury away from making this team. So far in spring he has had some good and some bad outings. He has given up two earned runs in four outings, but has also struck out four. His biggest issue has been walking guys and he has already walked four in four innings pitched.
Michael Schwimer's case: Schwimer made his major league debut last season but didn't have a lot of success. This spring however, both his control and speed has looked better and his performance has been much improved. So far Schwimer has pitched 4.2 innings, given up two runs, and has struck out five while only walking one. He is making a pretty good case to make the team and if he keeps pitching well, there should be a spot open it for him.
Jose Contreras' case: Contreras doesn't really have to fight for a spot on the team as long as he is healthy. Even though his first spring outing was absolutely abysmal, the biggest thing to come out of it was that he said his arm felt good. Although, if he continues to put up numbers like what he put up so far, (four earned runs in a third of an inning) his spot may not be guaranteed for long.
And the winner is: Right now, Contreras has the edge, but it is still early enough for any of these three to make a strong push for the job. Even DeFratus could be given the spot if his elbow injury heals. Plus, these are just two guys really competing against Contreras for his spot anyway. Tons of other guys could make a name for themselves in spring's final weeks and steal the bullpen spot. It will certainly be a competitive race to the finish.