NFL: The Fantasy Impact of Matt Flynn's Signing with the Seattle Seahawks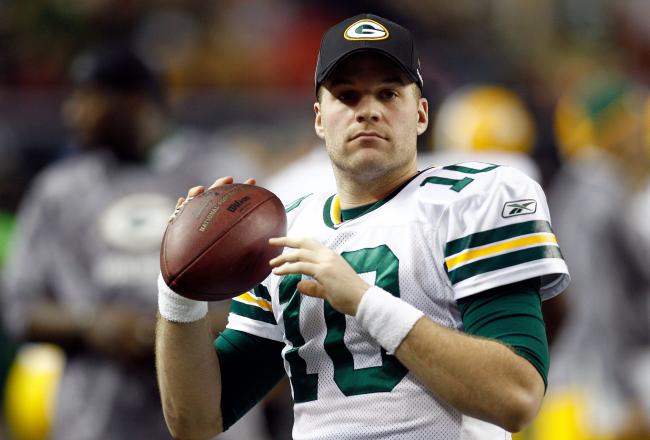 Chris Graythen/Getty Images
Big news hit the NFL world on Sunday when former Packers quarterback (and Aaron Rodgers backup) Matt Flynn agreed to a deal with the Seattle Seahawks.
The former LSU standout has spent the last few seasons backing up Rodgers and learning how to be an NFL ringleader. He impressed many (and maybe himself) when he threw for six touchdowns and 518 yards in a late-season game last year.
Flynn's arrival in Seattle will bode well for the team's young and talented wide receivers. Former Stanford wideout Doug Baldwin, who had a surprisingly successful season last year as a rookie, has the most upside in this deal.
He accumulated 788 yards last season and is the team's sole slot receiver. If Sidney Rice can stay healthy, he should be able to win the No. 1 wideout job with Mike Williams and Ben Obomanu competing for the No. 2 spot. Overall, Baldwin and Rice will both probably be solid No. 2 wide receiver picks, while Williams is worth a bench spot and Obomanu worth keeping track of.
Two things of concern come up in this trade, however.
The first is Seattle's workhorse of a running back Marshawn Lynch. Lynch is known for running hard, taking huge hits and carrying defenders using his tremendous core strength. He'll still be hugely involved in the offense, yet I can see his production sliding due to Flynn's arrival. He did record 47 receptions in 2008 with the Buffalo Bills, however, so his potential as a dual-threat back should be noted.
The second thing to recognize and be concerned about is the "Kevin Kolb scenario." We all know now how Kevin Kolb impressed many as a backup in Philadelphia and then floundered in his first season as a starter with the Arizona Cardinals, after signing a very lucrative contract, I might add.
Talent and potential based on speculation is always risky, and while we have seen Flynn play tremendous football, we haven't seen much of it. He'll still have to prove himself, and the road to becoming a legitimate starter in the NFL is one filled with potholes and roadblocks.
Perhaps, it was because of Kevin Kolb that Flynn received $26 million deal—nowhere near the $60 million contract that Kolb signed in last year's offseason.
This article is
What is the duplicate article?
Why is this article offensive?
Where is this article plagiarized from?
Why is this article poorly edited?